While no one is ever happy about seeing someone get hurt, Green Bay Packers fans probably encountered some mixed feelings when New York Jets quarterback Aaron Rodgers went down with an injury on Monday night.
On one hand, Rodgers achieved plenty of success in Wisconsin, and that affinity isn't going to vanish overnight after a trade. On the other, though, there was probably some relief. Rodgers' injury may be painful, but it no longer affects the Packers.
Well, it actually does.
Although the trade that sent the signal-caller to New York is old news, there was a conditional draft pick in the deal. And with Rodgers to miss the rest of the season with a torn Achilles tendon, Green Bay will be the one taking a hit on draft day.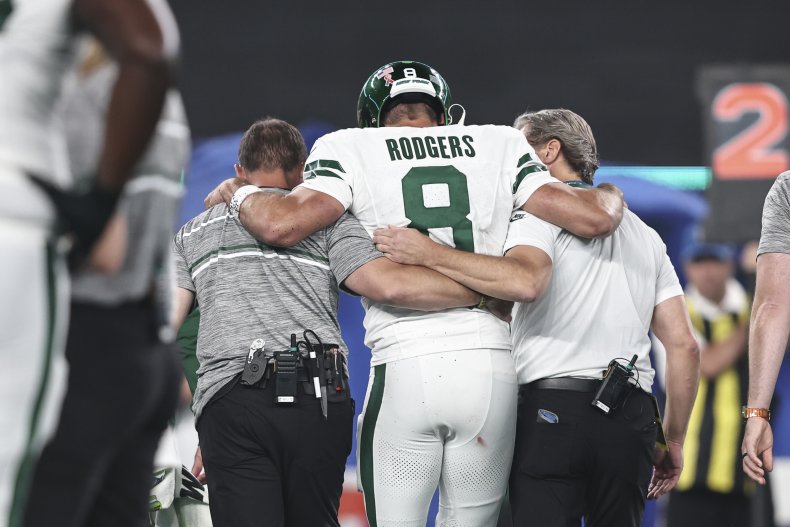 Rodgers' Injury Affects Packers' Draft Picks
When a star player gets traded, there's usually a pretty high asking price. And while the deal that sent Rodgers to the New York Jets wasn't completely one-sided, plenty of draft picks changed hands.
The Packers traded Rodgers and their 2023 first-round pick (No. 15) and a 2023 fifth-round pick (No. 170) to the Jets for New York's 2023 first-round pick (No. 13), a 2023 second-round pick (No. 42), a 2023 sixth-round pick (No. 207) and a conditional 2024 second-round pick.
While most of those picks were already used in the 2023 draft, the conditional pick is still outstanding. On Monday night, the Packers' fortunes took a hit.
Jets coach Robert Saleh said after the game that he thought Rodgers hurt his Achilles and noted that things were "not good." On Tuesday morning, word began to circulate that No. 8 was done for the season.
So, what does that have to do with the Packers? Well, the condition on the 2024 draft pick was the signal-caller playing 65 percent of the 2023 season. If he cleared that threshold, the second-round selection would become a first-round pick.
A season-ending injury, of course, will make it impossible to meet that threshold.
Is that a game-breaker for Green Bay? Probably not, since the draft is somewhat of an inexact science anyway. But it's still a cruel twist of fate that, even when Rodgers is gone, his injury will still sting the Packers.
There is a Silver Lining for the Packers, Though
And while missing out on a potential first-round pick through no fault of your own might sting, Green Bay is positioned to cope with that reality. If nothing else, the club has things covered from a quantity perspective.
In May, Lance Zierlein of NFL.com projected that the Packers will have three compensatory picks when the 2024 draft rolls around. Those selections probably won't turn into All-Pro talent—one is expected to be in Round 5 with the others in Round 6— but they will still provide volume.
Combine those additional selections with Green Bay's existing haul and the Rodgers-related question mark, and Green Bay will head to Detroit with double-digit picks in its pocket.
There are no guarantee that those choices will turn into anything of value, but it's always better to have options. Maybe Green Bay will be able to put together a draft-day deal to land the next franchise player.
And, if nothing else, Rodgers proved that top-tier talent can be found outside of the first few picks when he was selected 24th overall in 2005.
Uncommon Knowledge
Newsweek is committed to challenging conventional wisdom and finding connections in the search for common ground.
Newsweek is committed to challenging conventional wisdom and finding connections in the search for common ground.
About the writer
Joe Kozlowski is a Newsweek reporter based in New York City. His focus is reporting on trending sports stories. Joe joined Newsweek in 2023. He is a graduate of NYU's Gallatin School of Individualized Study. You can get in touch with Joe by emailing j.kozlowski@newsweek.com.
Languages: English.