The widow of Christian H. McCoy, a retired Special Forces member who was killed in 2019 while working a contracting job in Afghanistan, alleged in a September lawsuit filed in Massachusetts that a Veterans Administration nurse had lied to her stepchildren about the amount of their inheritance.
Francoise McCoy alleged that nurse Sarah McNary told her two stepchildren that they were owed $400,000 each from her late husband's life insurance policy, valued at $1.2 million. McCoy has asked for a trial before a jury and damages. Allegations in the filing included slander, violation of privacy and the infliction of emotional distress. Both McNary and VA Secretary Robert Wilkie were named as defendants in the lawsuit.
According to a copy of the lawsuit sent to Newsweek by Francoise McCoy's attorney Timothy Parlatore, McNary "misled the children to believe that the money was rightfully theirs, setting off a firestorm that tore the family apart."
McNary allegedly became acquaintances with Christian McCoy in the time between his retirement from the U.S. Army and his acceptance of a position with military contracting firm CACI in 2018. Court documents state that McNary assisted Christian McCoy in filing for VA benefits.
After Christian McCoy's death, McNary allegedly told both of the children that they were each due one-third of his insurance money. McNary also posted to military-centered social media groups about the dispersion of Christian McCoy's money in an attempt to, according to the lawsuit, paint Francoise McCoy "as a money-hungry widow."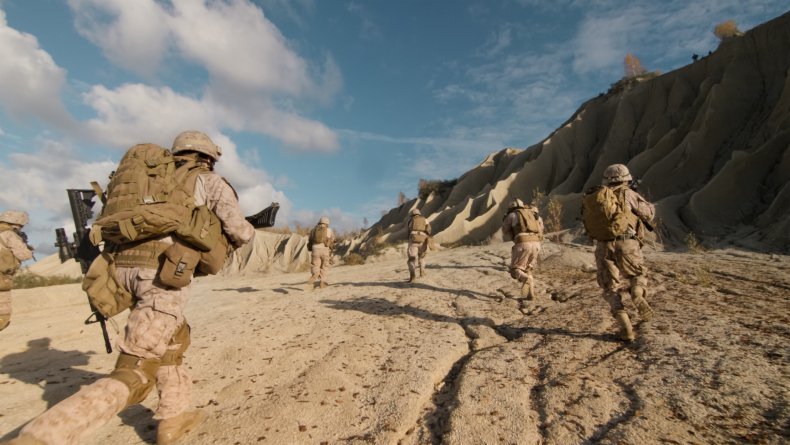 McNary allegedly also revealed private information to attorneys involved in settling Christian McCoy's estate, causing Francoise McCoy to become "intertwined in a lengthy and protracted probate process."
In an attempt to relieve tension within the McCoy family, Francoise McCoy moved out of the house. According to the filing, Francoise McCoy "left all personal belongings and the security and safety of her home" in order to "live alone in a new house without family and support all in an effort to help."
Francoise McCoy claimed that McNary used information she was privy to as an employee of the VA, including health and financial information, in order to harass the McCoy family.
Newsweek reached out to the VA for comment.
While the nature of Christian McCoy's mission in Afghanistan is unclear, many military contractors lend support to armed forces by executing repair and maintenance of equipment and infrastructure.
President Donald Trump has promised to remove U.S. troops from areas overseas, including Afghanistan. "We will keep America out of these ridiculous foreign wars," Trump said at a campaign event in North Carolina on Saturday.
"Remember, I was supposed to be a guy that was going to get us into a war in the first week," Trump said. "Remember that? Where's the war? We're taking them out of Afghanistan. We're almost finished with that."