'Green Book' Controversies: From Nick Vallelonga's Racist Tweet to Peter Farrelly Exposing His Genitals
The early success Green Book achieved during the beginning of its awards season run could come to an early end as the film continues to be bombarded with controversy. Or, more accurately, the people who created the film continue to met with backlash.
Green Book is directed by Peter Farrelly, who teamed up with Nick Vallelonga and Brian Currie to pen the film's screenplay. It follows the true story of black pianist Don Shirley (Mahershala Ali) as he ventures into the Deep South for his tour. Shirley was escorted by Frank "Tony Lip" Vallelonga (Viggo Mortensen), a racist Italian-American from the Bronx. According to the Farrelly-directed effort, what transpires is a long-lasting friendship between the pair.
Green Book earned Ali a Golden Globe win on Sunday. Mortensen, for his part, scored a nomination for his efforts. The movie won a Golden Globe for best picture within the musical or comedy category as well. The movie has also been recognized by the Screen Actor's Guild and by the British Academy of Film and Television Arts with multiple nominations. However, the movie's reign could be short-lived as more bad press comes out about the picture and those involved in it. Listed below are some of the controversies that have unfolded.
Don Shirley's Family Slams Green Book for Portraying Symphony of Lies, which Leads Mahershala Ali to Issue Apology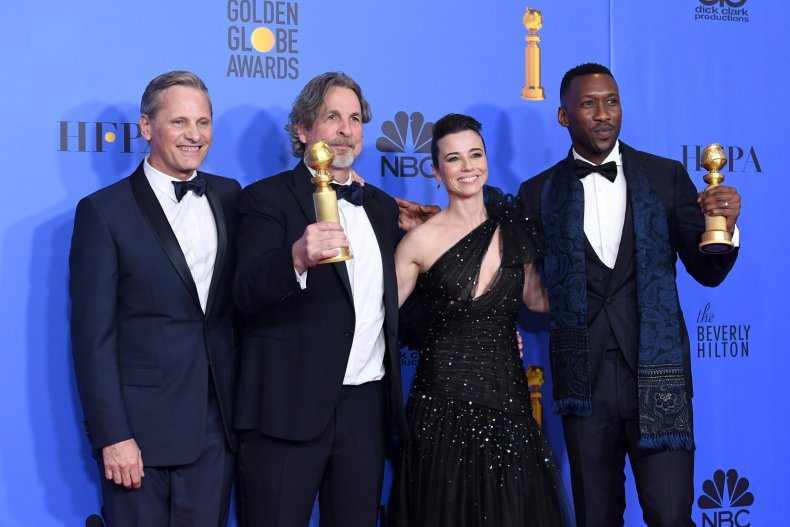 Vallelonga told Metro US that "everything is true" in Green Book, but "there was obviously some creative license because we had to connect the dots." However, Shirley's family claimed that the story presented in the film was filled with "lies."
In an interview with Shadow and Act, Shirley's family claimed he was never friends with Vallelonga's father. They also denied the film's depiction of Shirley being "embarrassed by Blackness" and that he was "estranged" from his family. Shirley's nephew, Edwin Shirley III, said Ali called to apologize to the family.
"I got a call from Mahershala Ali, a very, very respectful phone call, from him personally," he said. "He called me and my Uncle Maurice in which he apologized profusely if there had been any offense."
Green Book's Director Peter Farrelly Apologizes for Flashing Genitals
Farrelly is the man behind Shallow Hal, Dumb and Dumber, Hall Pass and There's Something About Mary. According to old articles discovered by The Cut, he would often jokingly expose his genitals to the set's cast and crew. Newsweek reported in 1998 how Farrelly and his brother, Bobby Farrelly, would craft ways to get people to look at his penis.
"The Farrellys have concocted a variety of clever ploys designed to get you to look at it," the report began, "Bobby, 40, is the straight man, all innocence as he lays the trap. Then Peter—lankier, edgier and a year older—delivers the coup de grace."
After these reports resurfaced, Farrelly issued an apology via The Hollywood Reporter on Wednesday. "I was an idiot. I did this decades ago and I thought I was being funny and the truth is I'm embarrassed and it makes me cringe now. I'm deeply sorry," he said.
Viggo Mortenson Uses the N-Word
Mortensen encountered a wave of criticism after attending a Green Book post-screening Q&A session in November. At this event, he dropped the n-word while discussing the ways in which racism has improved in America.
"For instance, no one says n****r anymore," the 60-year-old said as Ali sat beside him. Mortensen later apologized for the incident in a statement issued to The Hollywood Reporter.
"In making the point that many people casually used the n-word at the time in which the movie's story takes place, in 1962, I used the full word," he said. "Although my intention was to speak strongly against racism, I have no right to even imagine the hurt that is caused by hearing that word in any context, especially from a white man."
"I do not use the word in private or in public. I am very sorry that I did use the full word last night, and will not utter it again," he added.
Green Book Writer Nick Vallelonga Was Slammed for Racist Tweet About Muslims
On Thursday, La La Land producer Jordan Horowitz shared an unearthed tweet once posted by Vallelonga via Twitter. The tweet in question obtained a racist remark about Muslim people.
"@realDonaldTrump 100% correct. Muslims in Jersey City cheering when towers went down. I saw it, as you did, possibly on local news," Vallelonga tweeted in 2015. In sharing the old tweet, Horowitz dissed Vallelonga's previous sentiment.
"Nick Vallelonga wrote Green Book. My industry just gave him a Golden Globe for writing. This remains on his timeline," his tweet began, "Mahershala Ali is a Muslim, and a beautiful, generous and kind man. This is all just too disgusting."
Vallelonga ultimately pulled his Twitter account.