Who Has Green Eyes on 'Game of Thrones'? Arya's Next Kill Might Not Be Cersei Lannister
After surviving Sunday's Battle of Winterfell, Game of Thrones fans are now focused on the resurfaced Season 3 prophecy from Melisandre, which seems to hint at the upcoming demise of the emerald-eyed Cersei Lannister. However, not every fan thinks Cersei will be Arya Stark's next target.
Spoilers ahead through Game of Thrones Season 8, Episode 3.
Melisandre first communicated the prophecy to Arya in Season 3, and reiterated it in Sunday's episode during Season 8. As she took Gendry away to Dragonstone, the red woman told Arya she sees "a darkness in her," and notes the youngest Stark sister will kill many people: "brown eyes, green eyes, blue eyes…eyes you'll shut forever." If the Night King and the Army of the Dead were the blue-eyed victims, and Walder Frey had brown eyes, who is the green-eyed person (or persons) Melisandre references here?
On the surface, green-eyed Cersei Lannister seems the most likely candidate to be Arya's next victim, given her long-cherished desire to murder the monarch. But some GoT fans raised the possibility that the green-eyed victim has already been killed or could be a character other than Cersei.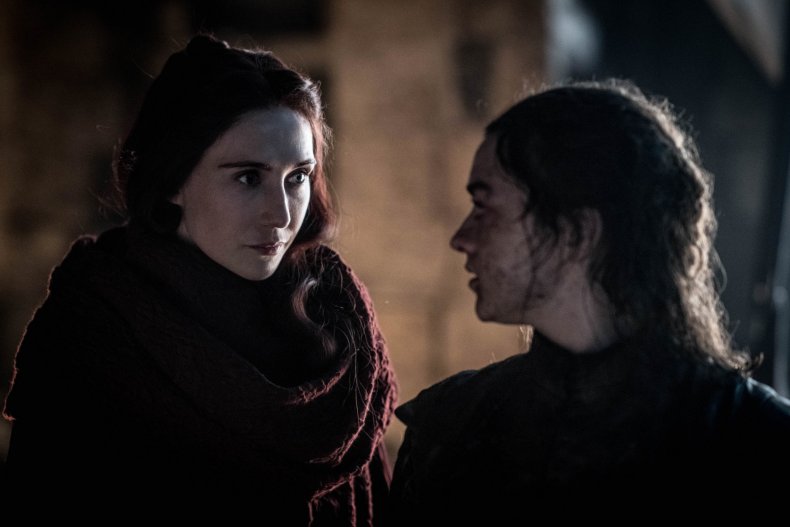 Twitter user Leige Lord commented that Arya killing Cersei would be "too obvious," and noted that Sansa also has green eyes. While the sisters have been at odds with each other in the past, in Sunday's episode Arya handed Sansa a dagger before she goes to the crypts. However, Lord didn't allow this placidity between the two to rule Sansa out as a victim.
"With [Game of Thrones] you just never know," Lord wrote. "I don't trust those writers."
Another possibility fans floated was Cersei's twin brother, Jaime Lannister, who also has green eyes in the fantasy novel series A Song of Ice and Fire, which the show is based on. With the Night King vanquished, it's possible the Starks and Lannisters could revert to their old emnities. Even though Jaime has turned his back on Cersei, he and Tyrion probably aren't going to be eager to march down to King's Landing to kill her either.
Others speculated that Arya may have already fulfilled the prophecy in Season 7, when she killed Littlefinger, described in the books as having green-gray eyes. This would mean that her triumph over the Night King marked the completion of her prophecy.
However, the overwhelming opinion fans expressed on social media was Cersei would be ending her time on the show. But the caveat could be that Cersei's final demise comes at the hands of Arya while wearing Jaime's face, as she did with Walder Frey.
It's reasonable for fans to point to Cersei, not only because she has green eyes in both the books and the show, but also because of her long history of bad blood with Arya, including:
Conspiring to kill Nymeria, Arya's Direwolf, after her spat with Joffrey in Season 1
Being complicit in Ned Stark's beheading
Holding Sansa captive
Her father, Lord Tywin Lannister, conspiring with the Boltons to kill Robb and Catelyn Stark, Arya's mother and brother, at the Red Wedding
Plus, when Arya recited her kill list, Cersei was No. 2, right behind her son Joffrey Lannister, who was killed by Olenna Tyrell in Season 4.
It's unclear if or when a showdown between Arya and Cersei would play out, but with only three episodes left, at the most, fans will have to wait only until May 19 to find out.