Green Light to Test Driverless Cars on Britain's Roads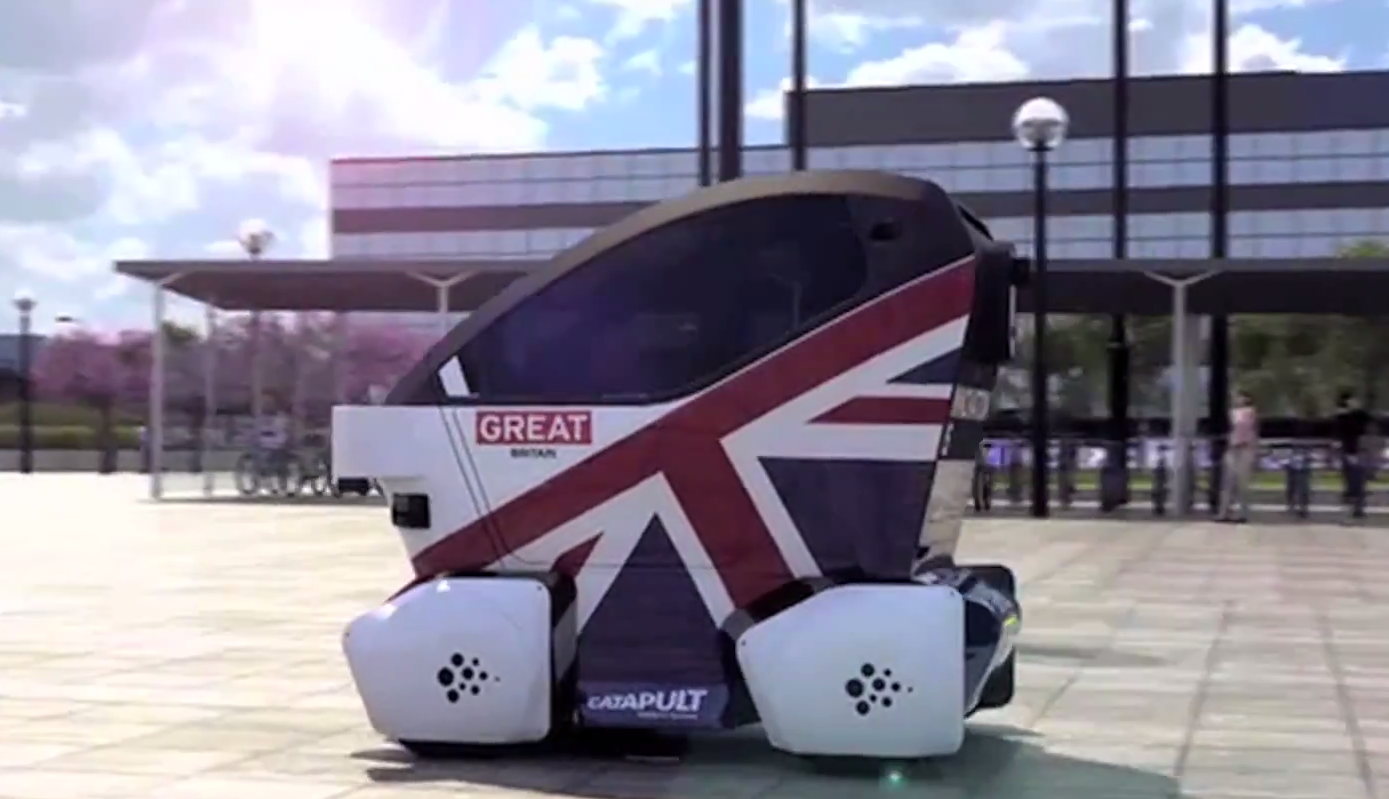 The first official tests of driverless cars were carried out in the UK today, as the country roars ahead with plans to become a world leader in driverless technology.
The UK government is providing £19 million worth of funding for the the Lutz Pathfinder prototype pod, designed and built by Coventry-based engineering firm RDM Group. Today's tests were carried out with four driverless cars in four separate UK locations: Coventry, Greenwich, Milton Keynes and Bristol. It is an initiative that the government hopes will eventually result in safer and less-congested roads and keep the UK at the cutting edge of automotive technology.
David Cameron tweeted his satisfaction with the unveilings:
The vehicle works by the passenger selecting a programmed route on a touchpad, which the car then travels using radar, cameras, light detection and ultrasonic sensors.
But while the cars, some patriotically emblazoned with the Union Jack flag, may look impressive, the UK government will have to review its road regulations before the robot cars can be let loose on Britain's highways.
The UK has signed the 1968 Vienna Convention on Road Traffic, which states that drivers "shall at all times control their vehicles." Germany, Italy and France in particular are currently attempting to repeal the legislation.
While the UK government argues that there is no legislative barrier to testing the cars, it has come under pressure from motoring groups like the RAC to provide robust safety regulations, particularly concerning the question of who would be responsible in the instance of a car crash if a driverless vehicle's computer failed.
Professor Stephen Glaister, director of the RAC Foundation said: "Alongside the high-tech innovation you need policy decisions on long-term, low-tech matters such as who takes responsibility if things go wrong. As and when these vehicles become common place there is likely to be a shift from personal to product liability and that is a whole new ball game for insurers and manufacturers."
Other European countries could be quick to follow in the UK's footsteps. The German transport minister said earlier this month that driverless cars would be a common sight on the country's roads in the next few years, although it too will have to tighten up legal regulations first.
However, as governments grapple with complex laws and regulations, not everyone is convinced that these robot cars will be a welcome addition on European roads. A survey conducted by uSwitch found that 43% of UK adults do not trust driverless cars to ensure the safety of passengers, while 16% said they were "horrified" by the entire concept of not having a human at the helm.