Justin Bieber's Body Language Revealed In Shocking R-Rated Green Line Test
A new version of the "green line" relationship test with an "R-rated" twist has alarmed experts after the original took the internet by storm in 2022.
The "green line" theory—which is not based on science and has been debunked by body language experts who dubbed it "simply not true"—claims that the way a couple stands next to one another, especially when taking photos, is a key indicator of their dynamic and who is in charge.
The new edition of the green line test, which was first coined by Twitter user Rivelino, who also unveiled the latest version, claims that the positioning of a woman's pelvis when a couple stands together for a photo determines her commitment level and love for him. Rivelino has also used the account to discuss topics like pick-up techniques and incel-linked theories, Newsweek has previously reported.
As with the green line test, experts told Newsweek the new version of the test is "too simplistic" as well as "disturbing." They said it could be damaging to the self-esteem of both men and women and cautioned against it being spread uncritically on social media.
In a viral tweet showing images of different couples, Rivelino referred to the latest theory as the "tamed" vs. "untamed" concept.
Rivelino claims a "tamed" woman "in love" turns her pelvis towards her man when posing for a picture and doesn't "flaunt her availability" by "facing it to the world."
TikTok user @jackmacbarstool—whose previous post analyzing an image of Kim Kardashian and Pete Davidson according to the green line test went viral in April 2022—refers to the "R-rated" version bluntly as "the box test."
Explaining the latest test in a recent viral post, the TikToker said bluntly that when couples pose for photos, "if the woman's box is pointed towards her man, her box is delivered."
However, "if her box is pointed not towards her man but instead towards the world, that box is still in transit and you don't know when it's going to be delivered," he said.
"When a couple passes the box test, they will be happy. When they fail it, the side effects are significant, as you can see," the TikToker said, as an image of former couple Lisa Bonet and Jason Momoa and married couple Will and Jada Pinkett Smith, who previously were the subject of breakup rumors, were shown in the backdrop.
It's More About 'Look but Don't You Dare Touch'
Body language expert Alison Henderson, the CEO of Moving Image Consulting, told Newsweek: "I find this new 'test' to be disturbing," adding that "we have to stop making these types of unscientific 'tests' popular."
Henderson warned: "This new one, in particular, could prove to be very damaging to the self-esteem of either a woman or a man because of the connotation of the word 'p****.'"
She pointed out that "ironically, the poses [of celebrity couples] the TikTok creator is using to prove his point have been used throughout time by feminists for the opposite."
The body language expert said: "Rather than 'wanting to be tamed'...when a woman points to her genitals, she is usually sending an 'in your face,' 'look but don't you dare touch' message. Access to sex is a reward and used for female domination rather than male."
Body Language May Reveal Celebrity Couples' 'Secrets'
Dr. Carole Lieberman, a board-certified forensic psychiatrist, told Newsweek that the R-rated version of the green line test is "similarly a little too simplistic."
She said that a couple's body language can indeed be very revealing about their relationship. "Celebrities may tell the public one thing with their words, but their body language may reveal their secrets."
In order to be most accurate, "the body language should be taken in context and all parts of their body examined—not just the woman's pelvis (p****). For example, a lot is revealed in the way they look at each other."
How Celebrity Couples Score on 'R-rated' Green Line Test
Lieberman and Henderson analyzed some pictures of different celebrity couples (both former and current) and what these images might imply about their relationship in the context of the R-rated green line test—and why the test isn't always appropriate when compared with traditional body-language analysis.
Selena Gomez Was 'Madly in Love' With Justin Bieber
Whatever the R-rated green line test might claim to show, in the photos of Justin and Selena, "they look like a couple in love," Lieberman said.
Their facial expressions are "soft," while their bodies are "relaxed and nestled into each other," the forensic psychiatrist said.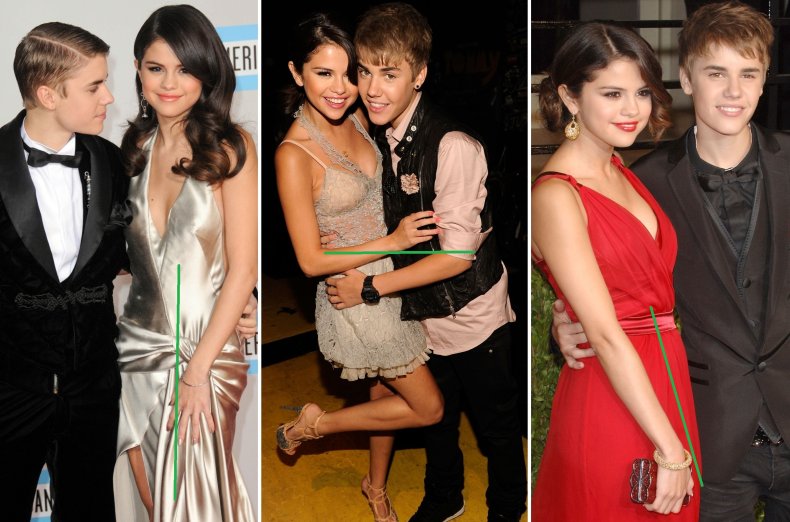 Justin and Hailey Bieber—'No Sexual Energy'
In the photos of Justin and Hailey, the forensic psychiatrist said the couple looks like they're "putting on a show of being in love," whatever the R-rated green line test might indicate.
She said their body language is "stiff and posed" and they don't "fold softly into each other."
Lieberman noted: "Interestingly, both Hailey's pelvis and Justin's pelvis are most often looking out to the world instead of towards each other. Their faces aren't content, they mostly look uptight."
Henderson said that the images of Justin "have distinct differences" between those in which he is seen with Selena and Hailey.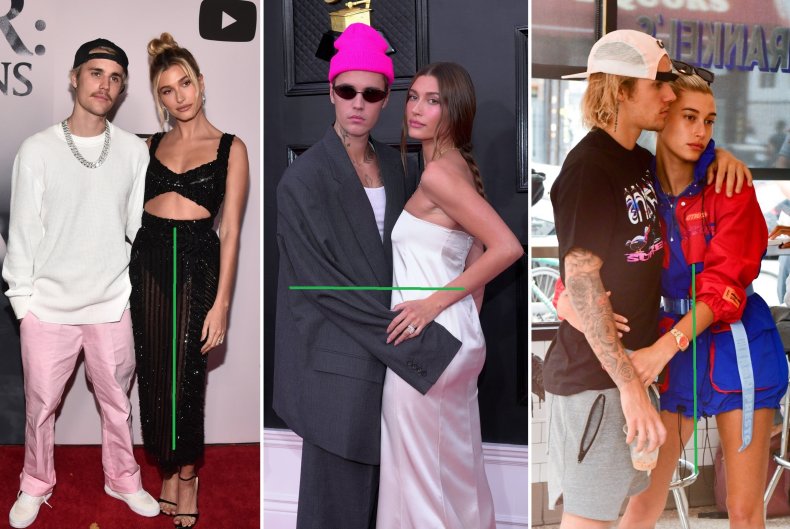 When with Selena, the body language expert said the couple appears to be more conventional in their posing and "they are showing their youth."
When Justin is pictured with Hailey, Henderson said it is "all about creating a brand of aloofness with slouching and no eye contact." The shots appear choreographed, particularly the Seasons red carpet photo where they are "trying to mimic and mirror each other."
According to Henderson, "There is no sexual energy—even a concerted effort to be neutral or asexual. Nothing is natural or gives a clue to their true relationship."
'Growing' Distance Between Jennifer Lopez and Ben Affleck
Lieberman said that in the February 2022 photo of the Hollywood actors Ben Affleck and Jennifer Lopez at a screening of the Marry Me film, "Ben looks madly in love with Jen," kissing her head and holding her very close.
However, as the green line test might indicate, "Jen is looking out to the world, away from Ben and her pelvis is partly towards him and partly out towards the world, as if she still hasn't fully committed to him," the forensic psychiatrist noted.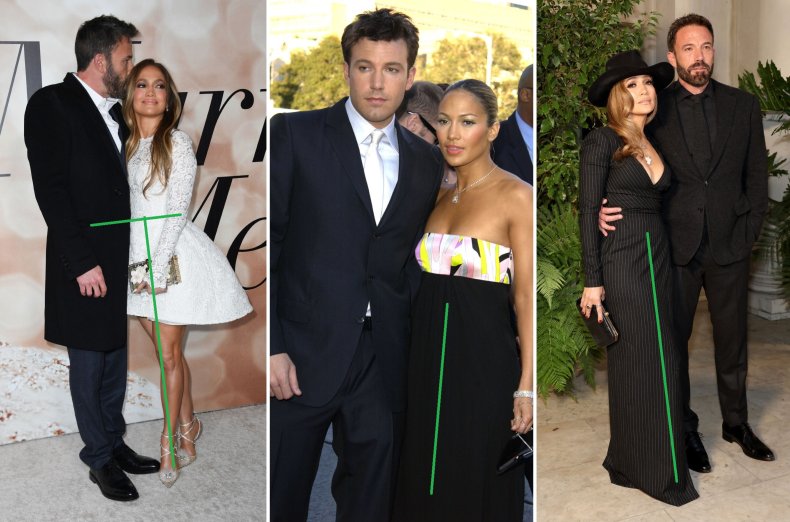 Body-language analysis can go much further than the green line test. In the image from October 2022, Lieberman said Ben and Jennifer look like they are "posing for high school graduation photos—facing out and very stiff."
The psychiatrist added: "As Ben is holding her tight, Jen's eyes look like she's pleading for help, as in 'Won't somebody get me out of this relationship?'"
In the 2003 photo, the couple looks "less distant" than they do in the images from later years, because they are leaning into each other. However, "they do look distracted from each other by something out in the world," she noted.
According to Lieberman, all of these photos "predict the gradual distance that has been growing between them. Jen married Ben on the rebound from Alex Rodriguez and she has never been as into Ben as Ben is into her."
Gisele Bündchen 'Dominating' Tom Brady
Henderson said that what "struck" her most about the images of former couple Tom Brady and Gisele Bündchen, who announced their divorce in October 2022, is that Tom was the one who was "tamed" in the relationship. This is an aspect of the images that the R-rated green line test might not show.
The body language expert said in the Met Gala photo, "Gisele is clearly in the driver's seat, keeping herself in front of Tom and even standing on a higher step." And yet her pelvis is facing him.
In the image, "she is dominating him with her hands pushing down on his shoulders. Tom doesn't even gesture to touch her," she said.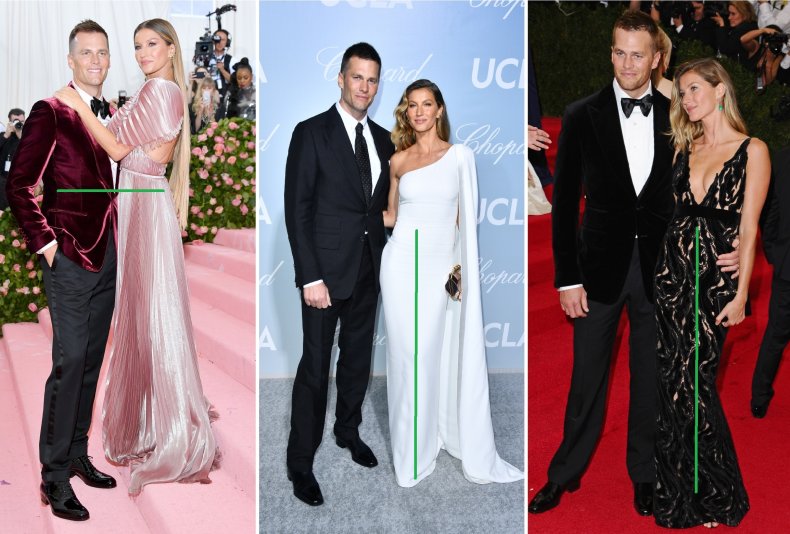 Looking at the "tamed" vs. "untamed" body parts seen in the aforementioned TikTok post, Henderson said "the couple has both designations at different times. If you looked at more photos, I would predict Tom to be more 'tamed' than Gisele."
Lieberman said the images of the former couple reflect "the ups and downs of their relationship."
In 2014, the forensic psychiatrist said they look "the most in love," with her head tilted towards him and his arm pulling her close.
However, in February 2019, as the R-rated green line test might show, "they look stiff and her pelvis is facing out," Lieberman said, adding that "here they look the least in love" among the three images of the couple.
In the photo from May 2019, the couple are "a little more distant" than in 2014, but not as distant as in the image from February 2019, according to Lieberman.
"Her hands are on his shoulder and her pelvis is facing towards him. But, his hand is in his pocket, revealing that he is not as engaged with her," she said.