Green New Deal Lite? How House Democrats' New Climate Change Proposal Falls Short of Progressive Vision
House Democrats on Wednesday unveiled a new climate change initiative dubbed the Climate Action Now Act, legislation that would focus primarily on the United States recommitting to the standards of the Paris Climate Agreement, which President Donald Trump announced the country would withdraw from.
"This is about jobs," said House Speaker Nancy Pelosi, flanked by Democratic members of the Select Committee on Climate Crisis and others. "It's about good paying green jobs. It's about public health, clean air and clean water for our children. It's about defending our national security."
Noticeably absent from the unveiling were the words "Green New Deal" and that initiative's co-sponsor, freshman Representative Alexandria Ocasio-Cortez. The Climate Action Now Act would fall far short of instilling the broad, sweeping reforms that the Green New Deal calls for. Democratic Representative Kathy Castor, chair of the select committee, would not commit to Newsweek on whether the committee would ever consider the initiative in its entirety.
"Our select committee is going to be putting together the package of policy proposals that will be largely in the spirit of the New Green Deal," Castor said. "Particularly, the transition to clean energy, adaptation, mitigation—the problem is we've got to act with urgency, and this is the first step to doing that."
Newsweek subscription offers >
With House Democrats having now unveiled two separate climate change proposals and no concrete steps taken on the Green New Deal, Democratic Representative Pramila Jayapal, senior whip of the Democratic Caucus and co-chair of the Progressive Caucus, said she was surprised there was no mention of the Green New Deal.
"I believe that we can do more than just say that the United States should be back in the Paris Agreement," Jayapal told reporters. "I really hope that we will put forward some bold climate legislation that really takes on the urgency of this. I hope [the Climate Action Now Act] is not—I don't think that will be the end of what we offer."
Asked whether the legislation will be enough to garner the support of the more progressive members like Ocasio-Cortez, Castor anticipated "broad support, maybe bipartisan support."
Castor said the committee will have its first meeting on the Climate Action Now Act Thursday morning.
Newsweek subscription offers >
Here's how the two proposals stack up against one another: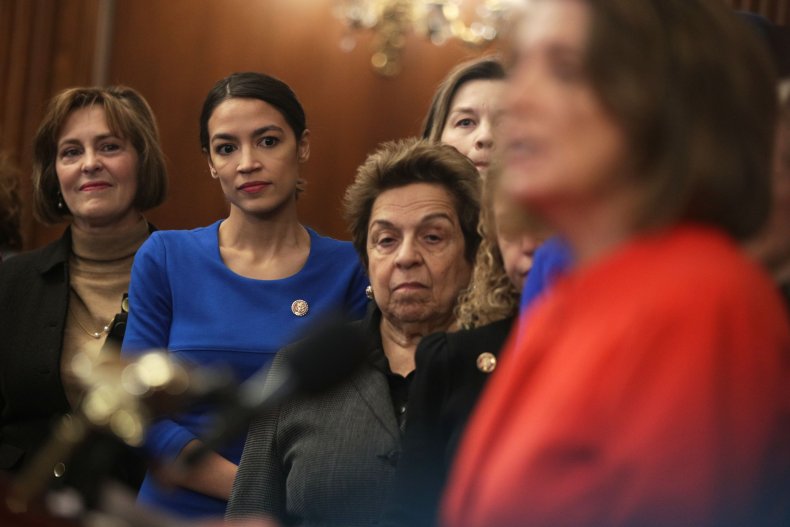 Green New Deal
The ambitious climate change proposal—named after President Franklin Roosevelt's series of job and economic initiatives during the Great Depression known as the New Deal—calls for an overhaul in U.S. energy consumption. Its goal is to have the U.S. operating on 100 percent renewable energy and achieving net-zero greenhouse gas emissions by mid-century, in addition to creating "millions of good, high-wage jobs" to "ensure prosperity and economic security for all people."
To achieve those goals the bill would require "upgrading all existing buildings in the United States" and constructing new buildings to be as energy efficient as possible. It would also invest in renewable energies and farming while removing pollution from the manufacturing industry "as much as is technologically feasible."
An overhaul of the American transportation industry would also take hold, expanding electric vehicle use with the "goal to replace every combustion-engine vehicle" and building high-speed railways "at a scale where air travel stops becoming necessary," according to a fact sheet released by Ocasio-Cortez's office during a rocky unveiling of the bill. Her office and supporters have since walked back some of the sheet's specific proposals, after receiving blowback for referring to "farting cows" and promising "economic security for all who are unable or unwilling to work."
In a vote Democrats called political showboating by Republicans—and one that Republicans said gave Democrats the chance to go on the record with their support—the measure failed to advance in the Senate on Tuesday after Democrats voted "present" and Republicans voted against it. The final vote was 0-57.
Climate Action Now Act
This initiative, according to a draft version made public, will focus on recommitting the country to the previously agreed upon Paris Climate Agreement, which Trump announced his intention to withdraw the U.S. from in 2017. The U.S. has not yet officially withdrawn from the international deal because, as the agreement explains, a country may not do so until three years after signing on to it. After that, a country must wait another year until "any such withdrawal shall take effect."
"As of today, the U.S. will cease all implementation of the non-binding Paris accord and the draconian financial and economic burdens the agreement imposes on our country," Trump said in the summer of 2017.
The Climate Action Now Act would prohibit federal funds from being used to advance the withdrawal from the Paris agreement and would call on Trump to develop a plan for how the U.S. would meet the pollution reduction goals it agreed to in 2015. Those goals included plans to reduce America's carbon pollution by 17 percent by 2020 and 26 to 28 percent by 2025, when comparing to 2005 levels of pollution.
This story has been updated to include comments from Congresswoman Pramila Jayapal.
Green New Deal Lite? How House Democrats' New Climate Change Proposal Falls Short of Progressive Vision | U.S.