How FDR's New Deal Could Fuel AOC's Green New Deal by 2027
A new plan by crowd-funded economic think tank the People's Policy Project (3P) outlines how a few simple amendments to existing legislation could supercharge the New Green Deal endorsed by a raft of Democratic politicians, including Representative Alexandria Ocasio-Cortez and potential 2020 presidential candidates like Cory Booker, Elizabeth Warren, Bernie Sanders and Richard Ojeda.
While the New Green Deal has so far been short on details—more a conceptual rallying point around stimulus investments in clean-energy and infrastructure than specific legislation—the new paper authored by People's Policy Project president Matt Bruenig offers a detailed roadmap to beginning the process of decarbonizing the United States economy.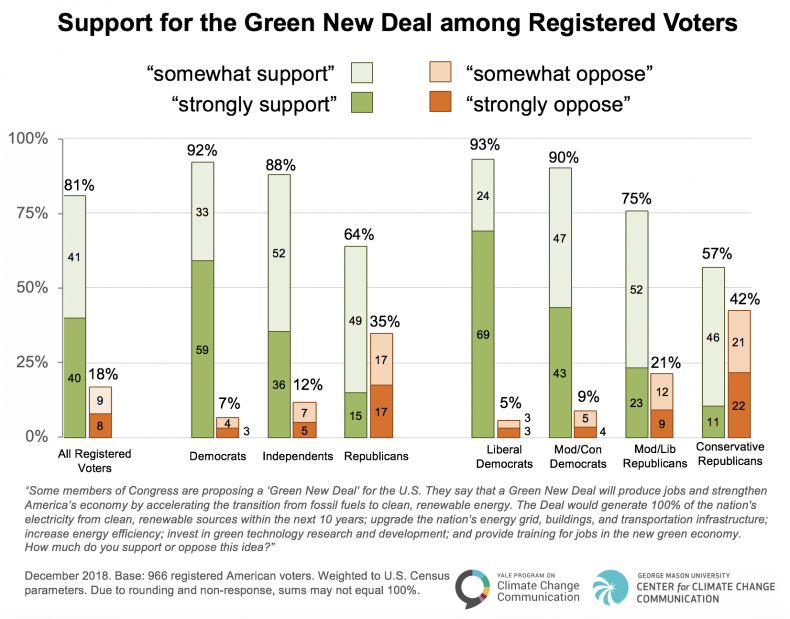 In "Fighting Climate with a Green Tennessee Valley Authority," the People's Policy Project proposes to empower a creation of President Franklin D. Roosevelt's New Deal programs as part of a New Green Deal to address climate change.
"I interpret the push for a Green New Deal to be a push to create a package of reforms and investments that can equitably transition the U.S. to a carbon-free economy," Bruenig told Newsweek. "The Green TVA idea was constructed with the goal of being part of a comprehensive Green New Deal, but could also be passed on its own if legislators wanted to do that."
In 1933, Roosevelt signed the Tennessee Valley Authority (TVA) Act, establishing a federally owned electric utility to serve Tennessee and surrounding states. 3P proposes four amendments to the TVA Act:
"The TVA Act should be amended to mandate that the TVA decarbonize all of its energy production by a certain date, e.g. 2027. TVA workers displaced by these decarbonization efforts should be given first priority for new jobs in the TVA's clean energy installations.
The TVA Act should be amended to authorize the TVA to operate all over the country, not just in its current service area.
The TVA Act should be amended to establish that the installation of clean energy production across the country is one of the main objectives of the TVA.
The TVA Act should be amended to permit the TVA to issue a new class of green power bonds to finance the capital expenditures required by its green energy buildout. These bonds, unlike those currently issued by the TVA, should be guaranteed by the full faith and credit of the federal government and there should be no limit on how many green power bonds the TVA can issue."
The proposed amendments are designed to not only expand the Tennessee Valley Authority nationwide, but also compete with carbon-based energy utilities. One reason for choosing the TVA is that it already profitably produces the majority of its electricity from noncarbon sources, including nuclear, hydroelectric, wind and solar power. The TVA currently projects only modest increases in the proportion of electricity generated from nuclear and renewables, up to 58 percent by 2027. By mandating decarbonization and empowering the company to invest in massive capital projects by issuing green power bonds, 3P proposes the TVA could successfully decarbonize its entire output in the same time span. Simultaneously, the utility would provide an example for other regions and utility companies to follow.
Whether alone or as part of a Green New Deal package, decarbonizing the TVA could be a stepping stone to decarbonizing the United States economy as a whole, a necessary step to mitigate damage from climate change. Current projections from the United Nation's Intergovernmental Panel on Climate Change show that worldwide carbon emissions need to drop by approximately 45 percent by 2030 to avoid catastrophic ecological collapse, deadly heat waves and the displacement of millions of people.
"For consumers, the benefit of having TVA generate their electricity is that the TVA is a reliable publicly owned company that produces affordable electricity. Because it has no private investors, it is not subject to the same kinds of pressure to increase rates or degrade service," Bruenig said. "We will be talking directly to legislators who we think would be interested in this proposal and see if any want to adopt it as their own."