Alexandria Ocasio-Cortez Praised as Yanis Varoufakis Launches Green New Deal for Europe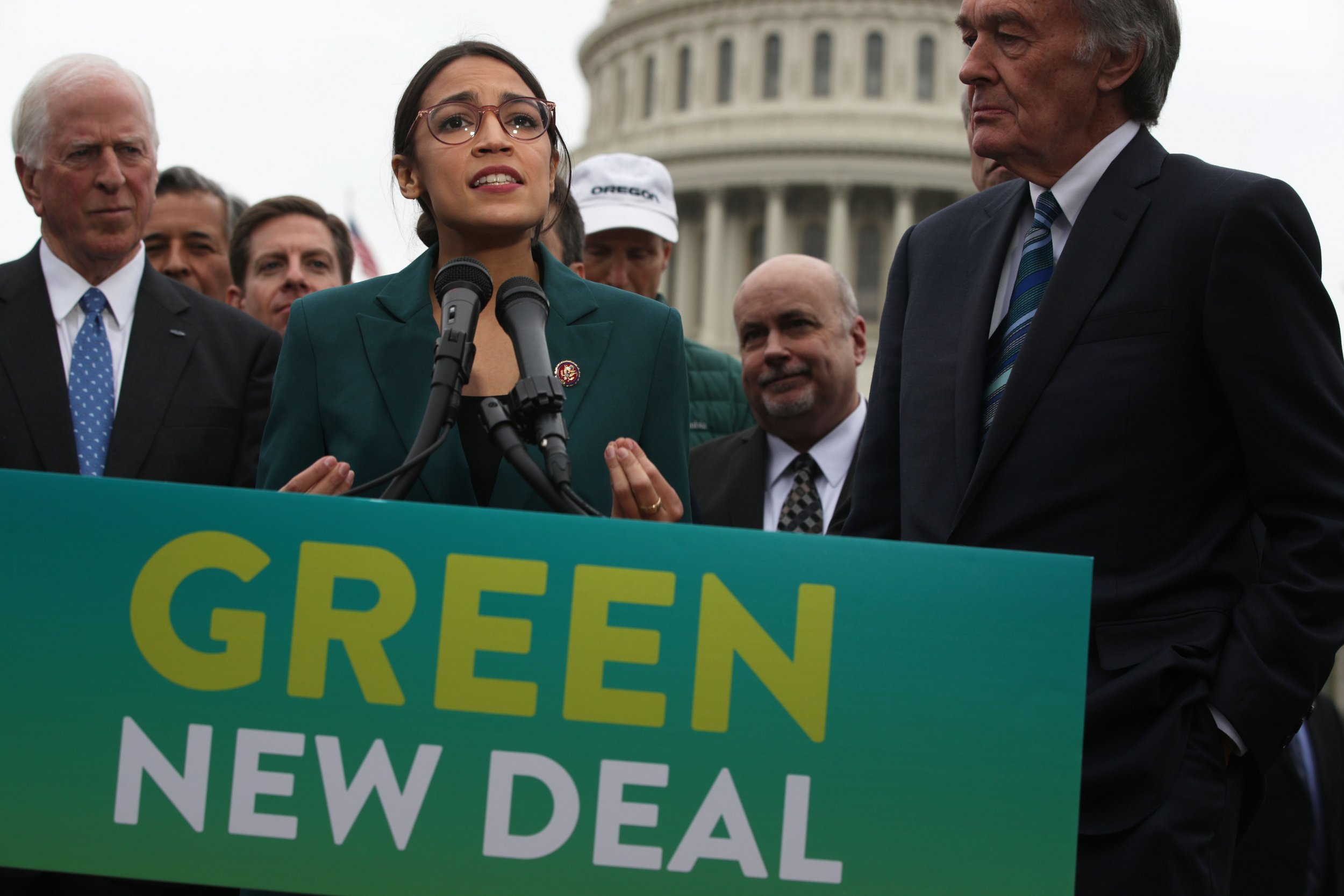 Alexandria Ocasio-Cortez and her fellow young Democrats have inspired activists worldwide—but need to learn to build alliances globally if catastrophic climate change is to be averted, author and former Greek Finance Minister Yanis Varoufakis told Newsweek, before the launch of his campaign for Europe's own version of the Green New Deal.
The European Union is currently the third largest emitter of greenhouse gases after the U.S. and China. With European Parliament elections taking place at the end of this month, the European Spring Party—launched by DIEM25 in April 2018—hopes to galvanize Europeans concerned about the rapidly changing climate.
In the U.S., the Green New Deal proposal has rapidly become a central political issue. The call for reorganizing the economy around mitigating the effects of climate change—including creating hundreds of thousands of new jobs to rebuild the national infrastructure so as to drastically reduce the nation's carbon footprint—has won the support of prominent progressive lawmakers in the Democratic Party, including freshman Representative Alexandria Ocasio-Cortez of New York and Senator Ed Markey of Massachusetts and the 2020 presidential candidates.
Europe can learn much from Ocasio-Cortez and fellow green advocates stateside, Varoufakis told Newsweek. "AOC and the entire wing of the young American left should teach us not to be apologetic about our politics, our principles, our vision," he said.
"The courage of these young activists and Congress people should teach us that we do not have to concede to the notion that there is no alternative, concede to a politics of despair—that even in a country like the United States, even at a moment like this, the seed of hope can be planted and blossom beautifully."
Republicans, meanwhile, denounce the very concept of a Green New Deal as prohibitively expensive wishful thinking that would bankrupt the nation.
While many prominent Republicans—with the notable exception of President Donald Trump—acknoweldge the need to take action against climate change, figures such as Senate Majority Leader Mitch McConnell suggest private innovation is the answer. South Carolina Senator Lindsey Graham, for example, said last month the GOP "owe it to the country to have an alternative to the Green New Deal."
In March, Graham warned that the Green New Deal would "destroy the American economy," arguing, "Any piece of legislation that destroys the economy cannot save the environment." He added, "Climate change is real, but the Green New Deal is a disaster."
Other critics have turned to misinformation to discredit the plan. Prominent figures, including Trump, have claimed the Green New Deal would ground all planes, ban beef burgers and limit Americans to one car.
Rapidly Shifting Politics
Varoufakis explained that although the notion of a Green New Deal has existed for many years, the need to rally around such a proposal is more pressing than ever. "The inane austerity policies imposed by Europe's establishment have starved us of necessary investments in industry, R&D, and infrastructure, precisely at a time when the climate emergency demands an urgent, public response."
"We detect a rapidly shifting political opportunity structure in Europe," Varoufakis explained. "Due in large part to the courageous activism of young people in the Fridays for Future movement, Europe's political establishment is finally beginning to listen to the demand for swift climate action." The Friday for Future movement saw tens of thousands of young people leave schools to protest government inaction on climate change.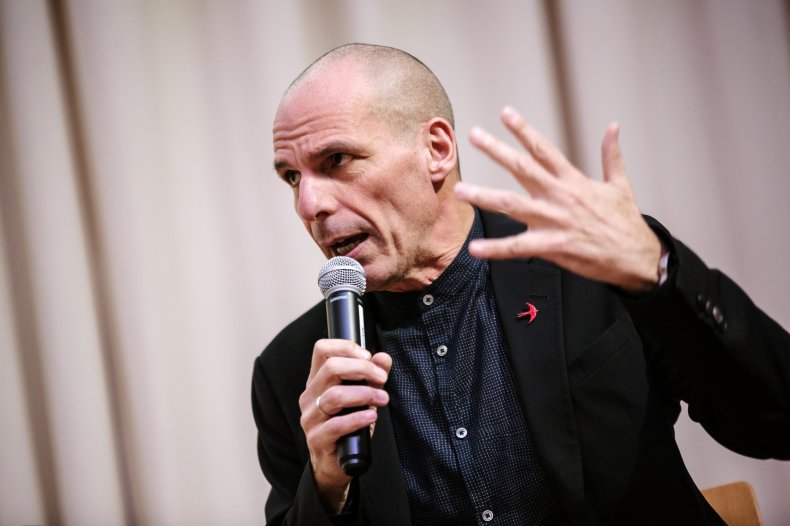 The European project proposes investing more than $559 billion per year for five years to create emissions-free transport infrastructure, to shift to renewable energy and to fund research and development for new technology.
A news release explained all this will be possible without raising taxes. DIEM25 is already collecting pledges from European Parliament candidates to invest 5 percent of national GDP in green proposals and to financing investment through the continent's public investment banks, meaning the cost burden will not fall on the public.
The plan will not rest solely on the support of wealthy, northern member states, as it claims to address both austerity and climate change. "The vanguard for this proposal...will be pan-European," Varoufakis said. "Southern countries that have been hit hardest by austerity measures, and northern countries concerned about waning demand for their exports; eastern countries that remain addicted to fossil fuels, and western ones that know that the prospects for our species' survival depends on a transnational approach to the climate question."
Varoufakis plans to present poorer states with "an offer they cannot refuse," he said, including infrastructure upgrades, new jobs and support to transition from fossil fuel-powered industries to green ones.
"This is not a pipe dream…This is a true win-win-win proposal," he said. "This is not a European vision: It is a global one. We must remember that Europe is the continent that started this mess, and bears the responsibility for leading the way out."
AOC Team: 'We've Got an Existential Threat'
Corbin Trent, Ocasio-Cortez's communications director, told Newsweek that climate change is "a threat to the planet." As such, he added, "we're excited to see the solution turning into a global movement" with the launch of the European initiative.
"If you look all across the planet, what you see is that people realize that we've got an existential threat in climate change that needs to be addressed," Trent added.
"Something like the Green New Deal is absolutely the way to address it, mobilizing our resources to fight that as a people is the way to do it. And at the same time we can start whittling away at some of the other challenges that we're facing as a people, like income and wealth inequality and lack of opportunity that we're seeing, again, across the globe."
Even as he praised Ocasio-Cortez, however, Varoufakis warned that offering inspiration was not enough. "AOC and the broader cohort of young progressives must think beyond their borders, and the climate emergency is perhaps the clearest reason why," he said. "It is time for AOC and others to join us in a progressive international movement that can form a common front in the fight for an International Green New Deal."