Green New Deal Supported by Majority of Conservative Republicans, Climate Denial No Longer Primary Obstacle
A new poll conducted by Yale University's Program on Climate Change Communication finds that a Green New Deal, designed to transition the country away from fossil fuels to renewable energy, has widespread, bipartisan support.
The poll found that, of all registered voters, 81 percent are in favor of a Green New Deal. Support among Democrats and Independents is even higher, with 92 percent of Democrats proclaiming they "somewhat support" or "strongly support" Green New Deal legislation. But the most surprising result is the broad support among Republicans, 64 percent of whom signaled their support to pollsters. Even 57 percent of self-identified "Conservative Republicans" backed the Green New Deal plan.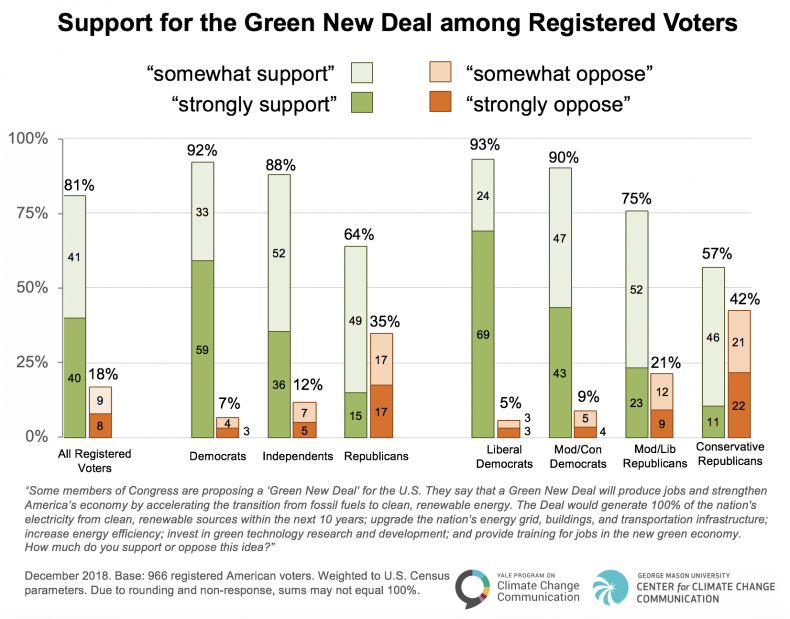 There was, however, one major caveat in the poll's results: Few were aware of plans for a Green New Deal prior to being polled. With 82 percent claiming to have heard "nothing at all" about a Green New Deal legislation, the vast majority of poll respondents were reacting specifically to the description provided.
Here's the exact description provided to respondents by pollsters:
"Some members of Congress are proposing a 'Green New Deal' for the U.S. They say that a Green New Deal will produce jobs and strengthen America's economy by accelerating the transition from fossil fuels to clean, renewable energy. The Deal would generate 100 percent of the nation's electricity from clean, renewable sources within the next 10 years; upgrade the nation's energy grid, buildings, and transportation infrastructure; increase energy efficiency; invest in green technology research and development; and provide training for jobs in the new green economy."
The lack of public awareness suggests these numbers could change considerably once a Green New Deal becomes a more partisan proposal. But another poll from Program on Climate Change Communication, conducted in August, suggests it's no longer public opinion or climate change deniers standing in the way of action. That poll found that 70 percent of Americans believe in global warming, with 57 percent agreeing environmental damage is caused by humans. Instead, corporate and political intransigence is the biggest obstacle to meeting the immense reforms recommended by the Intergovernmental Panel on Climate Change (IPCC), which concluded in October that we have only 12 years to avert global catastrophe.
Thirty-one members of the U.S. House of Representatives have endorsed a Green New Deal, as of December 11, including newly elected Representative Alexandria Ocasio-Cortez, who has rallied around the issue. A handful of senators, including potential 2020 presidential aspirants like Cory Booker and Bernie Sanders, have also endorsed a Green New Deal. But while a Green New Deal has a growing coalition of legislators, it's still far outpaced by public support, representing only 7 percent of the House.