After playing an outsized role in the 2016 presidential election, the Green Party has so far received just 363,000 votes in this year's race—less than one-third of their level of support four years ago.
Party spokesman Michael O'Neil said they always knew the 2020 election cycle was going to be an uphill battle.
"We have to run and we're going to run to win, but survival is the victory condition because the Democratic Party has spent the past four years trying to exterminate us," O'Neil told Newsweek.
In 2016, Green candidate Jill Stein played kingmaker in several key battleground states. Her vote total was higher than Donald Trump's margin of victory in Wisconsin, Pennsylvania and Michigan—prompting intense backlash from Democrats and political pundits. Not only was Stein widely condemned as a spoiler, but Hillary Clinton later accused her of being a "Russian asset."
Howard Schweber, a professor of political science at the University of Wisconsin-Madison, said people weren't "going to make the same mistake again" and that analysis of the 2020 race likely will find "that a large majority of past or potential Green voters went for Biden this time because they realized that the re-election of Trump was a real possibility."
Overall, the Green Party has accounted for just 0.2 percent of the popular vote in 2020.
But now, the defeat of Trump, paired with the infighting between the moderate and progressive wings of the Democratic Party, have the Green Party hopeful for the rise of a new American left.
"The Democratic Party and Joe Biden only barely eked out a victory when it should have been a landslide...," O'Neil said. "Joe Biden is already tracking right, and Democratic Party leadership is already tracking right.
"They've won, but they've done so in the most embarrassing way possible from the perspective of a leftist or progressive. So that means this is a perfect time for an independent party that is committed to people, planet and peace over profit like the Green Party to build and grow and win."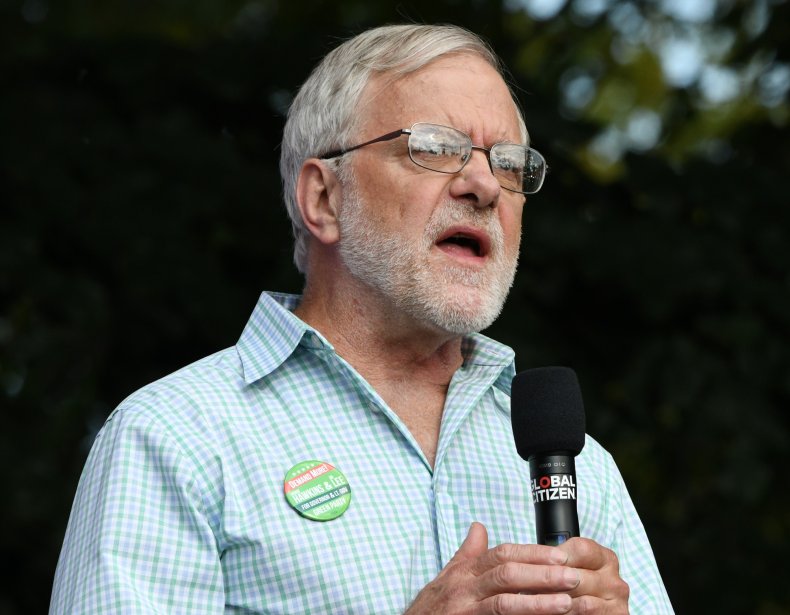 In the aftermath of the November 3 contest, before the race was called for Joe Biden, House Democrats held a conference call to air their grievances. The exchange, leaked to various news outlets including The Washington Post, was described as centrist members blasting liberal colleagues for losing races over ideas such as Medicare For All, the Green New Deal and defunding the police.
Representative Alexandria Ocasio-Cortez (D-N.Y.) pushed back on that logic during an interview with the New York Times. Instead, she pinned Democratic losses on a lack of digital campaigning and the avoidance of popular progressive issues. She said the party has been so "hostile" that she considered not running for re-election and is unsure about a future in politics.
Howie Hawkins, the Green Party's 2020 presidential candidate who has called for a #DemExit and tried to lure disillusioned Bernie Sanders voters to support his cause, said the party is ready to welcome frustrated progressives.
"The corporate Democrats have been trying to blame the progressives for the race being close and not winning those Senate seats," he told Newsweek. "[Ocasio-Cortez] at least is pushing back."
Hawkins added, "My attitude is when people like AOC realize that the corporate Democrats are in charge, they always have been and always will be, we're here for them."
The Green Party also has amplified the narrative that the Biden campaign will do little to cater to progressive ideas, seizing on the former vice president's own comments to wealthy donors that "nothing would fundamentally change" if he's elected.
"We're happy @realDonaldTrump is out but don't ignore the 'nothing will fundamentally change' Dems," the party tweeted on November 7. "In 2020, the Green Party ran 210 candidates & 21 have won so far, including a 26 y/o Green mayor in CA. We have over 115 elected officials at the Local Level. LET'S BUILD!"
In another post-election tweet, the Green Party mocked the lack of progress from the Democratic Party and encouraged followers to "break the cycle" by joining their cause.
O'Neil said the party is "doing everything that we can to put our message out there and to let people know there is an alternative."
"What we have is a situation that's actually ideal now for building an independent left party in this country," O'Neil said. "There is a new generation of people who have seen through the scam of a two-party cartel. They're ready to resist it and build alternatives and we welcome them to the fight."
But first the party has some serious work to do. It had 251,000 registered voters in 2020—down from the peak 319,000 in 2004. Green Party candidates have found some success in state-level races (earlier this year, a 26-year-old was elected as a mayor in California) but have never won a congressional seat.
Hawkins said the party has to "build the party from the bottom up," which means getting organized on a local level and leaning on proposals that have popular public support.
"It'll be harder to dismiss us," Hawkins said. "Our leading positions for a Green New Deal, for Medicare for All, for reprioritizing federal spending from the military to social and environmental protections—we know from public opinion polling more people support those positions than oppose them like Biden and Trump did."
Amid the concern from progressives, the Biden campaign said over the weekend that lawmakers such as Ocasio-Cortez will not be disappointed.
"No. I think that Vice President Biden campaigned on an incredibly progressive and aggressive agenda," Biden's campaign communications director Kate Bedingfield told NBC on Sunday.
"Take a look, for example, at his climate plan. It's the boldest, biggest climate plan that's ever been put forward by a nominee running for president and now a president-elect. He's going to make good on those commitments."