Green Rankings 2012: A Closer Look at the Methodology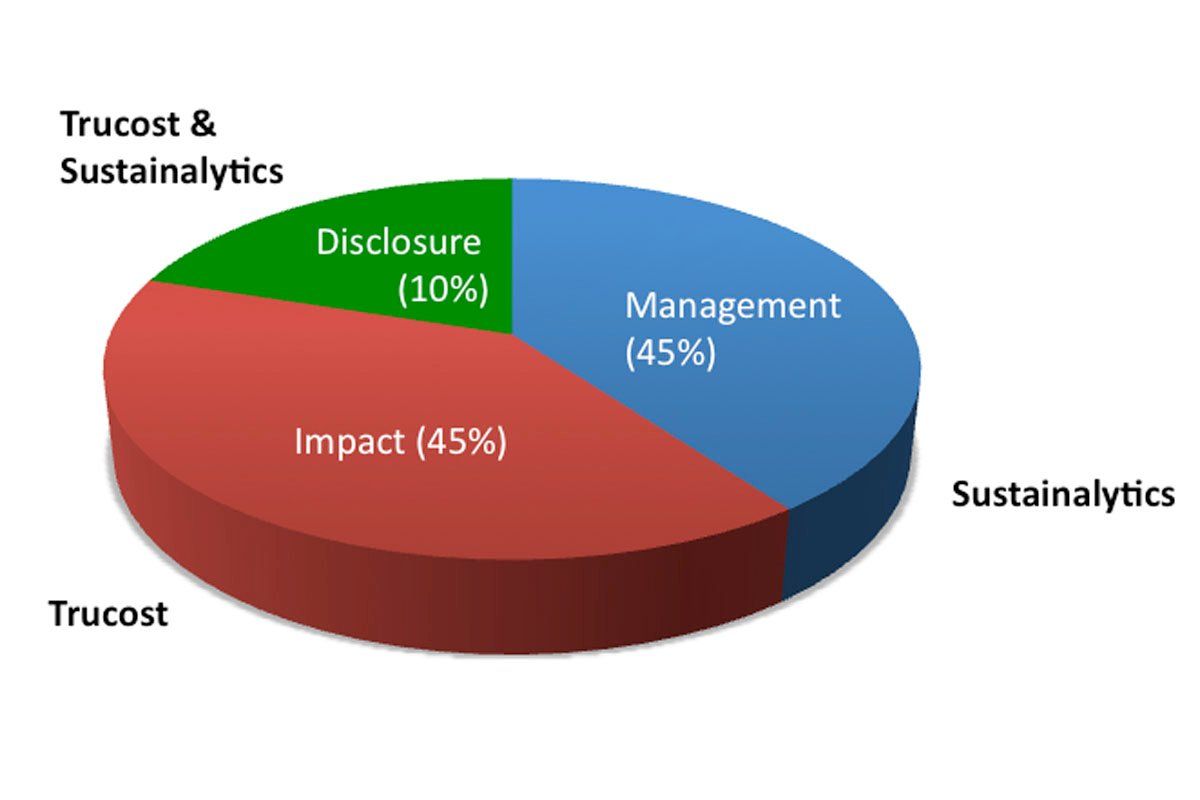 With the launch of the inaugural Green Rankings in 2009, Newsweek stated its goal for the endeavor: to "open a conversation on measuring environmental performance—an essential first step toward improving it." In order for us to foster this important conversation about the Green Rankings, we need to have a clear and transparent methodology, so that companies and other stakeholders can better understand what goes into a Newsweek Green Score. Each year, detailed data sets and profiles have been sent to companies for review and feedback as part of our Green Rankings research process. Over a thousand conversations have taken place between companies and the research teams to help further explain the Green Rankings' published methodology and the improvements that have been made over time. But we recognize that there is more to be done.
The Newsweek Green Rankings are intended to be the most comprehensive and sophisticated environmental ranking available. However, this also adds complexity. Unlike rankings based on company surveys that use simple one-size-fits-all scoring systems, the Green Rankings are conducted each year by a team of research organizations, each contributing to the scoring from their particular area of expertise. Each ranked company's environmental performance is assessed at a very granular level, including its most significant environmental impacts, policies and management systems, and disclosure. Scores in these three areas are then weighted 45/45/10 to produce the Newsweek Green Score, upon which the ranking order is based. (Please see our full methodology for further background.)
This article takes a deeper dive into how we calculate company scores for the Green Rankings, as part of a continued effort to improve our transparency. As always, we welcome questions and can be reached at GR_Research@newsweekdailybeast.com.
Environmental Impact Score
Based on data compiled by Trucost, the Environmental Impact Score (EIS) is a comprehensive, quantitative, and standardized measurement of the overall environmental impact of a company's global impacts. This score includes hundreds of metrics—covering greenhouse gas emissions, water use, solid waste disposal, and emissions that contribute to acid rain and smog, among others. The figure below highlights the contribution of each impact category to the total environmental footprint of each industry sector.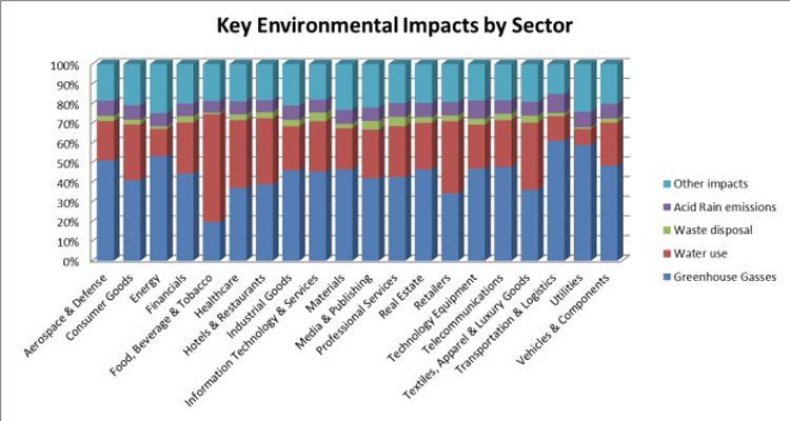 To calculate the EIS, the quantity of each environmental impact is first established using high quality global data, when available, from public reports or directly from the company. In the absence of comprehensive provided data, the environmental impacts are calculated using Trucost's economic input/output model (described further here).
Each impact is then multiplied by an environmental cost, and all the costs are summed to establish a total environmental cost for the company.
For the Green Rankings, the environmental costs used are average global values that reflect the marginal damage cost from each environmental input or output (i.e. for each gallon of water consumed or ton of carbon emitted) established by Trucost from valuation studies in the professional and academic literature. Typically, Trucost would apply more specific damage costs that reflect local geographies (higher environmental costs in areas that are more water scarce, for example). However, since many companies do not provide the geographical distribution for their operations we cannot apply them consistently across the research universe.
This total cost is then normalized by revenue to account for the company's size. Finally, this cost/revenue ratio is placed on a placed on logarithmic scale so that a company's EIS is 0 when its total environmental cost is equal to or greater than the revenue it generates or 100 when the cost/revenue reaches 0.1 percent.
Thus, if all companies scored a perfect EIS of 100 (or close thereto), we would be well on our way to global sustainability in the corporate world. If all the companies in the Green Rankings scored a perfect 100 on their EIS, this would require that the greenhouse gas emissions associated with their operations and full cradle-to-gate supply chains would be reduced to 6 percent of their current level while maintaining the same level of economic activity. For example, Wal-Mart would have to reduce its emissions to a tenth of what they are currently while maintaining current revenue to achieve an EIS of 100.
Below, we diagram how company environmental impacts are used to calculate the EIS and provide specific detail for IBM, the top-ranked U.S. company in the 2011 and 2012 Green Rankings.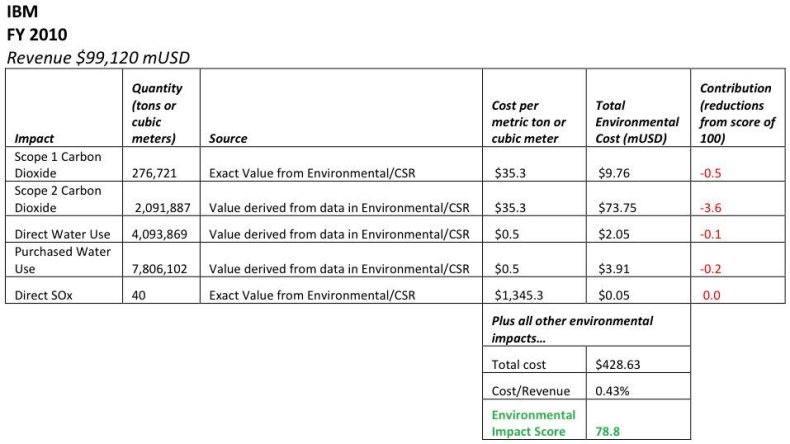 Environmental Management Score
The Environmental Management Score is an assessment of how a company manages its environmental performance through policies, programs, targets, certifications, and the like. To account for a company's overall environmental footprint, Sustainalytics focuses on three distinct spheres of influence: company operations, contractors and suppliers, and products and services. An analysis of positive performance-related criteria is counterbalanced by a detailed assessment of environmental controversies and incidents, which often indicate the extent to which management systems are effectively implemented.
Approximately a dozen core environmental indicators are assigned to all sectors, addressing environmental policies and management systems, as well as certifications, programs and targets to reduce emissions, increase the use of renewables, and the like. These core indicators are supplemented by over 40 sector-specific indicators addressing issues such as biodiversity protection, water use, hazardous waste reduction, supply-chain initiatives and a range of sustainability-related products and services. As such, the composition of indicators and weightings used to evaluate a company vary by industry, on the basis of industry-specific impact and exposure. This methodology is underpinned by Sustainalytics' best-of-sector approach to benchmarking company performance relative to industry peers (note that the sector breakdown Sustainalytics uses is at a more granular level than the 20 industry groupings displayed with the Green Rankings results).
For a company to score a perfect 100 on the EMS, it would have to disclose company-wide policies, management systems and certifications that are aligned with best practices for its industry. Additionally, the company would not be implicated in any environmental controversies in recent years, indicating effective implementation of its environmental policies and programs. Moreover, in sectors where meaningful sustainable alternatives exist—that is, products and services which are not merely environmentally-preferable, but innovative responses to key global challenges—companies are assessed on related revenue thresholds. For example, 20 percent of an Information Technology & Services company's EMS score is based on an assessment of its sustainability product and service offerings and revenues derived thereof.
The table below details the indicators and weights assigned for the Environmental Management score of companies in the Information Technology & Services sector, including IBM. It shows our full list of indicators, with those used for Information Technology & Services highlighted in orange. The table also highlights the weight assigned to each sphere of influence, which varies from one industry to the next based on degree of exposure and impact.
We assign at minimum 50 percent weight to operations for each industry, with the remaining 50 percent allocated to supply chain and products and services depending on the sector's exposure and impact. Whereas Information Technology & Services has its environmental operations indicators weighted at roughly 63 percent, Oil and Gas companies, for example, are closer to 75 percent.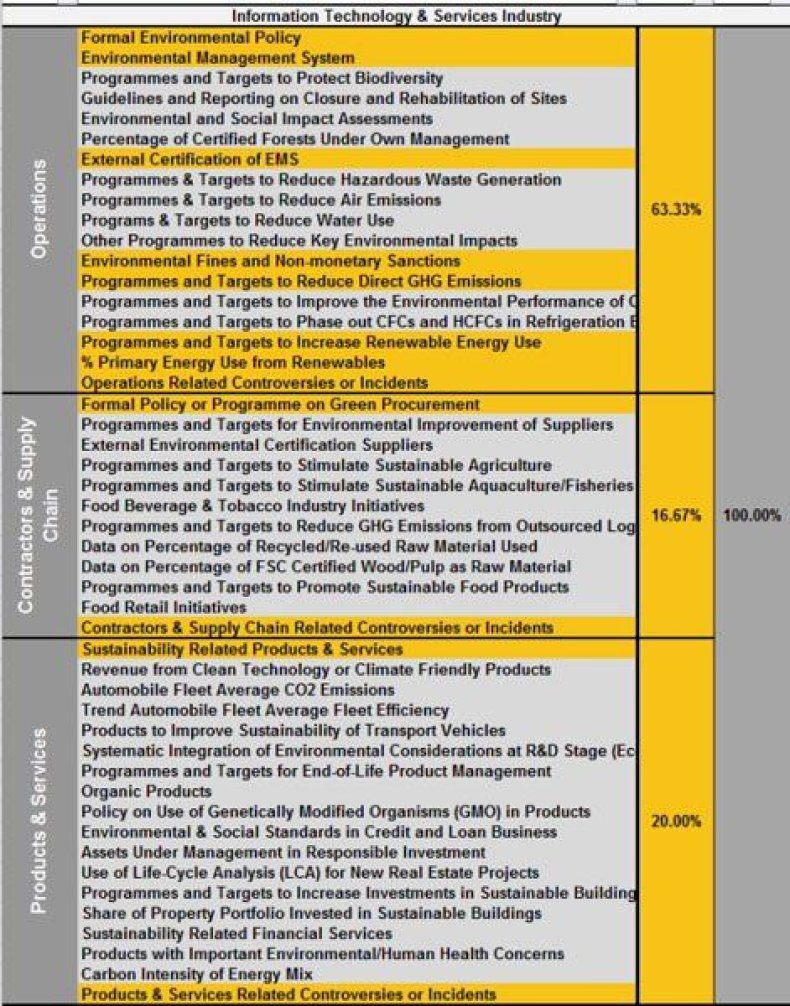 Environmental Disclosure Score
The Environmental Disclosure Score (EDS) assesses the transparency of each company with regard to its environmental performance. The EDS accounts for 10 percent of each company's Green Score.
Half of the EDS is based on an assessment provided by Trucost of the breadth and quality of company environmental reporting on its material environmental impacts. This is calculated by establishing the percent of the companies' direct environmental footprint that is disclosed by the company. If the company discloses its direct GHG emissions, and those emissions represent 50 percent of the total direct environmental cost of the company, for example, then the company will receive 50 points toward the maximum of 100 on Trucost's contribution to the EDS. This is then added to the environmental costs of all the other impacts the company discloses. The total is weighted as 50 percent of the EDS.
Sustainalytics calculates the remaining 50 percent of the EDS by evaluating a company's level of involvement in key transparency initiatives such as the Global Reporting Initiative (GRI) and Carbon Disclosure Project (CDP). To receive full points, a company must have released a corporate sustainability report in the most recent accounting year which is both in line with GRI Level-A criteria and is externally verified, in full, to a global standard. Additionally, the company must have publicly responded to the 2012 CDP survey. While strong sustainability reporting may not translate directly into sustainable performance, it is a key means to determine the level of a company's commitment to its environmental performance and ongoing improvement.