Green Skies, Ominous Clouds in South Dakota as Wicked Storms Whip Eastward
Images shared online show the South Dakota sky turned a wicked shade of green as severe storms approached Sioux Falls.
Thunderstorms that brought heavy winds and over three inches of rain to the Sioux Falls area on Tuesday were observed by locals in a seldom seen shade of green. The National Weather Service (NWS) said that the severe weather was part of a derecho, an extended series of connected storms that include winds in excess of 58 miles per hour.
Winds from the storm reached speeds of up to 99 miles per hour in some areas of South Dakota. Multiple photos shared on social media showed dramatic images of the green sky and ominous storm clouds approaching Sioux City in the late afternoon and early evening.
"GOODNESS GREEN. This is a look at the sky in Sioux Falls right now as severe storms push through from one of the DOT cams," tweeted Fox Weather meteorologist Heather Brinkmann alongside a photo of a road surrounded by a green sky.
"Have never seen something like that," user @aafaque33 tweeted while sharing an image showing a cloudy green and blue sky. "Green sky with combination of blue in Sioux falls SD."
"The color of Sioux Falls's sky [right now] is unreal," tweeted @Wx_Jones.
"Crazy greenage with the wind bag derecho moving through Sioux Falls earlier," meteorologist Reed Timmer tweeted.
NWS meteorologist Cory Martin commented on the "incredible" and unusual color of the sky, sharing to Twitter an infographic explaining that the visual effect was caused by reddish light from the setting sun reacting with blue water droplets inside storm clouds.
"Thunderstorms usually happen later in the day when the sky takes on a subtle reddish color as the sun angle slowly begins to approach the horizon," the infographic states. "Particles in storm clouds with substantial depth and water content will primarily scatter blue light. When the reddish light scattered by the atmosphere illuminates the blue water/ice droplets in the cloud they will appear to glow GREEN."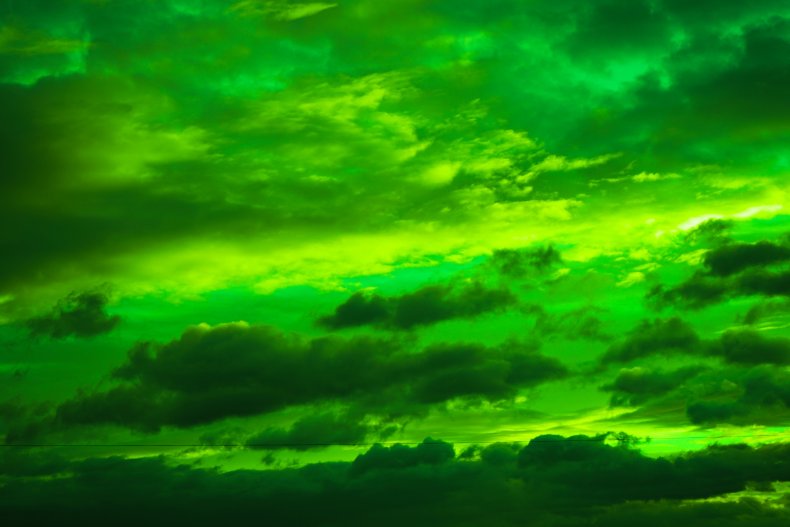 "It takes a tremendous amount of water content within the cloud to achieve this color, which usually means a substantial amount of ice (large hail) has to be present!" it continues. "This phenomenon is typically a visual warning sign that the thunderstorm is capable of producing very large hail!"
Martin noted that reports of hail in the Sioux Falls storm were "not too large at the moment" while sharing the infographic. The NWS Sioux Falls Twitter account later shared Martin's tweet and commented that "most of the hail reports" in the area concerned ice that measured less than one inch.
Over 28,000 people were left without power in South Dakota as the storms hit, although around 20,000 had their power restored by later on Tuesday night, according to PowerOutage.US. The storms moved into Sioux Falls from the west before exiting the state and heading into southwestern Minnesota and northwestern Iowa.
Newsweek reached out to NWS for comment.