A Greenland shark was found dead on a beach in Cornwall, U.K. just a few days after a rare sighting of the fish was reported in France.
On March 7, French research organization, the Association for the Study and Conservation of the Selachians, tweeted there had been a sighting of a Greenland shark off the coast of French island of Ushant.
It said the animal was "stuck in very little water," but eventually returned back to sea. A few days later on March 13, Rosie Woodroffe—a biologist at the Zoological Society of London (ZSL) Institute of Zoology—found an example of the same species dead on Newlyn beach in Cornwall.
Greenland sharks are a "near threatened" species. Despite the name, they can swim as far south as the Azores and as far east as Scandinavia. Marine biologists believe the Greenland shark population is low as they are so rarely sighted. They live in deep waters of about 650 to 1640 feet below the surface of the ocean but occasionally venture up to the shallows of bays and river mouths in the winter.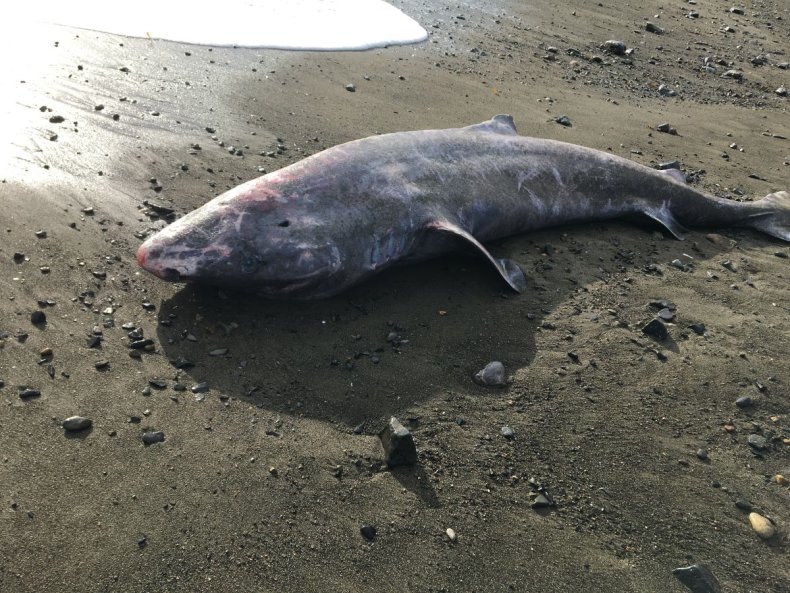 After spotting the stranded animal, Woodroffe called in the marine strandings network at Cornwall Wildlife Trust. However, when teams arrived, the shark had been washed away with the tide.
There are currently teams on the lookout for the dead shark, which they hope will enable veterinary pathologists to carry out research.
Woodroffe told Newsweek she had been looking for it again on Monday morning but so far there has been no sign of the shark.
Marine wildlife strandings occur globally, and are a phenomenon where animals are found washed up on beaches, unable to return to the water. In most cases, the animals die. For some species, including whales and dolphins, strandings are well-documented. In the U.K., from 1990 to 2014, there were 12,362 cetacean strandings. However, for sharks, information is lacking. Some suspect human activity may be to blame, however, this has been called into question.
Greenland sharks usually live longer than any other vertebrate. Scientists suspect they can live for at least 250 years, if not up to 500 years. Before this sighting, there had only ever been one Greenland shark sighted in Cornwall, which was also found washed ashore and dead, Cornwall Live reported.
ZSL research fellow, Chris Yesson, who specializes in Greenland habitats, told Newsweek that the shark discovered on Sunday may have become stuck in a trawl net, a common cause of death among the species. He said Greenland sharks come up in trawl nets as they eat a lot of fish targeted by this type of fishing, such as shrimp and halibut.
"Mortality rates from trawling is an open area of research. [Experts] estimate a 50% mortality rate from benthic trawl bycatch, although this is a tentative early estimate," Yesson said.