Greenland Village Evacuated as Giant Iceberg Approaches, May Create Tsunami
An enormous iceberg looming over a small Greenland community has prompted evacuations amid tsunami fears, local outlet Kalaallit Nunaata Radioa (KNR) reported.
Although the iceberg appears to be grounded, chunks of ice fell into the sea and created powerful waves on Tuesday, Canadian publication CBC News added.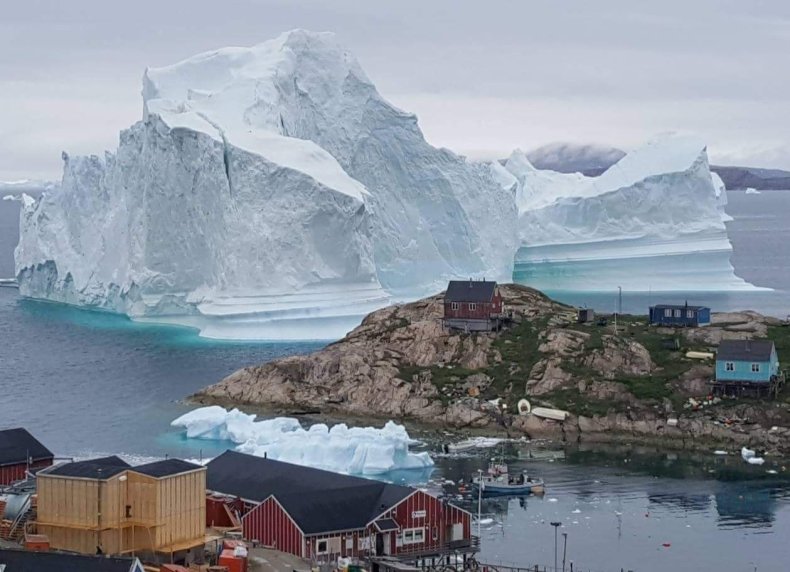 "There are 180 inhabitants, and we are very concerned and are afraid," said Karl Peterson, who is a resident of a tiny village in the island settlement of Innaarsuit as well as a local council chair, CBC News reported.
Villagers at risk were moved to safer areas of the community, with school buildings, a day-care center and relatives offering sanctuary from the behemoth berg, deputy chief officer Lina Davidsen told KNR. Police urged residents to keep an eye out for more falling ice.
Local resident Oline Nielsen captured a video of the shedding structure:
In June, scientists with New York University watched a mammoth iceberg breaking off a glacier in Greenland. The phenomenon, known as calving, causes nearby sea levels to rise dramatically, NYU reported. Scientists believe this is a major contributor to rising sea levels worldwide.
"Global sea-level rise is both undeniable and consequential," David Holland, a professor at NYU's Courant Institute of Mathematics and NYU Abu Dhabi, who led the research team, said in the article. "By capturing how it unfolds, we can see, firsthand, its breathtaking significance."
"The better we understand what's going on means we can create more accurate simulations to help predict and plan for climate change," added NYU scientist Denise Holland.
Last year, an enormous iceberg the size of Delaware split off from Antarctica's Larsen C ice shelf. Just a few months later, another huge berg fractured from the continent's Pine Island Glacier. Satellite images revealed that the chunk of ice then disintegrated into smaller pieces, causing concern among scientists.
"We're now seeing changes in the calving behavior of the ice shelf, when for 68 years we saw a pattern of advance and retreat resulting in the calving of a single large iceberg which left the ice front to approximately the same place," British Antarctic Survey marine geophysicist Robert Larter said in a statement in November 2017.
In more positive ice news, scientists used a giant ice cube in Antarctica to locate the source of a mysterious "ghost particle" for the first time. Researchers believe the discovery heralds a "new era" of astronomy.