Greenpeace Activists Board Statoil Rig in Norwegian Arctic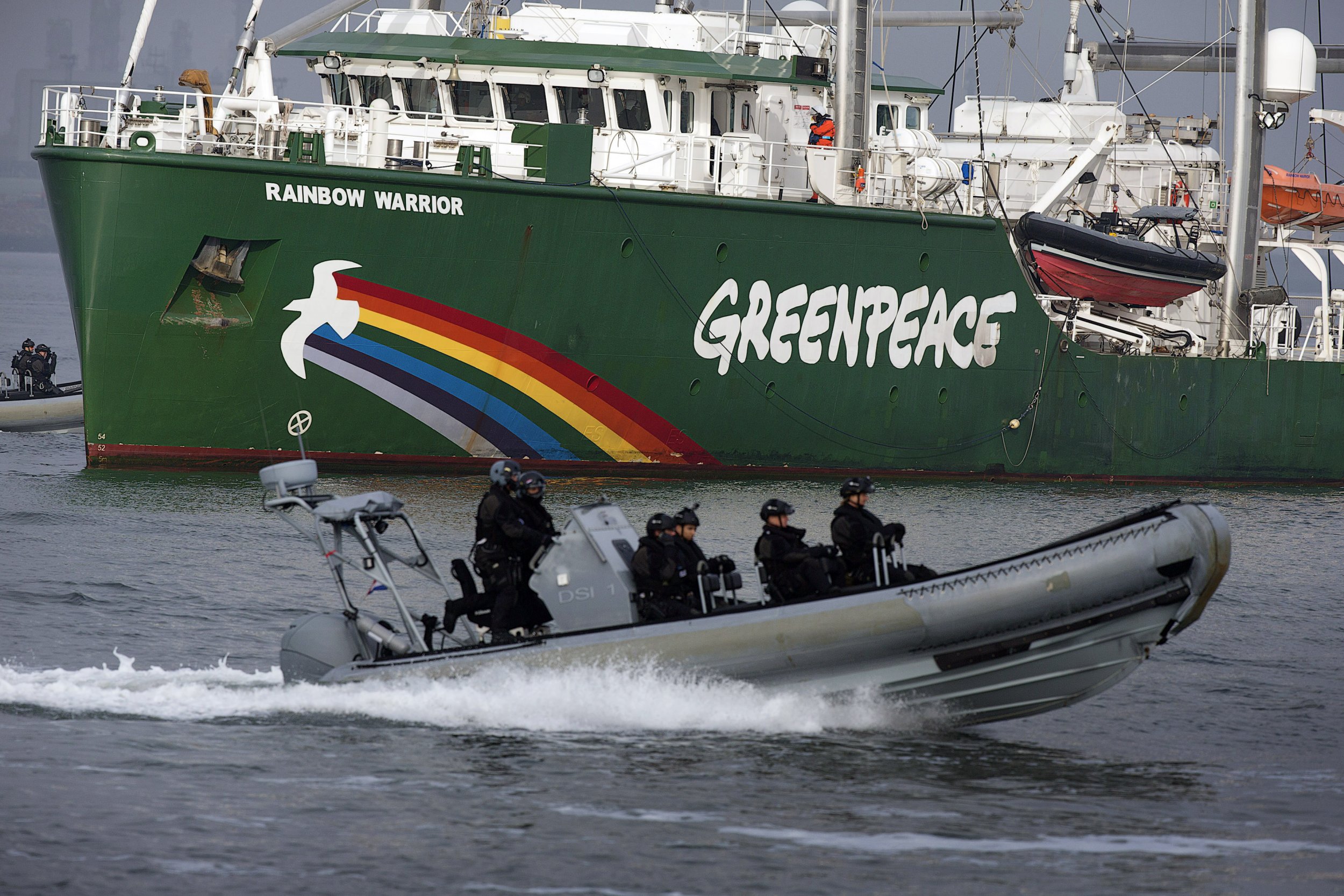 OSLO (Reuters) - Greenpeace activists boarded an oil rig in the Norwegian Arctic on Tuesday to try to stop exploration plans in the far north, and Norwegian police said they were powerless to intervene until drilling starts.
The Statoil rig, which is registered in the Marshall Islands, is in international waters some 23 nautical miles (43 km) from its planned drilling site in the Barents Sea. As long as drilling does not begin, Norwegian police have no jurisdiction.
"When the rig is in movement, it is considered a ship. When the rig begins to drill it is considered a rig on the Norwegian continental shelf. Then we can safeguard Norwegian oil and gas interests," Ole Saeverud, chief of police for Troms police district in northern Norway, told Reuters.
He declined to say what action police may be preparing. The Norwegian coastguard currently has one vessel near the rig. Statoil, which is owned by the Norwegian state, denounced Greenpeace's actions as illegal and irresponsible.
Greenpeace, which regularly calls Statoil an 'Arctic aggressor', said plans to drill in the Hoop area of the Barents Sea threaten Bear Island, an uninhabited wildlife sanctuary which is home to rare species and occasionally to polar bears.
Oil firms are drilling further north in Norway than ever as the Arctic ice retreats and recent regulation changes let firms work in areas where winter ice was common just decades ago.
Statoil said it was unclear when normal operations could resume. "We can't say anything about when we could be up and running," company spokesman Oerjan Heradstveit told Reuters.
Greenpeace climbed the rig, owned by Transocean, in the early morning hours, hung banners such as 'No Arctic Oil' and 'Stop Statoil's Arctic Race', and said they were prepared to stay on the rig for days.
"There are 15 activists on board. Some are attached on the outer structure of the rig, some are on board the rig," Greenpeace Norway chief Truls Gulowsen told Reuters. "Everything is very calm.
"Statoil has offered for the activists to be moved to shore. We have said 'no thanks'," he said.
Statoil said it was very worried about the safety of the activists.
"Some of them have chained themselves underneath the deck. The temperature was 2 degrees Celsius (36 degrees Fahrenheit) earlier today," said the Statoil's Heradstveit. "They could fall in the water, under the propeller."
The move by Greenpeace comes just weeks after the group unsuccessfully tried in Rotterdam to block the delivery of Russia's first oil from its Prirazlomanaya oil platform in the Arctic Pechora Sea.
The platform was briefly occupied by Greenpeace activists last year before they were arrested by Russian military forces and charged with piracy, carrying a potential prison term of decades, but released under an amnesty initiated by President Vladimir Putin.
Statoil rejected Greenpeace's claims about safety. "Hoop is an area with known geology, low pressure and temperature, and where Statoil has robust plans for the operations.
"An oil spill is very unlikely: at the same time we have put in place a number of barriers to be able to handle a situation should it occur," the company said.
The rig is currently in transit to the Hoop area where it has permission to start drilling in the Apollo prospect. However, it cannot drill into oil-bearing rock because a complaint from Greenpeace is pending.