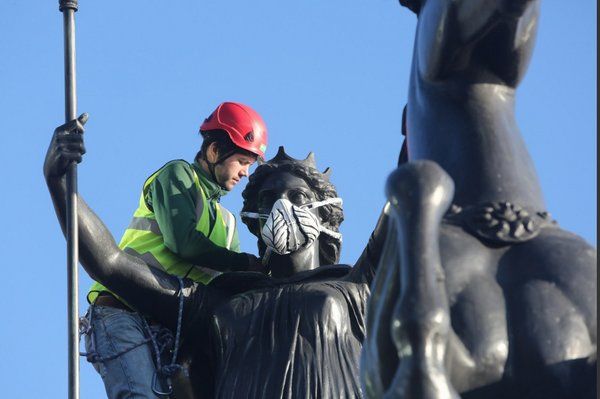 Activists from environmental group Greenpeace have scaled the 52-metre Nelson's Column in Trafalgar Square, London, to highlight "dangerous levels of air pollution."
The group said it plans to target 17 statues in the capital on Monday and to fix breathing masks over their faces. Two protesters breached security at Parliament to scale the Oliver Cromwell statue and put a mask on its face.
Four people have been arrested in connection with the protests so far, according to reports.
Emergency services are at the scene in Trafalgar Square and have cordoned off the area.
Two climbers, named as Alison Garrigan, 29, and Luke Jones, 30, began climbing the London landmark at about 4 a.m. GMT.
Speaking to radio station LBC from the top of the column, Ms Garrigan admitted she was "petrified of heights."
Other statues targeted by the group include the Sherlock Holmes statue, near the site of the fictional detective's home at 221b Baker Street, the Winston Churchill statue outside the Houses of Parliament, the statue of footballer Thierry Henry at the Emirates Stadium and the Queen Victoria statue opposite Buckingham Palace.
London's Metropolitan Police said four people were arrested in connection with the protest at the Oliver Cromwell statue, within the grounds of the Houses of Parliament.
Officers were called at about 6:25 a.m. GMT as a man and a woman, in hard hats and climbing gear, put a face mask over the statue of Cromwell. The pair came down from the statue and were met by waiting police.
The breach in security came at a time when the terror threat level is "severe"—the second highest level.
Greenpeace said the protest was to highlight the "public health crisis" of air pollution, and put pressure on whoever wins May's London mayoral election to take action.
The group wants the government to focus on greener public transport, push electric vehicles and create clean air zones around schools and hospitals.
Air pollution has been a huge problem in the capital this year. In January, London exceeded its annual pollution target in a matter of days, while this time in 2015, a toxic smog cloud shrouded the city.
Campaigner Areeba Hamid said: "Monitoring shows that, if these statutes were real people, many of them would often be breathing dangerous, illegal air."
Greenpeace activists have previously staged numerous protest stunts, including climbing to the summit of London's Shard, the tallest building in Western Europe.
Once at the top, two of the campaigners unfurled a giant blue flag with "Save the Arctic" written in white across it.