Greenpeace Suspends Climbers off Portland Bridge to Block Shell's Arctic Icebreaker Ship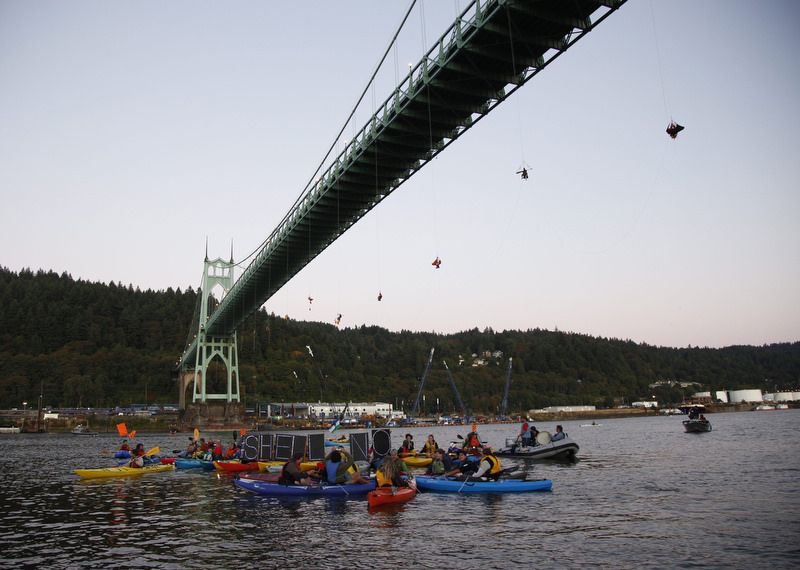 Early Wednesday morning, 26 climbers affiliated with the environmental group Greenpeace rappelled off the edge of St. Johns Bridge in Portland, Oregon, and suspended themselves in a row, forming what they hope will be a human blockade to prevent a Shell ship from leaving for the Arctic. They each have enough supplies to last for days, a Greenpeace spokesperson said in an emailed statement.
Photos from the scene showed the climbers suspended on ropes high over the Willamette River at dawn. Some appear to have hammock chairs.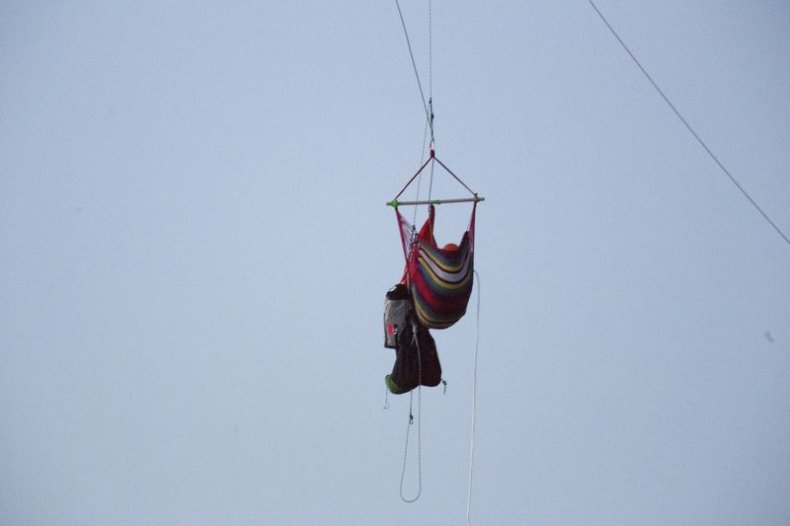 The ship targeted by the protest is Shell's MSV Fennica, an icebreaker that was discovered to have a hole in its hull earlier this month and had been docked in Portland for repairs. The U.S. government last week granted Royal Dutch Shell PLC the last in a series of permits to begin exploratory oil drilling in the Chukchi Sea off the coast of Arctic Alaska. But the permit was conditional: Shell needed its capping stack, to be used in the case of a well blowout, in place first. The capping stack is currently aboard the MSV Fennica. Shell is unable to begin drilling deep enough to hit oil until the MSV Fernnica returns with that key safety equipment.
"Without the required well control system in place, Shell will not be allowed to drill into oil-bearing zones," U.S. Bureau of Safety and Environmental Enforcement Director Brian Salerno said in a statement last Wednesday.
The Greenpeace protest is the most recent in a series of actions opposing Shell's Arctic drilling plans. It follows on the heels of a months-long demonstration by so-called "kayacktivists," who protested Shell's presence in the Port of Seattle on its way to the Arctic by blockading the Shell's Polar Pioneer drilling rig with a flotilla of their kayaks.
"Every second we stop Shell counts," Annie Leonard, the executive director of Greenpeace U.S., said in a statement Wednesday.​ "The brave climbers here in Portland are now what stand between Shell and Arctic oil. This is President Obama's last chance to wake up and realize the disaster that could happen on his watch."
Much of the opposition to Arctic drilling stems from the high risk of oil spills in a harsh environment where cleanup would prove challenging. The Bureau of Ocean Energy Management, of the U.S. Department of the Interior, estimated earlier this year that drilling in the Arctic's Chukchi Sea could come with a 75 percent chance of a major spill in the next 77 years, based on a model of projected long-term development. A federally funded study from Nuka Research last year found that for 78 percent of the year, cleaning up a spill like that with skimmers and booms would be impossible because of ice cover.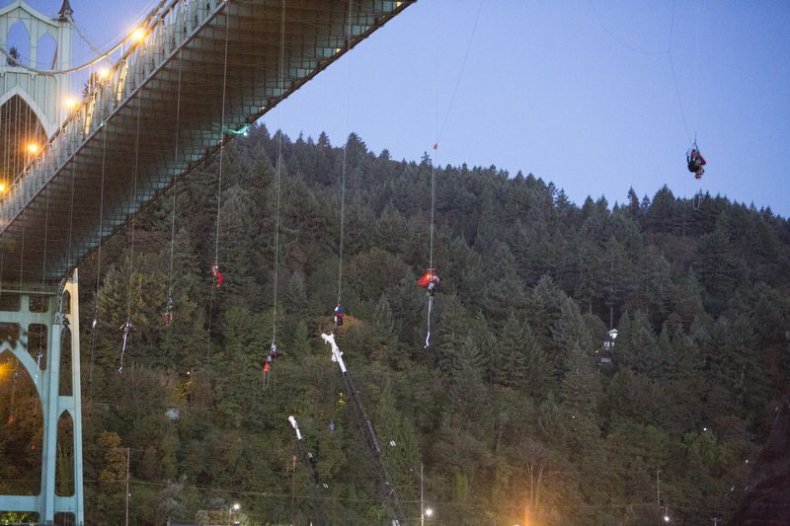 "Shell has ignored the world's best scientists, as well as millions of people around the world, who have all said repeatedly that the melting Arctic is a dire warning, not an invitation," Leonard said in her statement.
A spokesperson for Shell addressed the protest in a statement to local station KATU News on Wednesday morning, saying that the company "acknowledges the right of any individual or organization to express their point of view; however, we won't condone illegal or unsafe tactics that put people's safety at risk."