Greenpeace Protesters Block Shell Drilling Vessel From Leaving Portland, Oregon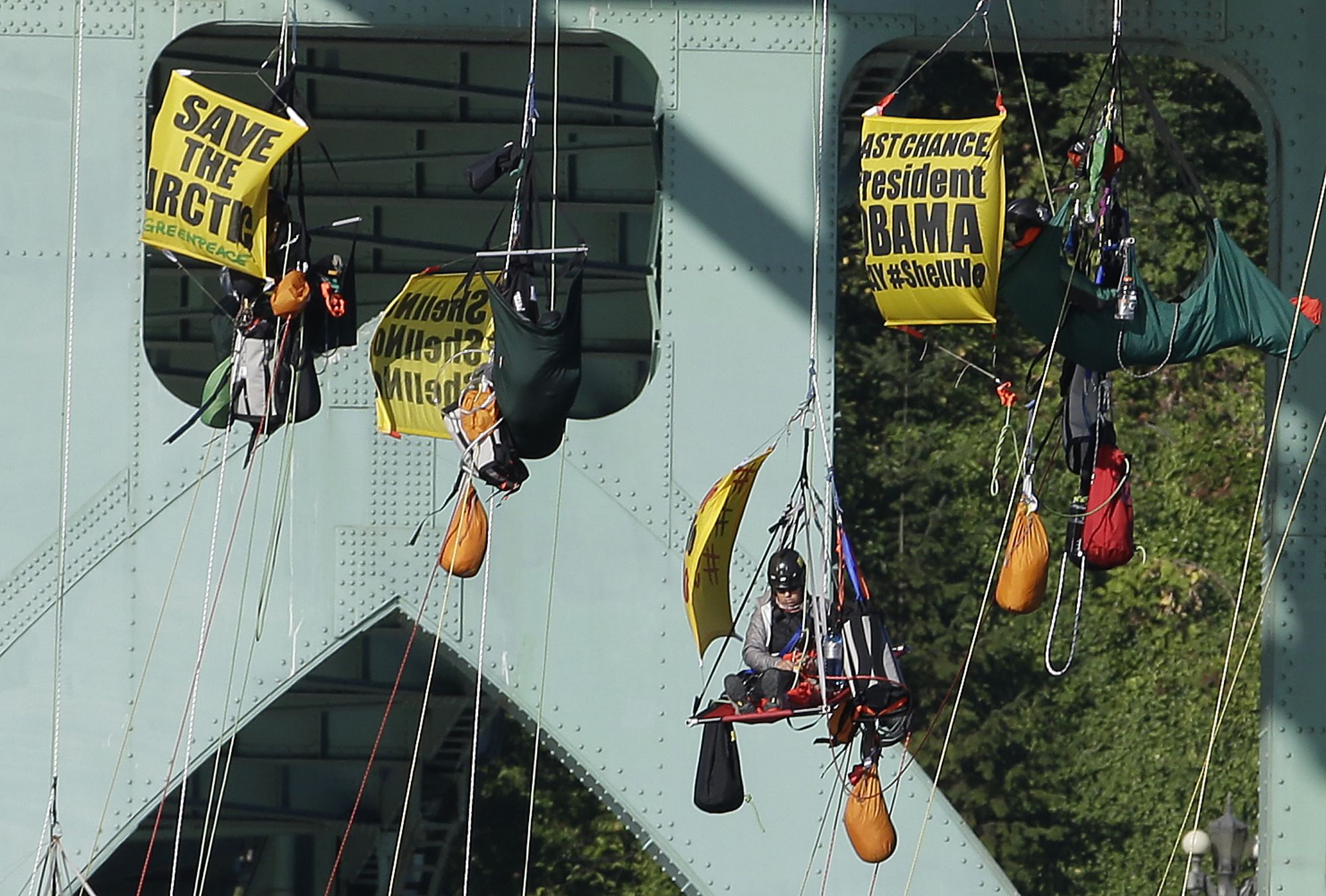 Updated | A Shell Oil drilling vessel was blocked from leaving Portland, Oregon, on Thursday morning by a group of Greenpeace protesters dangling off of the St. Johns Bridge over the Willamette River.
The Fennica was headed to the Arctic for an oil-drilling mission when protesters on the bridge lowered themselves by ropes toward the water and chanted, "Shell, no!" according to a local NBC affiliate. The ship was forced to turn around around 8 a.m. local time.
Dozens of other people were in kayaks on the water under the bridge. The U.S. Coast Guard told the protesters to leave, but they remained in their spots.
Shell lawyers asked a federal judge to fine Greenpeace $250,000 each day until the protest ends, KOIN-TV reported.
The climbers first appeared on Wednesday, when at least 26 of them repelled off the bridge and suspended themselves in a row, in anticipation of the ship's eventual departure from the dock. They reportedly have enough supplies with them to last for days.
Opposition to Arctic drilling mostly surrounds the high risk of oil spills in a harsh environment where cleanup would prove challenging.
Earlier this month, Fennica was discovered to have a hole in its hull. It was docked in Portland for repairs.
The U.S. government last week granted Royal Dutch Shell PLC the last in a series of permits to begin exploratory drilling off the coast of Arctic Alaska. Officials released the permit on the condition that Shell has a capping stack in place in case of an oil well accident. The capping stack is aboard the Fennica.