Greenville Plane Crash South Carolina: Deaths Reported After Jet Crashes off Runway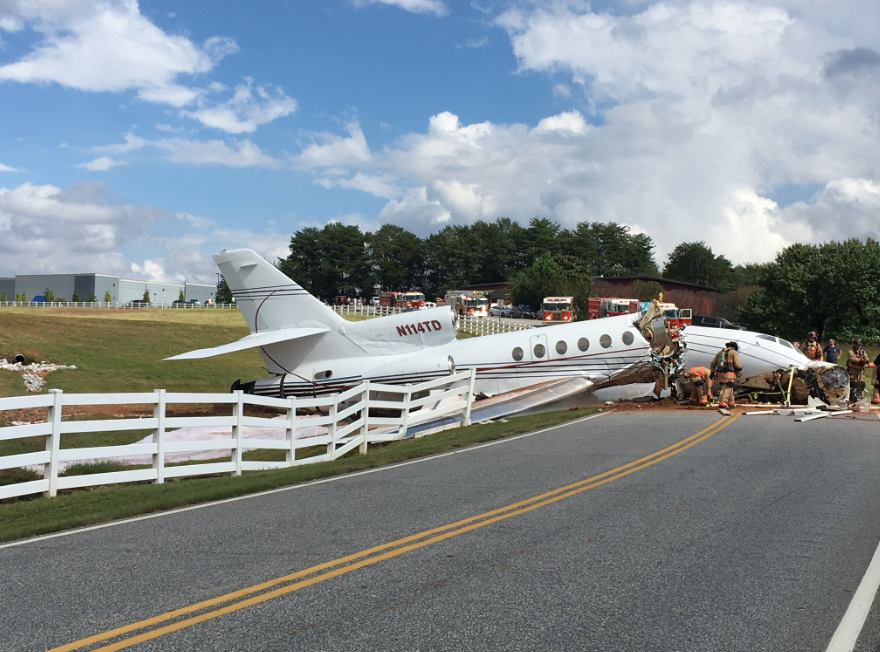 UPDATE: 5:38 p.m.—A fuel leak from Thursday's plane crash in Greenville has prompted fears over contamination of nearby water, the Greenville News reported. The plane began leaked fuel and started a fire after it crashed off the runway and split in two.
The jet was identified as a Dassault Falcon 50. At least four people were on board, two of whom died. Two others sustained critical injuries.
UPDATE: 4:30 p.m.—Greenville City Fire Spokesperson Tristan Johnson said the two people who died in a plane crash on Thursday were the pilot and co-pilot of the plane, according to WSPA-TV. One person died at the scene and another died in a hospital.
Two others were injured and in critical condition.
Original story:
At least two people died after a plane went off the runway and crashed in Greenville, South Carolina, on Thursday, FOX Carolina reported. The jet crashed at the Greenville Downtown Airport on Thursday afternoon.
Injuries were also reported, according to KSN, though it was unclear how many and what the extent was. Photos from the scene showed the front portion of the plane on a roadway, broken near the nose.
It was not immediately clear what caused the plane to go off the runway. Greenville Police said the aircraft went into Airport Road. Authorities said the call initially came in around 1:30 p.m. local time.
Police said they would release additional details as they become available.
This is a developing story and will be updated as more information becomes available.