Greenwich Mean Time: Conn. Becomes the Nastiest Congressional Race in the Country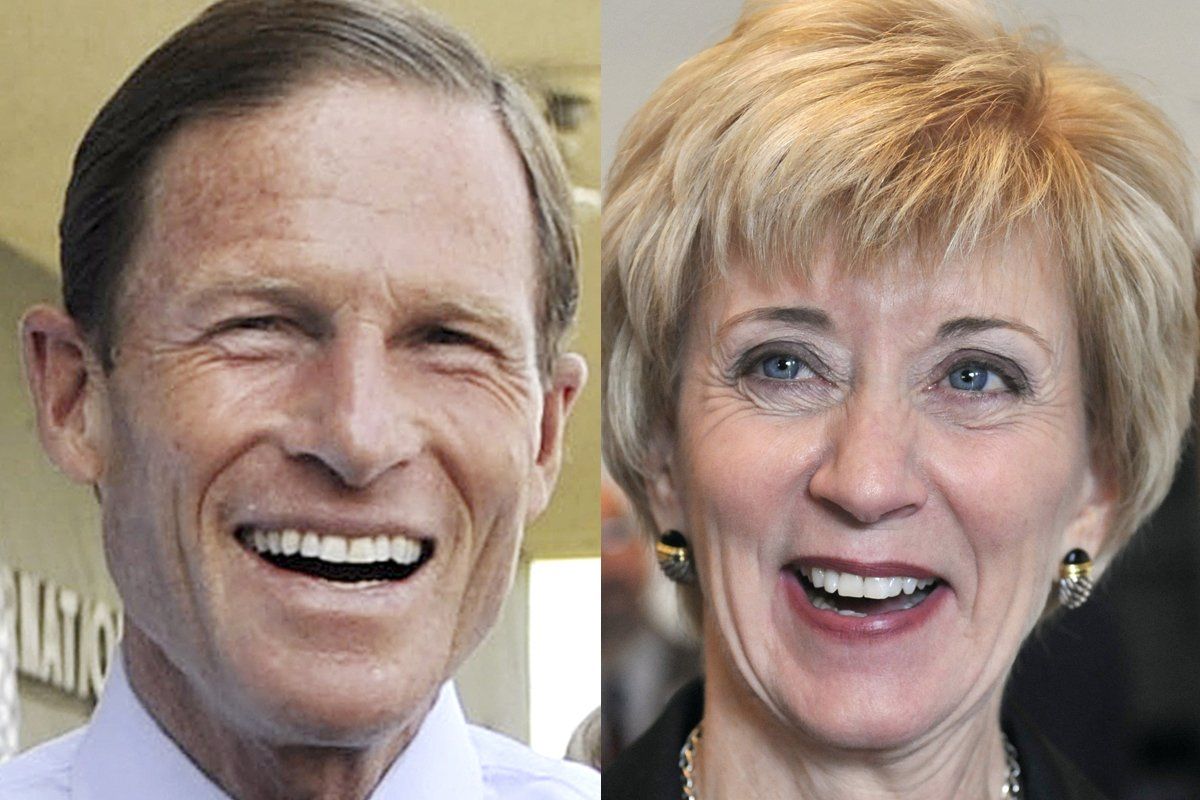 If you can't get enough of mudslinging politics, then you should be paying close attention to Connecticut this month. With Senate candidates Richard Blumenthal and Linda McMahon set to square off tonight in a debate, the race is sure to get even uglier.
This race has gone from an easy Democratic win to a tight contest. State Attorney General Richard Blumenthal has favored a strategy of relying on his long record as an elected official in the state while allowing proxies to attack McMahon. McMahon has touted her experience in business (she managed World Wrestling Entertainment from 1980 to 2009) and blasted Blumenthal as part of the political establishment—a de facto if not de jure member of that scorned class, incumbents.
Originality? Not much here. But the heat is turning up. Let's start with the attacks on McMahon, which—following the trend—comes from the Democratic Senatorial Campaign Committee. The DSCC can't be happy about having to beat back McMahon, but they're on the offensive here.
Democrats thought that McMahon's record as CEO of World Wrestling Entertainment would make her a fat target for character assassination (For example, there's the video where McMahon's daughter enters the ring at a WWE event to chants of "Slut! Slut!") That hasn't sunk her yet, and McMahon is trading on her executive experience. So the DSCC is cutting to the chase and bashing her record: "As CEO, McMahon laid off workers yet took millions in bonuses. No wonder she opposes Wall Street reform."
While linking McMahon with the WWE as such hasn't had much effect, some groups are still hammering on it. They've tried linking her to steroid use and criticizing WWE's decision not to give employees insurance; Politico's Maggie Haberman got a nice scoop over the weekend with a story that WWE partnered with Girls Gone Wild, the purveyor of trashy videos, in 2003.
Meanwhile, another proxy group, the Democratic State Central Committee has created a site called trashtalkinglinda.com, which turns out to be devoted to the disposal of McMahon's mailers—although one might be forgiven for thinking it was a forum for insulting her (the site isn't loading as of this writing, but you can see a cached version here. I called the DSCC—the second one—and will update if I hear back from them). Additionally, look for Blumenthal to hit McMahon hard tonight over her views on the minimum wage, which she suggested recently ought to be evaluated.
Now, over to McMahon. She's been perfectly happy to go on the attack all along, and it's served her well, pushing her within striking distance. The latest news is that McMahon's campaign has launched a brutal ad targeting Blumenthal's lies about his Vietnam service, while also saying it has another damning video waiting in the wings. Here's McMahon's ad:
The ad hammers the revelation from this spring that Blumenthal repeatedly misrepresented his service in Vietnam. Juxtaposing footage of soldiers wading through rice paddies with Blumenthal's statements, the ad asks, "If he lied about Vietnam, what else is he lying about?" Taegan Goddard calls the ad "devastating," but I'm not convinced. The ad is very well done: it's got the ominous tone and innuendo down. But the revelations are old, and polls—even ones that show Blumenthal only barely edging McMahon suggest that most Connecticut voters don't really care that much.
But even if the ad doesn't have a huge effect in the long term, it will put Blumenthal on the defensive for tonight's debate. As MSNBC's First Read team says, he's also the less comfortable candidate on camera—one way in which McMahon's show-biz background is a clear asset. Tonight's faceoff in Hartford is the first of three debates scheduled to be held in the race.
Meanwhile, Democratic polling firm Public Policy Polling, which used a likely-voter formula and tends to skew slightly to the right, has released a poll today that sees a 12-point edge for Blumenthal. That's only going to fuel the fire, as McMahon tries to hold on to the ground she's gained.
Nutmeg State voters are in for a nasty month. The saving grace? It probably can't get as bad as the neighboring New York governor's race—but avoiding the beastliness of New York is why people move to Connecticut in the first place, right?
Greenwich Mean Time: Conn. Becomes the Nastiest Congressional Race in the Country | U.S.