Greenwood Sikh Temple Brawl: Everything We Know About Massive Indiana Fight
Updated | Police said at least four people have been hurt following a brawl involving around 150 people which broke out at a Sikh temple in Indiana.
The fight at the Gurdwara Sikh Temple in Greenwood, south of Indianapolis, on Sunday afternoon (April 15) is believed to have occured following a disagreement on how the temple should be run, reports the IndyStar.
Greenwood Assistant Police Chief Matthew Fillenwarth told reporters that the fight happened during a service to mark a change of leadership within the temple, an event which happens every two years.
It was originally reported that people involved in the altercation had been stabbed. Although ceremonial knives are used in the temple as part of the service, there are no reports of anyone suffering stab wounds following the brawl, reports WISH-TV.
Four people received treatment for minor injuries, with Temple member Gurpreet Sing describing the injuries as just "bruises and minor cuts."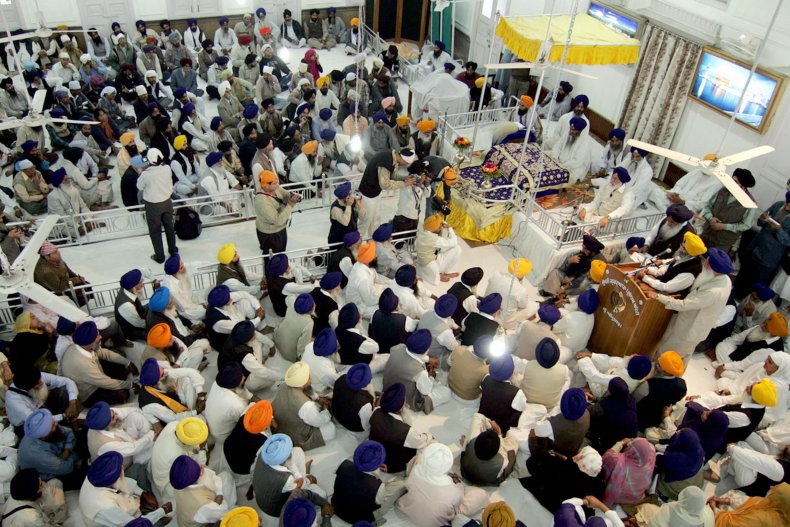 Police said someone reported finding pepper spray in a garbage can close to the temple, but said they could not yet confirm if any pepper spray was used during the disorder.
Sing said there had been disagreement on how the temple should be run for a while now, with tensions boiling over into Sunday's altercation.
According to reports, the fight erupted as the leadership was told to hand collected donations over to the newly elected committee, resulting in members attempting to drag the outgoing president out of the building after they refused to step down following the internal election.
"It was chaos," Sing told IndyStar. "It reached a whole new level."
Police said they will review surveillance video from the temple as part of the investigation. Officers will also be interviewing those involved in the fight, including the four people who received minor injuries. No arrests have been made so far.
Correction: The caption in this article has been changed to state that Amritsar is in India.