Greg Abbott Blames Election Officials' Errors for Mail-In Ballot Issues
Local election officials in Texas have reportedly sent thousands of mail-in ballots back to voters ahead of the state's March 1 primary due to issues with identification requirements. On Tuesday, a spokesperson for Texas Governor Greg Abbott told Newsweek those issues were the fault of the officials who had misinterpreted the state's new voting law.
"The bottom line is that counties should not be rejecting valid mail ballot applications," Nan Tolson, communications operations manager and spokesperson for Abbott, told Newsweek.
The upcoming primary is the first major election held in Texas since Senate Bill 1 was signed into law. The Republican-backed legislation requires that the ID used by voters who send mail-in ballots matches their voter registration record. Since many voters registered decades ago in some cases, many applying for a mail-in ballot reportedly don't remember what ID they originally used. (Voters who are already registered do have the ability to update their registration online to make sure the proper IDs are being used.)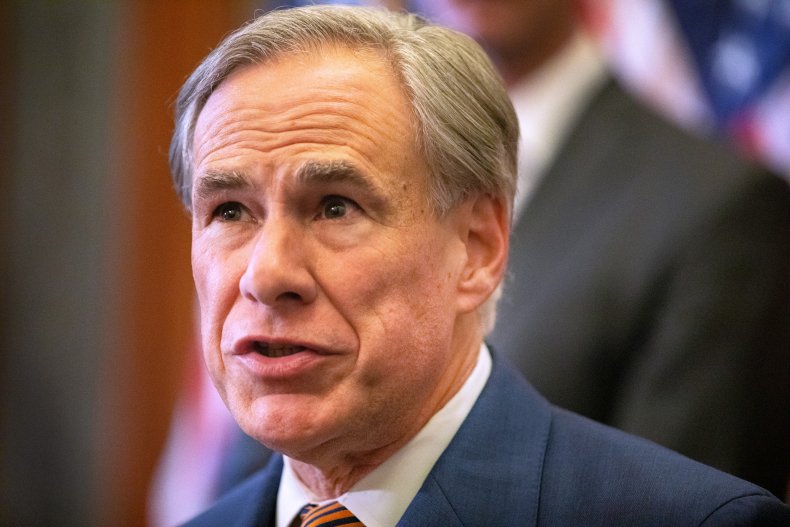 Election officials have been quoted in local and national media outlets in recent days saying ballots have been sent back to voters, who can mail it back if they have enough time to do so. But officials have expressed concern that many vote-by-mail ballots will be flagged too late for voters to address the problem.
Tolson told Newsweek that officials who encounter such problems should be reporting them to the state instead of going to the media first.
"Reports of high rejection rates of mail ballot applications at the county level are the result of election officials erroneously interpreting the law and going to the press instead of the Texas Secretary of State's office for assistance," she said.
"The decision by county election officials to reject valid mail ballot applications harms those eligible voters who have properly submitted their applications," Tolson added. "The Secretary of State's office has worked diligently to ensure counties have access to the resources and information they need to process mail ballot applications in accordance with the new law, including issuing new guidance and holding a formal training with counties."
She continued: "The Secretary of State's office will continue to work with counties across the state to combat the misinformation being spread by county election officials and ensure that all valid mail ballot applications are processed."
Abbott signed Senate Bill 1 into law in September, and voting groups have encouraged Texas voters to send in mail-in ballots as early possible in the event they encounter any problems.
Harris County, the largest county in the state, has reportedly sent back around 37 percent of mail-in ballots due to issues with ID rules. Along with providing the wrong information, another reason for rejected ballots is people not adhering to the new requirement of providing their driver's license number or social security number.
"Some voters are not including any [personal ID numbers]," Isabel Longoria, the Harris County Elections Administrator, told local ABC-affiliate KTRK-TV. "They are saying, 'That is my private information and I don't want to share,' or they are including one but not the other, and we have on record their driver's license number but not their social security number. Even though both numbers are true and accurate and legal, unless we have the same exact number for our file, we can't match up your mail ballot."
Longoria added: "It's anyone's guess right now to see if these laws are going to affect in-person voting as much as it did mail-in voting."
Abbott is expected to take a decisive victory in the March 1 primary and secure the Republican nomination in his quest for a third term as governor of Texas. His likely opponent in the gubernatorial election is Beto O'Rourke, a former congressman and presidential candidate, who maintains the most prominent name recognition among Democratic contenders.