Greg Abbott Congratulates Ryan Guillen's Party Flip With 'Coming Out of the Closet' Remark
Texas state Representative Ryan Guillen announced Monday he is leaving the Democratic Party and joining the GOP.
Guillen, who has been a member of the state's House of Representatives for nearly 20 years, said he believes his views are "no longer in step" with the Democratic Party. He noted in a Monday press release that while he won reelection last year by 17 points while running as a Democrat, former President Donald Trump won his district by more than 10 points.
Guillen said he plans to run for reelection during the 2022 election cycle and will be doing so as a Republican.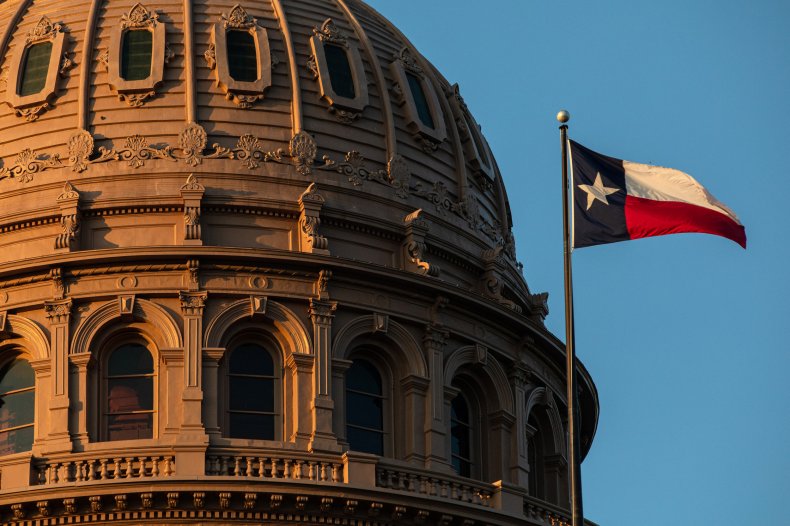 "Throughout my entire career, creating a prosperous business climate, defending the Second Amendment, and protecting the lives of the unborn are the cornerstones of how I have represented my district," Guillen said in the release.
"After much consideration and prayer with my family, I feel that my fiscally conservative, pro-business, and pro-life values are no longer in step with the Democrat Party of today, and I am proudly running as a Republican to represent House District 31," he said.
Guillen informed the public about his party switch during a Monday morning press conference that Governor Greg Abbott and Texas House Speaker Dade Phelan, both Republicans, also attended. After Guillen made his announcement, Abbott welcomed Guillen to the party and said his shift to the GOP has been "the worst-kept secret in the Capitol."
"Everybody has known that Ryan Guillen is really a Republican who was attached to the wrong label," Abbott said. "Ryan, we're glad you finally came out of the closet."
Abbott also said South Texas is experiencing "a big political change" and suggested the current values of the Democratic Party no longer align with the views of residents in the southern portion of the state. Guillen also said there is a divide in values between the national Democratic Party and the people he represents.
"The ideology of defunding the police, destroying the oil and gas industry, and opening our border has disastrous consequences for those of us who live in South Texas," Guillen said in the release. "After years of voting against tax increases, in favor of protecting Texas families, and in favor of border security funding, I have found that my core beliefs align with the Republican Party."
Guillen added he feels "confident" about his decision to join the GOP.
In a Monday news release shared with Newsweek, the Republican Party of Texas said Guillen's decision was the result of six weeks of conversations he had with the state's party chairman, Matt Rinaldi.
Reached for comment about Guillen's party switch, Texas Democratic Party Chair Gilberto Hinojosa said in a statement shared with Newsweek that Guillen was "prioritizing holding on to his job rather than standing up for Texans."
"We're disappointed to see him selling his soul and selling out South Texans, but we're excited to clear the field for a real Democrat to run — one we can count on to show up for our families and put Texans first," Hinojosa said.
"Texas Democrats will keep standing up for our values and fighting to fix the biggest problems facing Texas families — whether it's fixing our disaster-prone power grid, getting more people health care, or making sure working Texans have a real chance to get ahead. That's clearly not a priority for Rep. Guillen," he said.
Hinojosa concluded his statement by writing, "Don't let the door hit you in the...."