Greg Abbott Launches Website to Fund Border Wall, Demands Biden 'Return Texas to Texas'
During a press conference on Wednesday, Texas Governor Greg Abbott detailed his plan for building a wall on the border the state shares with Mexico. He also tore in President Joe Biden's handling of the influx of migrants coming into the country and demanded the president "return Texas land to Texas."
The Republican governor also announced that Texas is funding a $250 million down payment to help pay for a border wall. "It's more than enough to hire a project manager and contractor to begin building the wall. We are committed to adding more resources as needed going forward," Abbott said.
The governor sat at a desk with a small sign in front of him that read "borderwall.texas.gov," the web address where he is directing potential contributors to give donations to help Texas build its own wall.
Abbott spoke of more than $1 billion being allocated from the state budget toward border security, saying that since the federal government is not enforcing federal immigration laws, "Texas taxpayers are having to step up."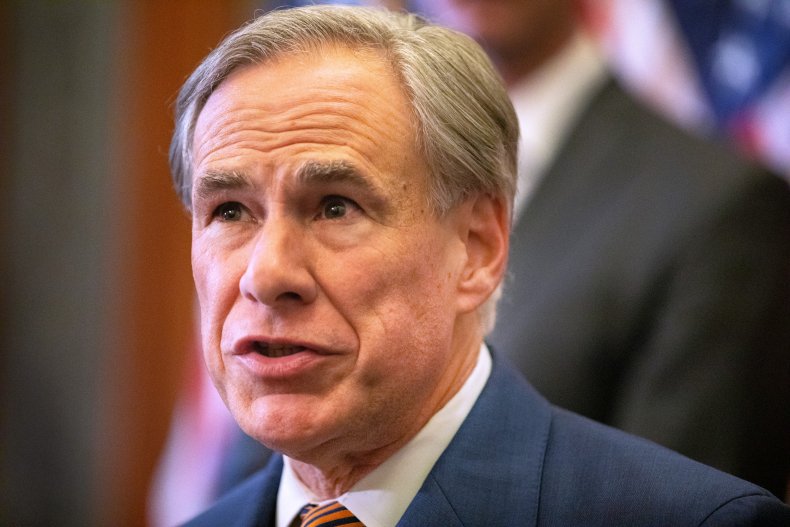 Further criticism was leveled at Biden when he pointed toward the number of migrants that border security has recently apprehended. In April 2020, Abbott noted, 17,000 people were stopped by security personnel, compared to the more than 170,000 stopped in April of this year. He said those coming into the state were causing "carnage" to ranch properties and crops.
"Homes are being invaded, neighborhoods are dangerous, and people are being threatened on a daily basis with guns," Abbott said.
He also claimed states across the entire country were being affected by security breaches at the border, citing an increase in fentanyl coming into the U.S. and being distributed throughout the nation. He said, "Remember that the border was far more under control under the Trump administration..."
Therefore, Abbott said he felt compelled to fight back against the "tidal wave of illegal immigrants" by announcing during a summit last week that the state would build its own wall. During an appearance on the right-wing podcast Ruthless released Tuesday, Abbott explained that a website would be set up to accept donations to pay for the initiative.
On Wednesday, he provided the web address for that site—as seen on the desk sign—as well as gave a P.O. Box address for people to send in donations. Abbott also stated that the wall would be built on land owned by the state of Texas or local governments, in addition to land owned by private citizens who volunteered it.
Abbott said he believed the combination of various land already available "will yield hundreds of miles to build the border wall in Texas." Before he could give specific numbers regarding the costs, he said a program manager and contractors would first need to calculate a more accurate estimate.
Referring to the previous attempt by former President Donald Trump to build a wall, he said that the state should take over the project. He then demanded that the Biden administration "immediately return to Texans land the federal government took to build the wall. Texas will talk to those property owners about Texans using that land to build the wall."
Critics have claimed Abbott is overly concerned about the wall when he should be focused on the possibility of power outages this summer, and some have suggested he has been using the border issues as a distraction.
In February, the state experienced unprecedented outages during a winter storm due to grid problems from the Electric Reliability Council of Texas (ERCOT), which operates most of the state's electricity. ERCOT sent alerts on Monday and Tuesday that asked customers to conserve energy as the increasing heat in Texas is putting a strain on the company's systems.
When asked by a reporter about the situation with ERCOT following his announcement about the wall, Abbott said the "energy grid in Texas now is better than it's ever been."
Newsweek contacted Abbott's office for further comment but did not hear back in time for publication.