Greg Abbott Saying Uvalde Shooting 'Coulda Been Worse' Resurfaces in Ad
A dark money group has taken out more than $6 million in advertisements ahead of the midterm elections criticizing Texas Republican Greg Abbott's performance as governor, including a clip of him stating a recent mass shooting of several dozen children and teachers at a Texas elementary school "coulda been worse" against revelations law enforcement in Uvalde did little to stem the violence.
The advertisement, which is scheduled to air statewide through October according to FCC purchasing records, depicts a set of crying eyes against a black backdrop as images of guns and the Uvalde Elementary School hallway flash across the corner of the screen.
"Four years of sorrow, tears, anguish," a narrator reads. "AR-15s everywhere, for everyone. Even 18-year-olds."
The narrator reads off a list of all of the examples of mass shootings across the state during Abbott's tenure—Santa Fe, El Paso's Wal-Mart, Uvalde—alongside other, high-profile missteps under his administration. The failure of the Texas power grid during a massive ice storm resulted in numerous deaths. And a border shutdown that led to massive supply chain shortages across the country, what the narrator called "another political stunt gone wrong."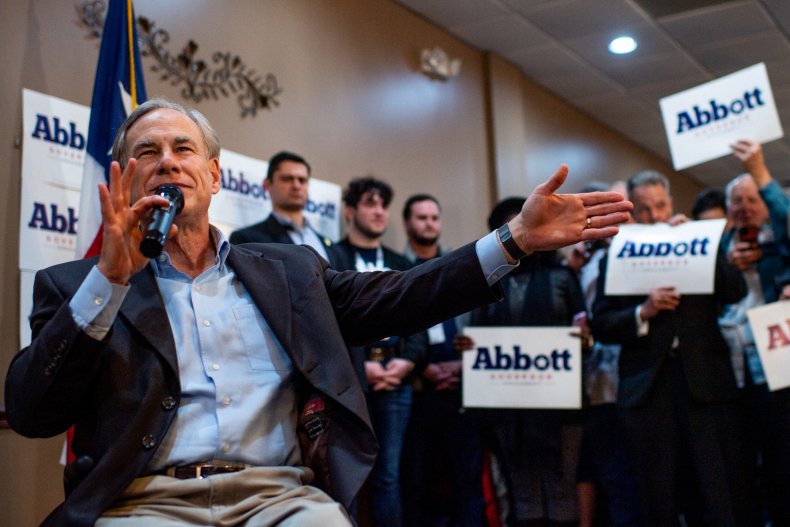 "Education system craters, abortion criminalized [...] women's freedom taken away, property taxes crush home owners, property taxes actually higher than California," the narrator continues. "Any one of these, a terrible shame for Texas. All of these are horrific signs something is terribly, terribly wrong."
Then Abbott appears, a clip from a highly circulated snippet of his post-Uvalde press conference where he says things "could've been worse," a phrase later employed in attack ads and billboards by groups like Mothers Against Greg Abbott who criticized his administration's response to the shooting in what has become a defining issue in his race against Democrat Beto O'Rourke.
"It coulda been worse," text across the screen reads. "Really?"
Newsweek reached out to Abbott's campaign for comment.
It is unclear where the advertisement, first reported by market research firm AdImpact, came from, or how it was paid for. The group that paid for it, Coulda Been Worse LLC, was created via a registered agent in Delaware, and a search on the Texas Secretary of State's Office reveals nothing about the company or who is funding it.
However, the advertising campaign would rank among the most expensive in what many believe will be among the most-watched governor's races in the country this cycle, even as most polling shows Abbott leading O'Rourke by roughly 7 points. While Abbott's and O'Rourke's campaigns have spent more than $25.2 million combined this cycle, Coulda Been Worse marks just the third multimillion-dollar ad buy in the state.
That spending only compounds an already well-funded effort opposing him. According to Texas campaign finance reports, Mothers Against Greg Abbott, another anti-gun violence group, has already spent more than $105,000 opposing Abbott in addition to its sizable social media following.