Texas Governor Greg Abbott has officially ordered the Texas Department of Family and Protective Services to investigate families whose transgender children underwent certain sex change procedures.
In a letter addressed to the DFPS on February 22, Abbott enacted the agency to consider some of these procedures as examples of child abuse. These surgeries include sterilization or mastectomies, as well as the administration of certain doses of testosterone or estrogen. He also ordered that all licensed professionals, including teachers and nurses, must report any suspected gender transitioning in children to the authorities.
"Because the Texas Department of Family and Protective Services is responsible for protecting children from abuse," wrote Abbott, "I hereby direct your agency to conduct a prompt and thorough investigation of any reported instances of these abusive procedures in the state of Texas."
This move, backed by a decision by state Attorney General Ken Paxton, has been met with backlash from transgender and other LGBTQ+ activists.
In a phone interview with Newsweek, Transgender Education Network of Texas Executive Director Emmett Schelling said it's important to remember that the DFPS has not made a ruling in regards to the memo's requested actions.
"The opinion [in the memo] was exactly that. It was an opinion," said Schelling. "It is not actually changing anything currently. Right now, to our understanding, the DFPS has not actually begun to even start the process of what implementing his memo would look like. His memo was based on Paxton's opinion, not a legally binding or implemented policy, rule or law change."
What this means is that it is possible that the actions outlined in the memo could be overridden by the DFPS or another authority, including courts, if necessary.
"No judge across the country has ever found a parent guilty of child abuse for supporting and loving their trans kid," Schelling explained, "and I think that is also a very important piece in this conversation."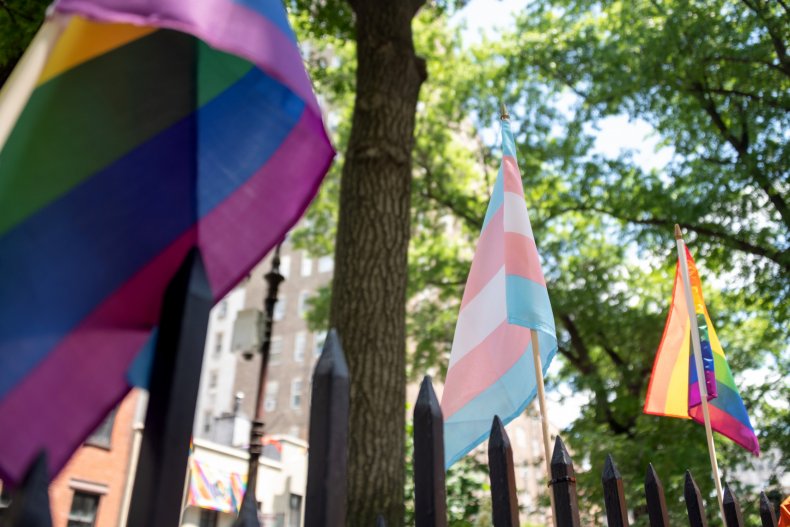 Currently, the DFPS has not commented on the memo or the actions that Abbott is encouraging the department to make. Despite this, Schelling says that the message that the memo promotes is clear—Texas GOP politicians want to punish trans kids and their parents.
"At the end of the day, this isn't right," Schelling continued. "It's not right to see your own state's leadership, where you call home, try to criminalize a parent for listening to their doctor, for loving their kid, for listening to their kid. These are the very simplistic things that it comes down to.
"In contrast of what they're saying and in contrast of what this is, this is the reality. Our state leadership would rather see dead trans kids than alive and well and loved trans children."
The Transgender Education Network is not the only organization that has spoken out against this memo.
"All children deserve to grow up healthy and learn to take care of their bodies in a way that helps them live full, happy lives. For transgender kids, this might include gender-affirming care that has been endorsed by pediatricians and proven to help kids' mental health and future wellbeing," said Angela Hale of Equality Texas. "Misconstruing the law and amplifying junk science to attack innocent children and their parents is cruel, beneath contempt, and could have a devastating effect on transgender youth and their families."
Gubernatorial candidate Beto O'Rourke, an outspoken critic of Abbott, gave a response to the memo's requests.
"To every trans kid in Texas: You're amazing. I'm proud of you," he wrote in a statement. "You belong right here in Texas, and I'll fight for you to live freely as yourself and free from discrimination."
The White House has also spoken up against the memo's requests. In a statement acquired by The Dallas Morning News, a White House spokesperson said that politicians should not get to decide that kind of health care that trans kids receive.
"Conservative officials in Texas and other states across the country should stop inserting themselves into health care decisions that create needless tension between pediatricians and their patients," principal deputy press secretary Karine Jean-Pierre wrote the newspaper. "No parent should face the agony of a politician standing in the way of accessing life-saving care for their child."
Update at 2/23/2022 at 5:23 p.m. EST: This story has been updated with a statement from Beto O'Rourke.