Abbott's School Safety Committees 'Bamboozle' Texans, Uvalde Lawmaker Warns
State Senator Roland Gutierrez is cautioning Texans not to be fooled by Governor Greg Abbott's latest legislative developments in the wake of the Uvalde school shooting.
"Don't be bamboozled by the guys that tell you that we're having a special session because [we're] not," Gutierrez said during a Thursday press conference.
His remarks come just a day after the Republican governor stopped short of ordering Texas lawmakers to return for a special session and instead, asked lawmakers to form special legislative committees to address "the twin issues of school safety and mass violence."
Only two Democrats were selected to serve on the committees. Gutierrez is not one of them.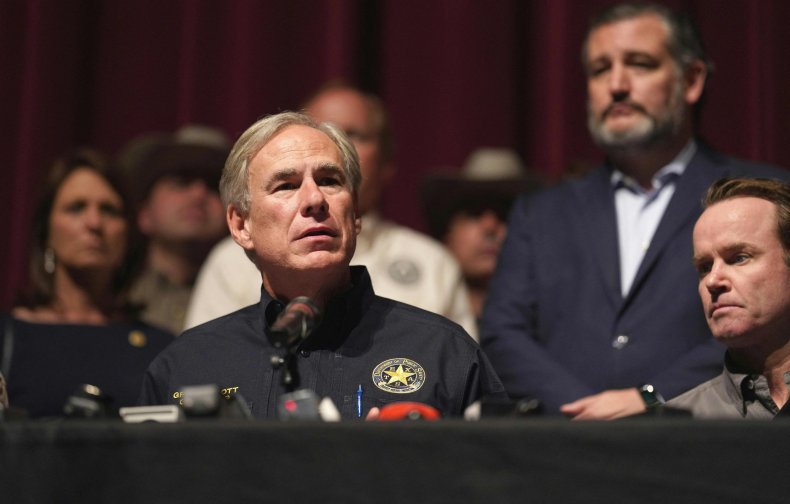 Gutierrez, who represents Uvalde, has led the effort from the Texas Senate Democratic Caucus urging Abbott to force a special session of the state Legislature in order to swiftly pass gun control laws in the aftermath of the tragedy. Texas is among 14 states where only the governor can order a special session.
"The special committee assignments are a slap in the face to the people of Uvalde," Gutierrez said in a statement. "It's also a slap in the face to the people of Santa Fe and El Paso because they don't have a voice on this committee either."
"This is just a stall tactic from Governor Abbott. We already know what happens, we know what it happens, and we know what needs to be done to stop it from happening the next time," he added. "We don't need another Blue Ribbon committee. We need a special session so that we can start crafting common-sense Solutions right now that are going to keep our kids safe."
In a letter laying out changes they'd like addressed in a special session, Texas Democrats said they want to raise the minimum age for firearm purchases, require universal background checks, implement red flag laws, regulate high-capacity magazine ownership and enact a "cooling off" period for gun purchases.
During the Thursday press conference, Gutierrez blamed last week's shooting on "an absence of leadership," which he said must begin with the state legislature.
"Everybody's to blame for what went on, including Greg Abbott, in a very big way," he said. "On some level, even including me, who didn't yell loud enough."
Gutierrez made headlines last week after he interrupted the governor's press conference to demand he order a special session. He has ramped up his criticisms of Abbott, especially the governor's stance on guns, in the wake of the shooting.
On Thursday, he accused Abbott of hiding behind the local district attorney "under the guise that we're looking at a criminal investigation" when the tragedy that took 21 lives, including those of 19 children, was really due to "policy failures."
In a message to parents across the state, Gutierrez told Texans to "go online and find the governor's number."
"Call him every day for the rest of this summer," he said. "And tell him to, at the very least, raise the age limit so that some punk doesn't go into the store down the street like a 7/11 and buy two AR-15s in two days. You don't want to have to go through what these parents [of Uvalde victims] are going through."