Greg Abbott Snubs MLB, Won't Throw 1st Pitch at Rangers Game After Georgia All-Star Move
Texas Republican Gov. Greg Abbott joined a growing GOP call of boycotting companies that have spoken out against Georgia's new voting laws. Major League Baseball is one of those companies.
Abbott was scheduled to throw out the first pitch of the Texas Rangers' home opener Monday, but Abbott pulled away just a few hours before the game started.
The governor said it was because Major League Baseball (MLB) last week pulled its annual All-Star Game from Atlanta because of voting laws it deemed racist and oppressive.
Many other companies like Coca-Cola, Delta Airlines, ViacomCBS, JPMorgan Chase, UPS and others were among those sharing discontent with Georgia's new laws. Former President Donald Trump over the weekend called for boycotts of all companies who opposed Georgia's new voting laws.
MLB not only moved the Midsummer Classic from Atlanta, but said it would no longer hold its Draft in Atlanta this year.
Abbott said he would no longer participate in any events by MLB. In addition, the governor said he would "not seek to host the All-Star game or any other MLB special events."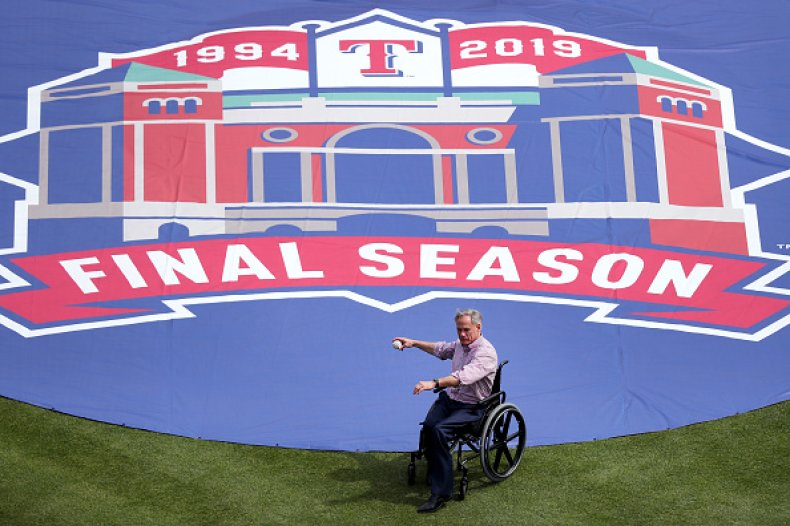 Newsweek reached out to Greg Abbott's office and to Major League Baseball.
Georgia passed new voting laws last week that include voter ID for absentee ballots, fewer drop boxes and it makes it a crime to bring food and water to voters who wait in lines to cast their ballots.
MLB commissioner Rob Manfred a few days later said it would move the All-Star Game to another site outside of Georgia.
"Over the last week, we have engaged in thoughtful conversations with Clubs, former and current players, the Players Association, and The Players Alliance, among others, to listen to their views. I have decided that the best way to demonstrate our values as a sport is by relocating this year's All-Star Game and MLB Draft," Manfred said.
Trump and Georgia Gov. Brian Kemp began speaking out against MLB almost immediately, and that's when other companies began showing opposition to the new laws as well. Trump and Kemp called these "woke companies" that should be boycotted.
"Baseball is already losing tremendous numbers of fans, and now they leave Atlanta with their All-Star Game because they are afraid of the Radical Left Democrats who do not want voter I.D., which is desperately needed, to have anything to do with our elections," Trump wrote Friday night.
"Boycott baseball and all of the woke companies that are interfering with Free and Fair Elections. Are you listening Coke, Delta, and all!"
Kemp on Friday said that those who speak out against his state's new voting laws are simply "caved to the cancel culture." The Georgia governor told listeners across the country that "they're coming after you next."
"I think it's a message to all of us, all across this country that are home tonight, they're coming after you next. You know, they're going to come after your ballgame. They're going to boycott your business. If you don't agree with their way of life, they are going to come after you on that, too," Kemp added.
Abbott is a known fan of Texas baseball teams. He attended Houston Astros World Series games in 2017 and participated in the championship parade and celebration that year. In 2019, he threw out the ceremonial first pitch of the Rangers' Opening Day game against the Chicago Cubs. That game marked the final Opening Day of the old stadium in Arlington.
Today is the first scheduled regular-season game at the new Globe Life Field in Arlington where fans can actually attend. The stadium opened in 2020, but no fans were allowed to attend the regular season because of COVID-19 protocols and restrictions. The stadium hosted the National League Championship Series and World Series as a neutral site last fall, and limited fans were allowed.
Last month, Abbott opened the state back up fully for business, and the Rangers are the only ball club in the MLB that planned to have fans at full capacity this season, starting with Monday's home opener.
The Texas Rangers will play the Toronto Blue Jays at 4:05 p.m. ET.