Greg Abbott Faces Backlash After Street Racer Chaos in Austin
A number of Republican figures have criticized Texas Governor Greg Abbott following a night of violence and street racing in Austin.
Videos on social media show police vehicles coming under attack with fireworks after officers responded to several reports of people "driving recklessly" throughout the city over the weekend.
The Austin Police Police Department said rocks and bottles were also thrown at officers while they were driving to disperse the crowds, leaving at least one with a non-life threatening injuries.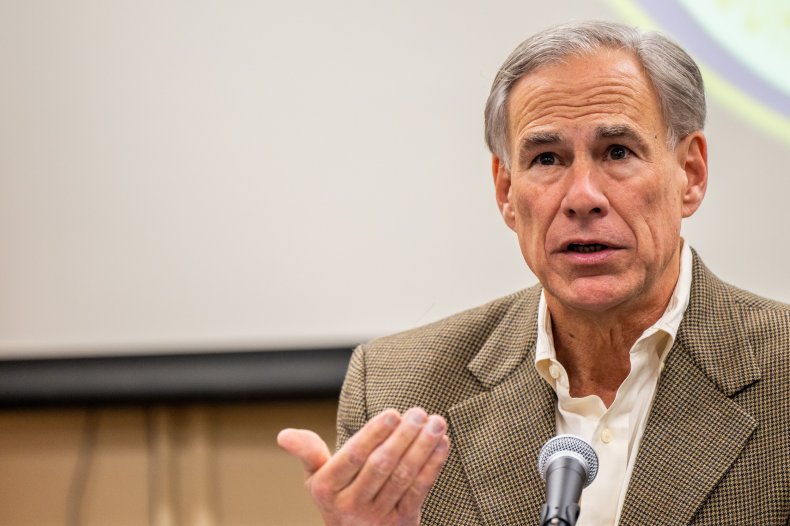 While sharing images and videos of the disorder on social media, several people called on Abbott to step in and intervene.
Others also noted that the violence occurred in a Texas city that has a Democratic mayor and a majority Democrat-controlled city council.
Graham Allen, host of the conservative podcast Dear America, tweeted: "This is AUSTIN, TEXAS?!?! People are rushing police and throwing fireworks at their cars.....what happened to this State?!Greg Abbott DO SOMETHING!!"
Gunther Eagleman, a former police officer and right-wing political commentator, said that Austin is turning into a "liberal s***show."
"Time for some real policing Greg Abbott," Eagleman tweeted.
Replying to Eagleman's tweet, conservative Twitter user Stacey Wallen wrote: "They need to get a handle on it quick or it will be just like Oakland California."
Others blamed the Democratic leaders of Austin for the police's failure to control the disorder over the weekend.
"Austin policy makers are directly responsible for the overall safety of their citizens & visitors. Looks like they failed to make the right decisions & continue to defund, destroy, & demoralize public safety," tweeted the Austin Police Association. "Austin was one of the safest cities, NOT anymore."
Texas GOP congressman Chip Roy added: "Austin heading down dangerous road... I apologize to the APD officers who have to put up with this c***, only to have city leaders play games with your contract #StandUpForAmerica."
The Austin Police Department confirmed two people were detained for evading arrest during the "street takeovers" involving dozens of cars, although further charges may be forthcoming.
Police said they were first called at around 9:01 p.m. on February 18 to reports of five vehicles blocking the intersection of Barton Springs Road and South Lamar Boulevard. Several vehicles were then reported to be "racing, circling the intersection, running red lights, blocking traffic, and shooting fireworks."
After being dispersed, the so-called "car club" then continued onto North Interstate 35 Service Road / East Anderson, where the vehicles were again seen driving recklessly and driving in circles.
Police said bottles were then thrown at officers at Berkman Drive and Barbara Jordan Boulevard just before 1 a.m. on Sunday, February 19.
At 1:35 a.m., more vehicles were reported to be blocking the Metric Boulevard/ Braker Lane intersection, doing donuts, and someone starting a fire. The crowd eventually dispersed at 1:56 a.m.
"The department is committed to ending this conduct. Lawbreaking in this manner will result in enforcement and arrest," the Austin Police Department said in a statement. "Our community's safety is the number one priority for APD."
Abbott has been contacted for comment.