Greg Abbott Trounces Joe Biden on Handling of Border Among Voters, New Poll Shows
New polling results released Tuesday by Quinnipiac University showed a 23-point divide between voter approval of how the developing situation at the U.S.-Mexico border is being handled by Governor Greg Abbott and President Joe Biden.
While one in five voters said they approved of Biden's handling of the border, 43 percent said the same of Abbott. Voter disapproval ratings on this topic were also greater for Biden than for Abbott by nearly 30 percent, with 71 percent of poll respondents saying they disapproved of how Biden was handling the border.
The results of the Quinnipiac poll, which was conducted between September 24 and 27, were released just days after photos depicting U.S. Border Patrol agents on horseback blocking Haitian migrants from entering the U.S. went viral. The migrants were part of one of the latest groups attempting to cross the U.S.-Mexico border since Biden took office earlier this year in the hope of finding refuge in the U.S.
Though the Biden administration has discouraged migrants from trying to enter the country illegally, the U.S. Customs and Border Protection (CBP) reported high numbers of encounters between migrants and Border Patrol agents throughout this year, with more than 156,000 unique encounters reported in August alone.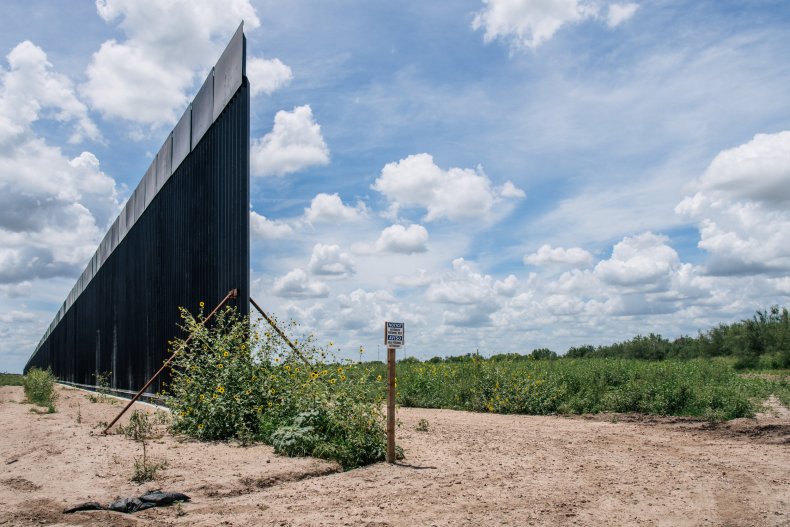 Meanwhile, Abbott has fought to secure the border in Texas by "surging state resources" to the area in what his office described as an effort to "address the chaos." Last month, the Texas Department of Transportation said it was prepared to contribute $25 million to help fund the building of a concrete border in Eagle Pass, according to The Texas Tribune. A border wall funding project that Abbott announced earlier this year raised more than $54 million by Tuesday, according to the governor's office.
When asked about their opinions on proposed border wall construction in Texas, 51 percent of respondents told Quinnipiac pollsters they support it, while 44 percent said they were in opposition to the idea. Most voters who identified as Republicans were in support of the wall, while most Democrats said they did not support it, the poll said.
In one earlier Quinnipiac poll released in June, about 29 percent of respondents said they approved of Biden's handling of the border, a number that was still surpassed by the 47 percent who said they approved of how Abbott was handling it. Support for building a border wall in Texas has only shifted about 1 point in favor of the project, the June poll found.
While Biden began his first term as president earlier this year, Abbott has served as Texas' governor since 2015 and is up for re-election next year. According to the Quinnipiac poll, only about 42 percent of respondents said they believe Abbott "deserves" to be re-elected, while a slim 51 percent majority said they do not.
The poll was conducted among 863 people in Texas who identified themselves as registered voters and had a 3.3 percent margin of error, pollsters said.
Newsweek reached out to Abbott's office for comment but did not receive a response in time for publication.