Greg Gianforte Donates $50,000 in Settlement for 'Body-Slamming' Guardian Reporter Ben Jacobs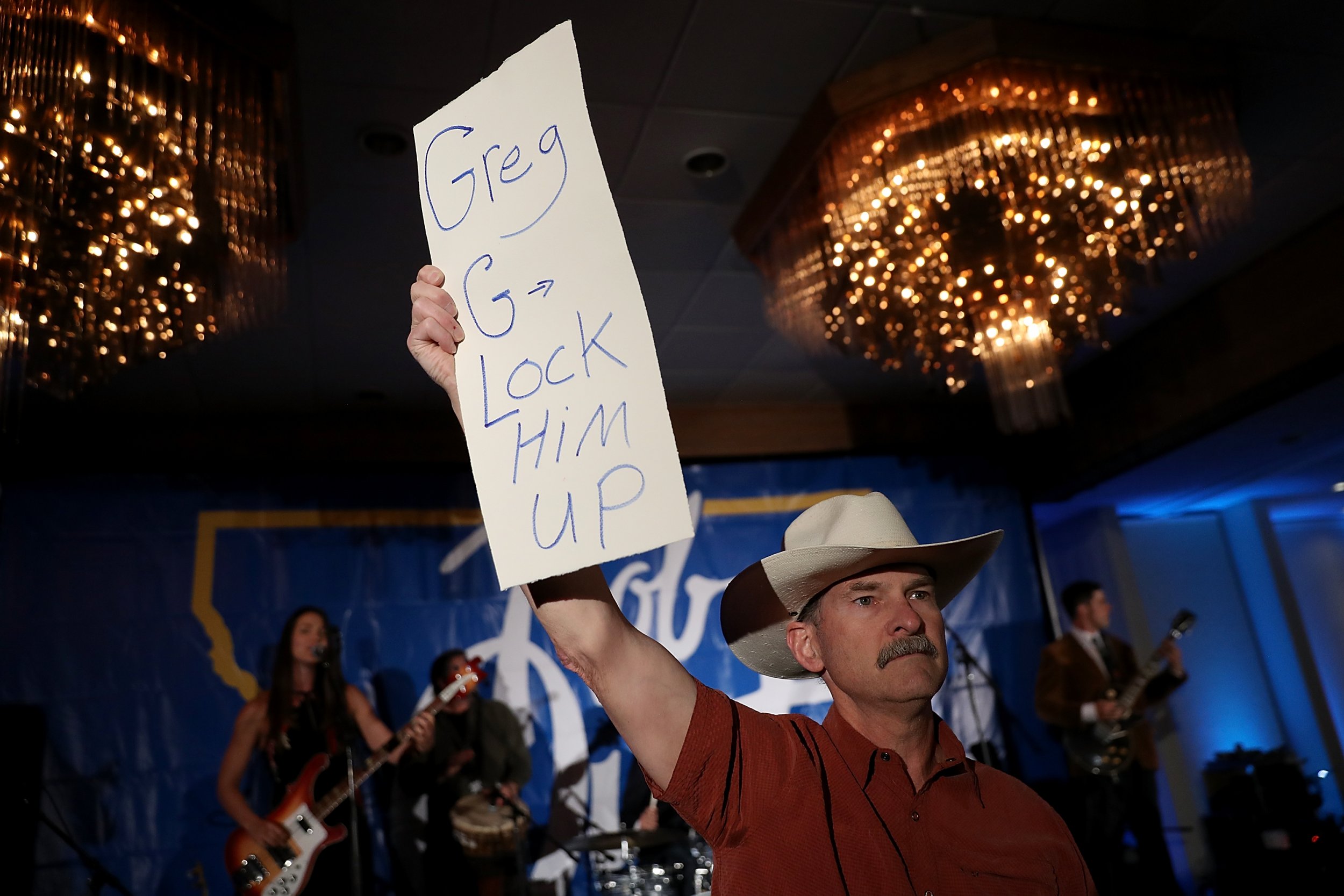 Updated | Republican Congressman-elect Greg Gianforte has donated $50,000 to a press freedom group and issued a full apology after assaulting a Guardian reporter the night before he won Montana special election.
Police charged Gianforte with misdemeanor assault after the incident, in which the reporter Ben Jacobs claimed he was "body-slammed" by the Montana representative after repeatedly asking him a question about healthcare.
In a letter published by the Guardian on Wednesday, Gianforte wrote that his "physical response to your [Jacobs'] legitimate question was unprofessional, unacceptable, and unlawful."
Gianforte added: "Notwithstanding anyone's statements to the contrary, you did not initiate any physical contact with me, and I had no right to assault you." The letter represented a climbdown for Gianforte's campaign, which had originally blamed Jacobs for initiating the confrontation.
Gianforte also pledged to donate $50,000 to the Committee to Protect Journalists, a New York-based NGO that works to protect journalists and press freedom around the world.
Read more: How the GOP's Gianforte won Montana's special election despite Trump, body slam–gate and health care concerns
The donation and apology was part of a settlement in which Jacobs agreed to forgo any potential civil claim against Gianforte. The congressman-elect still faces criminal charges : He was due to appear in court this week but was granted an extension by a Gallatin County judge, who ordered that he appear on or before June 20.
In a statement emailed to Newsweek, Jacobs said that he "accepted Mr. Gianforte's apology and his willingness to take responsibility for his actions and statements."
The incident occurred on May 24: Jacobs repeatedly asked Gianforte about whether he supported the Republican healthcare plan; after declining to answer several times, Gianforte reacted violently and "bodyslammed" Jacobs, breaking his glasses, according to the reporter.
Jacobs captured the incident in an audio recording, in which Gianforte is heard to shout: "I am sick and tired of you guys! The last guy who came in here did the same thing! Get the hell out of here!" He then asks Jacobs if he is with the Guardian , to which the reporter responds: "Yes! And you just broke my glasses." Jacobs is then told to leave by an unidentified voice and says that he intends to call the police.
Gianforte's campaign initially said that Jacobs had "pushed" his recorder in Gianforte's face and had "grabbed Greg's wrist, and spun away from Greg, pushing them to the ground." But this account was disputed by Fox News reporter Alicia Alcuna, who witnessed the incident while waiting to interview Gianforte.
"Gianforte grabbed Jacobs by the neck with both hands and slammed him into the ground behind him. Faith, Keith and I [members of Fox News' production team] watched in disbelief as Gianforte then began punching the reporter. As Gianforte moved on top of Jacobs, he began yelling something to the effect of, 'I'm sick and tired of this!'" wrote Alcuna in her account.
The day after the incident, an election was held for the Montana congressional seat, vacated by Republican Ryan Zinke, who had been appointed as U.S. Secretary of the Interior. Gianforte defeated Democratic candidate Rob Quist in the election, despite being charged on the same day of the vote.
U.S. President Donald Trump hailed Gianforte's election victory as a "great win in Montana" and Gianforte apologized at his election party celebration, with a member of the crowd of supporters shouting: "And you're forgiven."
This story has been updated to include a statement from Ben Jacobs.