Greg Gianforte Avoids Jail Time for 'Body-Slamming' Journalist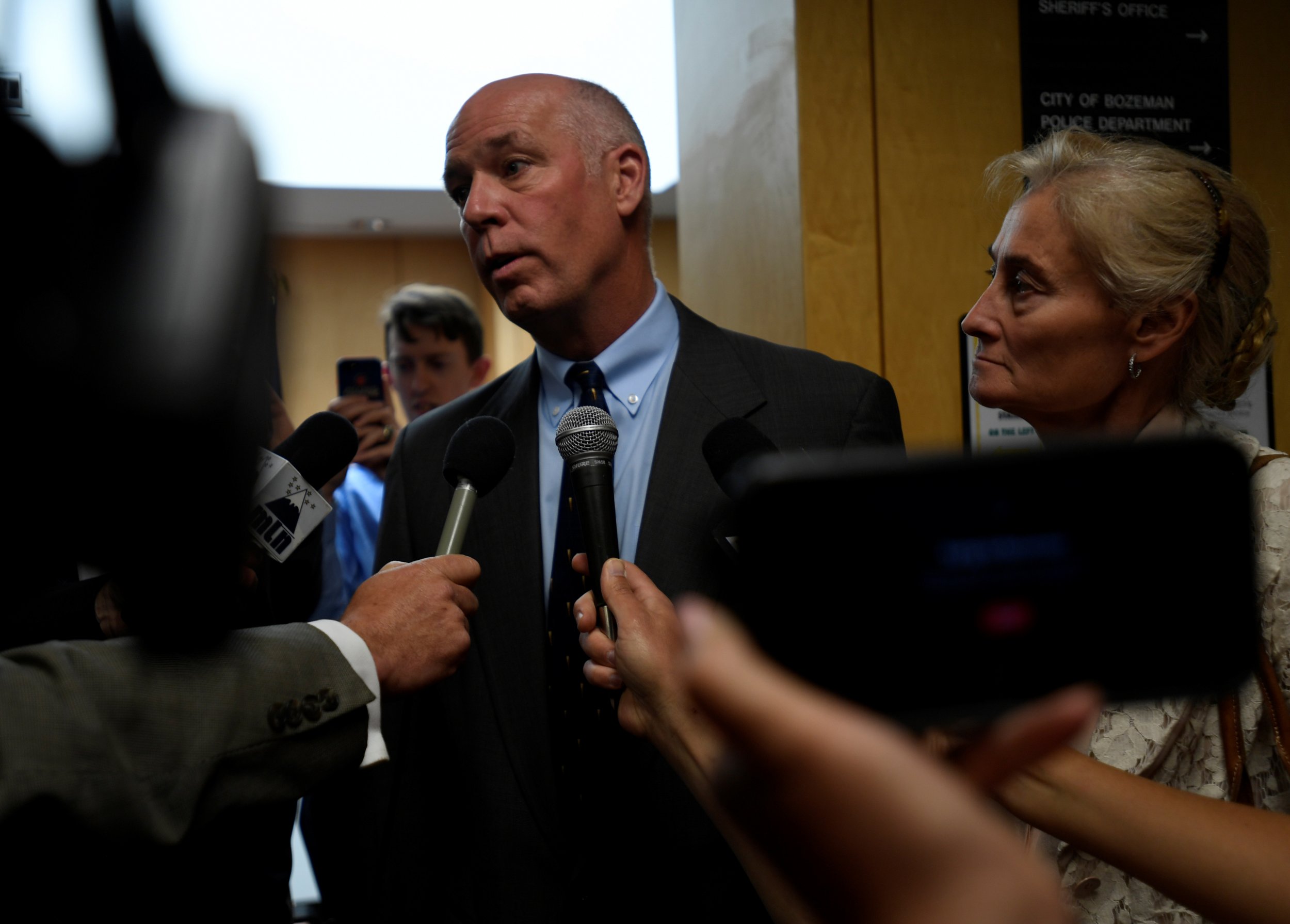 A Montana court has sentenced Republican Congressman-elect Greg Gianforte to 40 hours of community service for "body-slamming" a reporter the day before he won election to Congress.
Gianforte assaulted Ben Jacobs, a reporter for the Guardian , on May 24 after Jacobs repeatedly asked the then-Republican candidate whether he supported the Republicans' health care plan.
Jacobs captured the incident on audio, but Gianforte's campaign originally blamed the reporter for the altercation. Last week, however, Gianforte issued a full and unreserved apology to Jacobs and donated $50,000 to the Committee to Protect Journalists, a nonprofit group that promotes press freedom around the world.
Gianforte pleaded guilty to misdemeanor assault in the Montana courtroom on Monday, the Guardian reported. The judge asked him several times whether he believed he caused injury to Jacobs. Gianforte said he did.
Judge Rick West originally said he would sentence Gianforte to four days in jail, where under a program he could spend part of that sentence working. But the judge later changed the sentence as the work program did not apply to the charge of misdemeanor assault.
West also ordered Gianforte to pay a $385 fine and undertake 20 hours of anger management sessions. "You accepted responsibility. You apologized," the judge said to Gianforte in his sentencing.
Read more: Does a $50,000 donation cover a body-slam? Greg Gianforte hopes so
In his statement to the court, Jacobs said he accepted Gianforte's apology and he hoped the Republican "will be a strong advocate for a free press and for the first amendment" when he takes his seat in Congress. Jacobs also said he hoped to interview Gianforte again in the future.
The reporter added the incident had had "national ramifications on our politics and our culture" and was concerned such impingements on the freedom of the press were becoming more commonplace. "In recent years, our discourse has grown increasingly rancorous and increasingly vile. This needs to stop," he said.
In the original altercation, Jacobs said Gianforte had "body-slammed" him after becoming disgruntled with his question, breaking his glasses. Jacobs' audio recording of the incident captured Gianforte shouting: "I am sick and tired of you guys! The last guy who came in here did the same thing! Get the hell out of here!"
A Fox News reporter who was on the scene confirmed Jacobs' account, saying Gianforte "grabbed Jacobs by the neck with both hands and slammed him into the ground behind him."
In his apology last week, Gianforte said his "physical response to your [Jacobs'] legitimate question was unprofessional, unacceptable, and unlawful" and that Jacobs "did not initiate any physical contact with me." The latter statement appeared to be a rebuttal of claims made earlier by Gianforte's campaign that the Guardian reporter had sparked the incident.