In the closing arguments of the trial of the three men accused of killing Ahmaud Arbery, Greg McMichael's defense attorney suggested that the 25-year-old Black jogger's actions were also to blame for his death.
On Monday, Laura Hogue took direct aim at Arbery, saying that he wasn't "an innocent victim," but rather a "recurring nighttime intruder."
"Turning Ahmaud Arbery into a victim after the choices that he made, does not reflect the reality of what brought Ahmaud Arbery to Satilla Shores in his khaki shorts, with no socks to cover his long, dirty toenails," Hogue said.
Hogue suggested to the jury that Arbery would still be alive if he had not run away from Travis McMichael, McMichael's father Greg and William "Roddie" Bryan on February 23, 2020, when the three white men confronted him in the Satilla Shores neighborhood in Glynn County, Georgia.
"There were two sets of decision-makers on February 23. It is not just the McMichael's decisions that led to this tragedy," she told the jury.
"No one but Ahmaud Arbery made the decision to either reach for, or certainly give the very real impression, that he was reaching for a handgun... and no one but Ahmaud Arbery made the decision not to stop when Travis' truck rolled up beside him," Hogue told the jurors.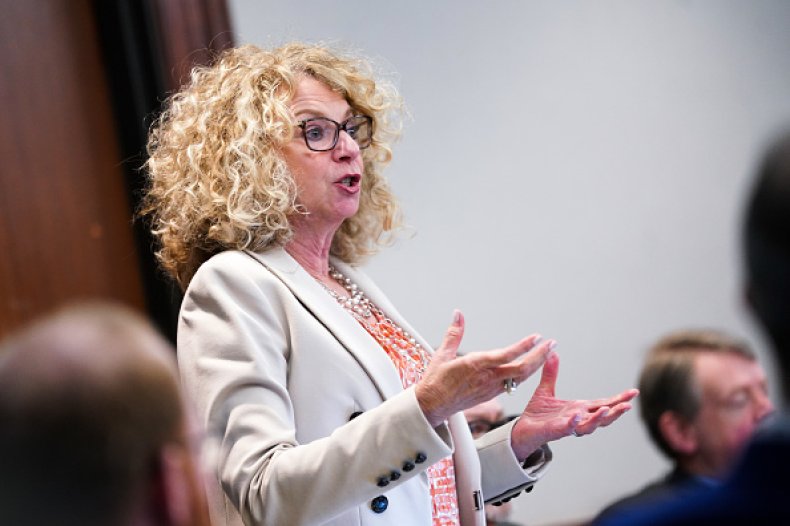 On Monday, she painted Arbery as a teenager with a bright future who went astray in his twenties, before casting doubt as to whether he was actually on a run the day he was fatally shot by Travis McMichael.
"Sadly, no verdict can change the grief of that future not realized. The hope that he could have turned himself around because all we can guess about the young man is that his teenage years would be full of promise but his early twenties just led him in the wrong direction," Hogue said.
Arbery's mother, Wanda Cooper-Jones, was seen shaking her head as Hogue made her final remarks for the jury.
The McMichaels and Bryan have been charged with nine criminal counts, including felony murder. The three men are accused of using their pickup trucks to chase and gun down Arbery before fatally shooting him with a 12-gauge shotgun.
"Greg McMichael's driveway decision wasn't the only decision that set this tragedy in motion," Hogue said. "Ahmaud Arbery was not an innocent victim plundering through Larry English's house."
"Can anyone reasonably believe that Ahmaud Arbery was just doing a looky-loo on those nights, in what has been described and shown to you as a home drenched in absolute darkness?" she added.
Hogue said she was not suggesting Arbery deserved to die that day, but that "he died because for whatever inexplicable, illogical reason, instead of staying where he was, whatever overwhelming reason he had to avoid being captured that day and arrested by the police, he chose to fight."
Lead prosecutor Linda Dunikoski countered the defendants' suspicions that Arbery engaged in criminal activity or was involved in the recent string of thefts in the neighborhood, suggesting they were concealing their racism behind those excuses.
"All three of these defendants made assumptions, made assumptions about what was going on that day," Dunikoski told the jury. "And they made their decision to attack Ahmaud Arbery in their driveways because he was a Black man running down the street."
"He ran away from them for five minutes," she added. "No weapon. No threats. No way to call for help. Didn't even have a cell phone on him. Ran away from them for five minutes."