Greg Norman Shares His Secrets to Success in Business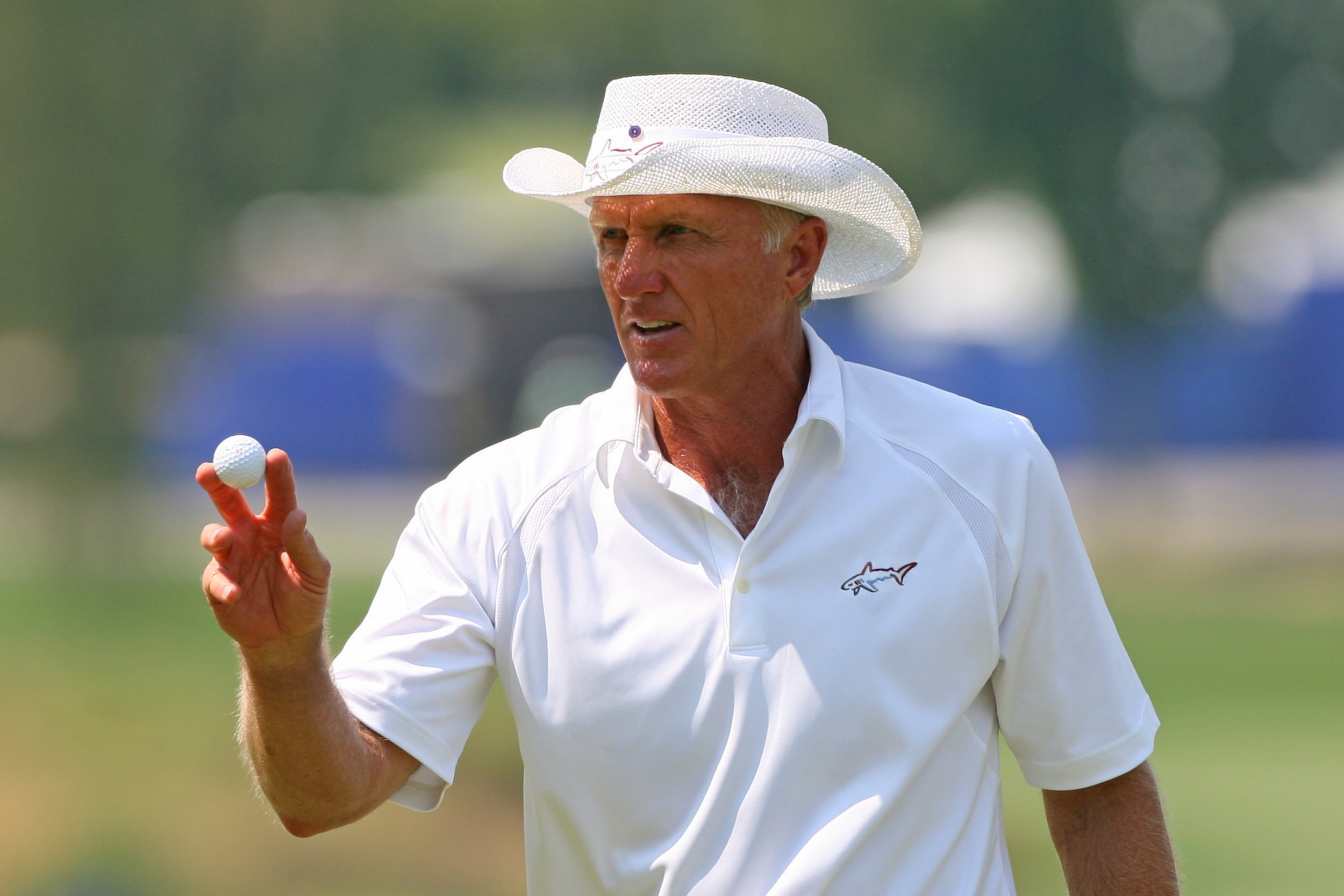 When I was a professional golfer, I was pretty good. I could hit a little white ball from point A to point B better than most. That's how I became the No. 1 player in the world and won 91 international tournaments. That's also how I became chairman and CEO of Great White Shark Enterprises — my global corporation with more than a dozen divisions.
It didn't just happen to me though. I'm self-made and I had to perform week-in and week-out on the golf course to get where I am. You can't achieve success by giving up or settling for anything short of greatness. It comes to those who truly work for it. And if you are lucky enough to reach the top of whatever you do, then you actually have to work harder, because everyone underneath you is gunning for you. There's no option to quit.
Let's start at the beginning. When I was No. 1, I learned a couple of things about sports marketing. First, I could draw crowds and, as I say it, I could put bums on seats. People liked coming to watch me play. Secondly, people were enamored by what I did and what I said both on and off the golf course. I recognized the influence I could have. The corporate world wanted to put patches on my shirts, wanted me to drive their cars, drink their beers, carry their golf bag and so on. But most importantly, I learned that I was a pass-through entity at my management company. Sure, you sign a deal to wear a logo, but no one builds equity in your brand. You actually probably don't even have a brand at that point. You are just an athlete performing each week.
At the 1981 Masters, no one knew who I was—hell, I didn't even know who I was. I took an early lead though, tied with Johnny Miller, and was thrust into the spotlight. I went into the media center following my round and the scribes were asking me where I came from and about my aggressive playing style. The next morning, I woke up to the front page of the Atlanta Journal Constitution—"Great White Shark Leads The Masters." And from there, my moniker was born. At the time I didn't realize my nickname would eventually be my brand, but I was very lucky.
A few years later, enter Paul Fireman, CEO of Reebok. Paul wanted to get into golf clothes, so we created a logo, formed Greg Norman Collection, put a marketing machine behind it and voilá—the Greg Norman brand was born. From that point forward, I knew I wanted to invest in myself and build equity in my brand.
It was a massive decision and a huge risk to leave IMG and form Great White Shark Enterprises, but I have never taken the safe shot. I see opportunities and I take them—in both golf and business. I have always encouraged change, chased smart risks and embraced failure. That is who I am as a person and that is how I run my company.
Great White Shark Enterprises started as a sports marketing firm and clothing company, but today we think vertically. We had to build brand credibility on the consumer side first, and once that was established, the opportunities were limitless. Our current landscape includes golf course design, wine, real estate, an investment fund and everything in between. We have wholly owned, JV, equity and licensing divisions and completely new verticals and industries on the horizon.
I don't have a formal business education—I don't even have a college degree. When I was 20 years old, I was making $28-a-week (£19) at a club in Australia. None of this happened overnight. You have to fully commit to whatever it is that you want to do and surround yourself with the right people who believe in your vision. You also have to have fire in your belly, passion in your heart and never rest on your laurels.
A lot of people say I paved the way for the modern-day athletes who build a business around their brand. If that's true, then that's a true measure of personal success for me. I have had the pleasure of knowing many great leaders from President Bill Clinton to Nelson Mandela to Jack Welch. The common thread is that every successful person wants to help others to be equally or more successful. I know how hard it is, so I get a tremendous sense of satisfaction when others experience it.
It's also important to be a mentor. If somebody asks me for help, I'm going to help them. I don't lock my door to anyone. Helping someone achieve their own success is just about the most rewarding thing you can do.