Greg Rubenacker, Capitol Rioter Who Said 'Smoke Out the Capitol, Baby,' Arrested by FBI
Greg Rubenacker, a New York man who allegedly said "smoke out the Capitol, baby" during the January 6 riot, was arrested by the FBI on Tuesday.
On January 11, just a few days after the Capitol assault, a witness submitted a recording of Rubenacker's Snapchat "story," which showed the Long Island resident documenting incidents before and during the riot, according to a court document.
"The witness stated that Snapchat user Rubenacker had sent multiple Snapchat videos to the witness from inside the Capitol building on January 6, 2021," the court document says.
The first recording submitted by the witness showed a screenshot of Rubenacker's Snapchat story, where the username "GREG RUBENACKER" is visible in the top-right corner.
"For about the first twenty-four seconds, the first video depicts a crowd of individuals with the Washington Monument visible in the background and the caption, 'America is pissed'," the court document states.
Recordings of Rubenacker's Snapchat story go on to show him inside the Capitol. In one clip, he can be seen standing near the Capitol Rotunda, smoking an electronic vaping device.
"Later, at about fifty seconds into the recording, the Snapchat story switches to the fourth and final installment. The video shows Rubenacker sitting near a painting in the Capitol Rotunda and pans around to show the Capitol Rotunda and other rioters. Rubenacker now has his brown hood down and is smoking what appears to be a marijuana cigarette (or "joint")," the court document says.
"Early on, Rubenacker looks into the camera and says, 'Smoke out the Capitol, baby.' Rubenacker then shows other individuals sitting near him and smoking in the Rotunda with a distinctive statue standing nearby," the document adds.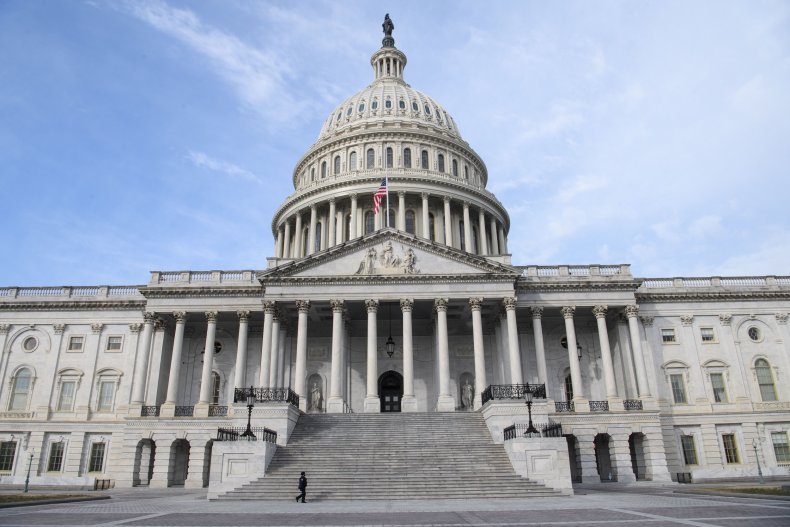 Screenshots of Rubenacker inside the Capitol smoking the vaping device and the joint were included in the court document.
Rubenacker is charged with knowingly entering any restricted buildings or grounds without lawful authority, engaging in disorderly conduct with intent to disrupt government business, uttering threatening and abusive language inside the Capitol and parading, picketing or demonstrating inside the building, according to the document.
He is scheduled to be arraigned in federal court on Tuesday.
Rubenacker's arrest came as former President Donald Trump's second impeachment trial began this week in the Senate. The House previously voted to impeach Trump for "incitement of insurrection," and he is accused of sparking the violent protest on January 6, when his supporters stormed the Capitol as lawmakers were certifying the results of the presidential election.
Some Republicans argue it is unconstitutional to impeach a private citizen who has left office. However, many of the rioters who were arrested have said Trump persuaded them to attack the building.
Newsweek reached out to the FBI for comment but did not receive a response in time for publication.