San Antonio Spurs Head Coach Gregg Popovich Trolls Trump When Asked About Team's Losing Streak
Before the San Antonio Spurs' eighth consecutive loss against the Philadelphia 76ers Friday, Spurs head coach Gregg Popovich engaged in an exchange with a San Antonio Express News reporter in which he self-deprecatingly trolled President Donald Trump.
Express News reporter Mike Finger made mention that the Spurs have had a tough run with their then-seven-game losing streak. Popovich sarcastically dodged the question: "We're kickin' ass. Jeez. Fake News. The man was right. Fake news," he said.
Finger tried to make his point clearer. "I'm just going to explicitly say this seems to be a tough time for you," he said.
Popovich echoed more of Trump's catchphrases in response to the reporter's comment. "It's a conspiracy theory. Whoever started the rumor that we're losing these games, it didn't happen. It's not true... It's a witch hunt. I see intrigue, I see treasonous behavior. I see spies. They're all sick, all those people saying that. Scum," he jested.
KYWN sports anchor Dave Uram shared a video of the exchange to Twitter, praising Popovich for keeping his sense of humor despite the losses.
The Spurs were defeated by the 76ers 115 to 104 on Friday. Another video Uram shared showed Popovich offering pre-game praise to 76ers head coach Brett Brown, who had previously worked as Popovich's assistant. "Brett's one hell of a guy. He's the most positive guy I've ever known in my life. He knows his stuff. He's gonna work his ass off, and you should be glad he's your coach," he said.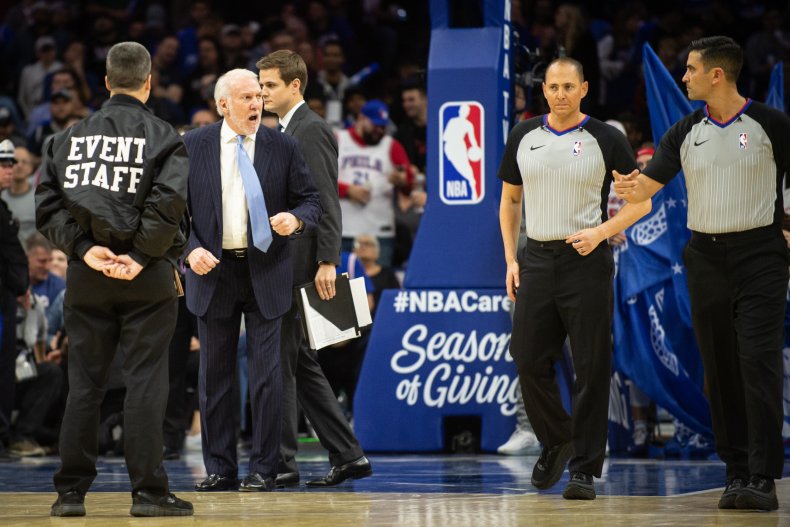 In the past, Popovich has blasted the president, which makes his latest comments as no surprise. In a 2018 interview, Popovich criticized Trump for leaving Washington, D.C. during the March for Our Lives demonstration to protest gun violence. He called Trump a "coward" for fleeing to Mar-a-Lago. And in an interview with CBS Sports, Popovich questioned how the president could just avoid the group. "The fact that our president left town, is a real indication of how much he really cares about anything other than feeding his insatiable ego," he said.
Popovich offered similar criticism in a 2017 interview with The Nation, after Trump claimed that President Barack Obama and other presidents did not make calls to families of fallen soldiers. "This man in the Oval Office is a soulless coward who thinks that he can only become large by belittling others," he said. "We have a pathological liar in the White House, unfit intellectually, emotionally, and psychologically to hold this office, and the whole world knows it, especially those around him every day."