Gregory and Travis McMichael Plead Not Guilty to Ahmaud Arbery's Murder—Here's What Happens Next
Two Brunswick, Georgia, men accused of chasing down and killing Ahmaud Arbery, a 25-year-old Black jogger, in February pleaded not guilty to all charges, including murder and aggravated assault, in a Glynn County courtroom on Friday.
Former federal prosecutor and Washington, D.C., attorney Gene Rossi told Newsweek that although the arraignment was the first step in the legal process and there are still a few events that have to take place ahead of a trial.
"They had their arraignment where they are asked to plead guilty or not guilty," he said. "The next step is they will set a trial date and set a date for pretrial motions."
Former Glynn County police officer Gregory McMichael, 64, and his son Travis McMichael, 34, are accused of fatally shooting Arbery on February 23 as he jogged through their neighborhood. Both men are charged with murder and aggravated assault.
William Bryan, who recorded the incident on his cellphone and is accused of pursuing Arbery in his car, is charged with felony murder and criminal attempt to commit false imprisonment and has also pleaded not guilty.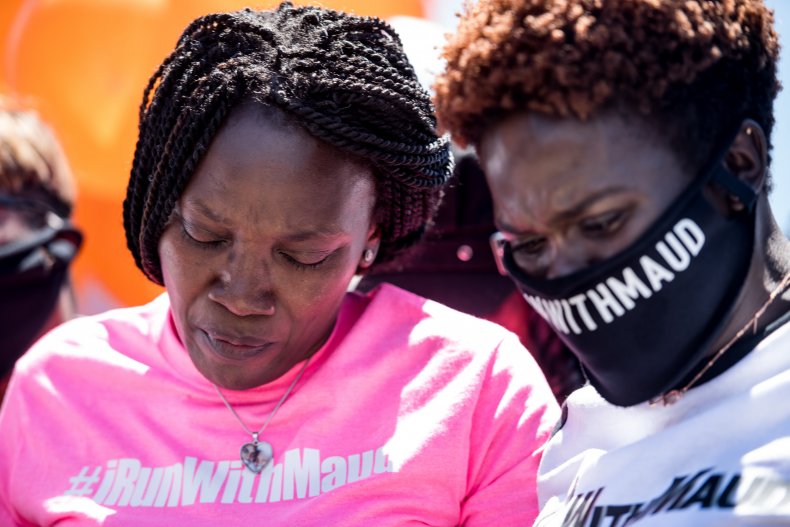 The three men were indicted in June by a Glynn County grand jury on a total of nine felony charges. The charges include four counts of felony murder, two counts of aggravated assault, one count of malice murder, one count of false imprisonment and one count of attempted false imprisonment.
Kim Isaza, spokesperson for the Cobb County District Attorney's Office told Newsweek that Judge Timothy Walmsley plans to enter a scheduling order—which outlines the various stages of legal proceedings—by the end of the day on July 17.
"We obviously can't schedule a jury trial during this judicial emergency," she said. "He [the judge] works by a scheduling order."
Meanwhile, Rossi added that he expects all three defendants will seek a bond hearing, and they may even ask for a change of venue.
"One of the things I think will happen is they will probably have a motion to move the trial from that county because of publicity," he said.
Agents with the Georgia Bureau of Investigation arrested the McMichaels on May 7, after numerous threats were made against the Glynn County Police Department and individuals involved in the investigation, according to a GBI press release. Bryan was arrested May 21.
Arbery was jogging when Gregory and Travis McMichael allegedly armed themselves and chased him through their neighborhood. Bryan recorded the confrontation that showed the struggle over the shotgun between Arbery and Travis McMichael, and Arbery's shooting death.
If convicted, all three face the possibility of life in prison without parole.