How Safe Are Old Buildings? What The Deadly London Fire Tells Us About High-Rises in England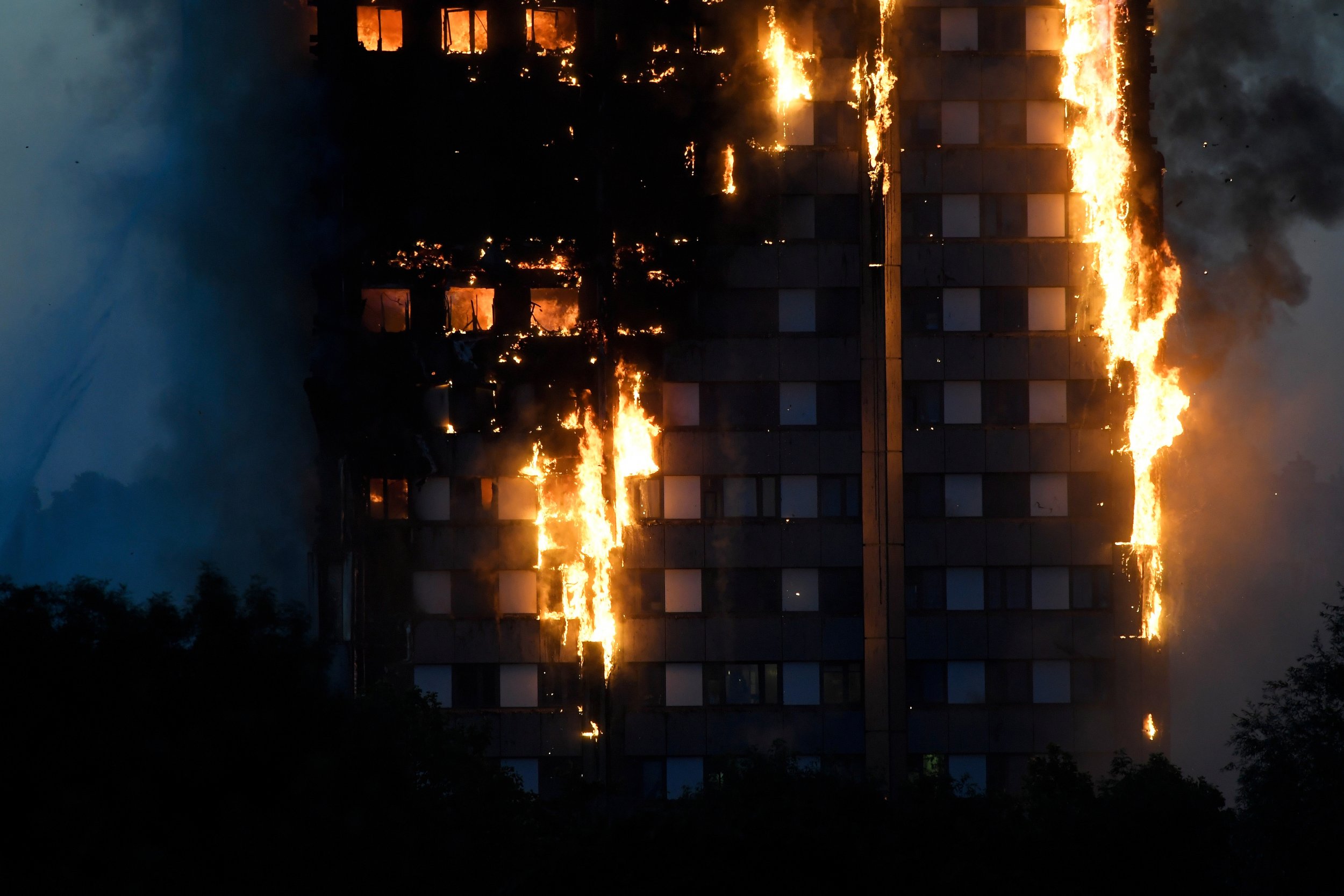 In the early hours of Wednesday morning, a fire burned through Grenfell Tower, a 24-storey apartment block in west London. Starting on the second floor, the flames licked their way to the top of the building, resulting in at least 12 deaths. Hours on from the blaze's start, pockets of fire continue to burn while 68 people remain in hospital, 18 in critical care.
How the fire began, or why it spread so quickly remains the subject of investigation. High-rise buildings like Grenfell are designed with fire safety in mind, with methods of isolating a blaze built in. Wednesday's deadly event was highly unusual—but not unique.
In March, Ronnie King, a member of the All-Party Parliamentary Fire Safety and Rescue Group warned that the government had not heeded recommendations he made in a report following after a similar fire in 2009.
He was referring to a blaze that spread through Lakanal House in south London, a high-rise building like Grenfell Tower, killing six people. In the report that King helped produce, his group recommended a review of U.K. building regulations and suggested that local government and other landlords retrofit sprinklers in residential tower blocks. As of Wednesday, parliament still hadn't acted on the Lakanal House report.
Read more: Londoners react with horror to an 'unprecedented' blaze that killed at least 12
In England, less than one in every 200 homes is in a high-rise building. In the capital, however, it's a different story. A population of over 8 million and counting in a relatively small space has resulted in eight percent of Londoners living in tower blocks. Seven hundred of these buildings are 11 storeys or higher, with the vast majority—around 500—having been built from the 1950s to the 1970s. As a result, many of these buildings, particularly council-let rent-controlled ones, are in various states of disrepair. Some are also not of the required standard of modern properties.
The Grenfell fire and the Lakanal blaze that came before have some of these residents worried. On Twitter, people who live in high-rise buildings expressed their concern that such a disaster could befall them. One user living in east London tweeted: "I think this resonates with me in a horrifying way. I live in a tower block and this is devastating."
Officially, these residents should not need to worry. Though most building regulations are not retrospective, says Hana Loftus, co-director of the Essex-based architecture company HAT Projects, "building management, whether it's housing associations or whoever, does have a responsibility to keep the building's occupants safe with regular fire safety regulations, and to put in place measures to reduce risks."
Grenfell Tower was such a building. Rydon property group, which completed a refurbishment of the building in July 2016, said in an emailed statement to Newsweek that the upgrade "met all required building control, fire regulation and health and safety standards."
Speaking to Newsweek, the architecture critic Douglas Murphy warned about the standards of such refurbishments—particularly in blocks built for low-income tenants. "Corners being cut is inherent to construction," he says. "The way that contracts are let out, it's about who will do the job quickest for a low amount of money. That's why we have regulation."
Though Murphy believes that the current legislation is in need of review, he says that the main problem is ensuring that companies do follow the regulations that will protect people. "Are building adequately inspected when they're going up, are they checked enough?" Murphy asks.
Loftus echoes Murphy's concerns. "There is a difficulty when you're mixing new work with an old building," she says. "You're making changes to the structure, you're making changes to the fabric and you have to make sure you're taking extra care to make sure the changes are safe. Clients need to be very careful and make sure they're on top of all the issues."
In many cases, Loftus adds, whoever wins the building contract is responsible for both the design and construction of the edifice. This, she says, can sometimes prevent full and proper oversight of the building. "The regulations are there but it really comes down to the integrity and workmanship on site," she says.
The campaign group Architects for Social Housing is doubtful that properties for low-income residents will be built to adequate regulatory standards. Government cuts to council budgets have left some local authorities in straitened financial circumstances and unable to spend much on social housing. In an emailed statement to Newsweek, ASH wrote that across London "housing policy is to treat council estates as assets to be managed for profit, not as housing to be used as homes."
It continued, "The Grenfell fire is not a tragedy but a man-made disaster that could and should have been avoided… It remains to be seen whether those whose arrogance and greed caused it will be held to account."
The investigation into the causes of the Grenfell fire and whether there was any wrongdoing by any party is ongoing. Residents of other old high-rise buildings in London will hope that the regulations designed to protect them are doing their job.