Greta Thunberg Apologizes for 'Against the Wall' Comment: 'That's What Happens When you Improvise Speeches in a Second Language'
Teen climate activist Greta Thunberg has apologized for saying politicians should be put "against the wall" during a speech.
The Swede was speaking at a climate rally in the Italian city of Turin on Friday when she made the comments, the Associated Press reported.
Some commenters on social media criticized her for the remarks, saying that they could be interpreted as calling for violence against politicians.
"So that sounds like a threat of violence. "Against a wall" and then what, Greta? Shoot the ones you don't like? You aren't just petulant but you are dangerous," one commenter, David Vance, wrote on Twitter.
However, the 16-year-old refuted suggestions that this is what she had meant saying that the intended meaning had been lost in translation. In Swedish the phrase is used when someone is forced to address a difficult situation or tough questions.
"Yesterday I said we must hold our leaders accountable and unfortunately said "put them against the wall." That's Swenglish: "att ställa någon mot väggen" (to put someone against the wall) means to hold someone accountable," Thunberg wrote in a tweet on Saturday.
"That's what happens when you improvise speeches in a second language. But of course I apologise if anyone misunderstood this. I can not enough express the fact that I—as well as the entire school strike movement—are against any possible form of violence. It goes without saying but I say it anyway."
In her speech, Thunberg told the crowd that world leaders were not facing up to their responsibilities when it comes to addressing climate change.
"We have to make sure that they cannot do that," she said. "We will make sure they, that we put them against the wall, and that they will have to do their job and to protect our futures. It is not fair that the older generation are handing over the responsibility to solve this crisis to us young people who have not started this crisis. It's not fair that we have to do all this."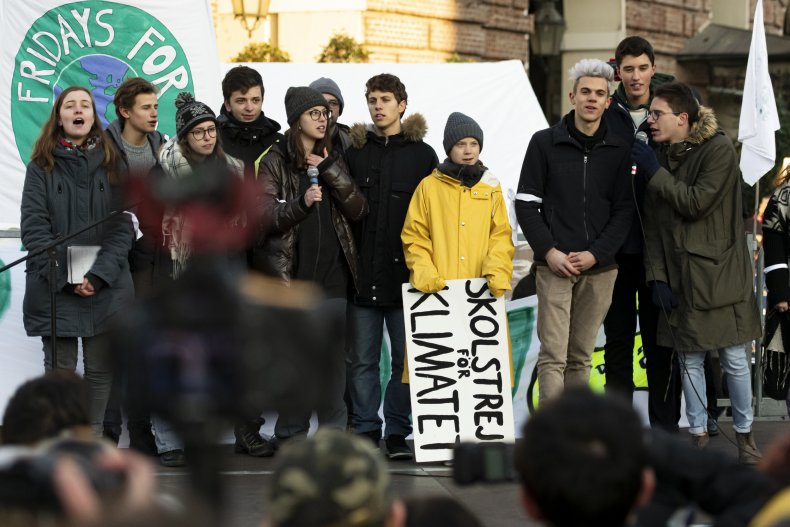 "The adults are behaving as if there is no tomorrow but there is a tomorrow, it is the tomorrow where our young people will live and we have to fight for that tomorrow. We can no longer take that tomorrow for granted," she said.
Thunberg had travelled to the rally in Turin from Madrid, Spain, where she attended the 2019 United Nations Framework Convention on Climate Change, MailOnline reported.
So far the talks have not produced any clear resolutions on how to implement the Paris agreement, The Guardian reported.
Thunberg rose to prominence after she started taking time off school on Fridays to protest outside the Swedish parliament in August 2018. These solitary strikes sparked a global movement, which now involves millions of people around the world calling for climate action.
Newsweek has asked Thunberg for comment on the remarks made in Turin.