With the Nobel Peace Prize becoming more political in the last decade, many were wondering what message the selection committee wanted to send this year. Choosing Reports Without Borders would have bolstered independent journalism in the age of "fake news," while awarding young activists in Hong Kong could have signaled the committee's support for democracy and free speech in communist China.
Some betting sites favored Greta Thunberg, one of this year's 301 nominees for the coveted prize. Thunberg's unapologetic climate movement captivated the world's attention and made "Greta" a household name, but skeptics of the 16-year-old's chances pointed out she hasn't exactly caused sweeping reforms or reduced violent conflict on the ground, which the committee, at least historically, is tasked with rewarding.
It seems the committee agreed. Friday morning, the Nobel peace prize was awarded to Ethiopian Prime Minister Abiy Ahmed, who helped end his country's 20-year war and created an inclusive parliament. Though past awards have seemed political in nature, the recipient in 2017, the International Campaign to Abolish Nuclear Weapons (ICAN), was also a straightforward peace-maker.
Still, in 2009, former U.S. President Barack Obama received the prize an awkwardly short amount of time into his tenure. It's widely believed the committee hoped Obama would adopt a less invasive approach to foreign policy compared to his predecessor President George W. Bush. In a similar vein, the committee awarded the prize last year to activists against sexual violence amid the global #MeToo movement and Brett Kavanaugh's contentious confirmation to the U.S. Supreme Court.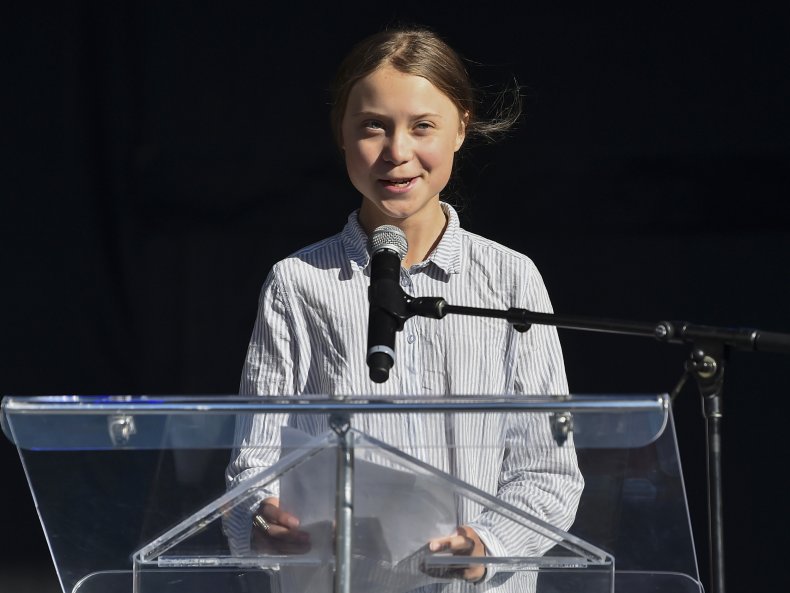 If the committee is moving towards more traditional selection criteria for the — spurring disarmament, peace talks, and fraternity between nations — passing over Thunberg makes sense, according to Henrik Urdal of the Peace Research Institute Oslo. Still, Thunberg's movement tapped into climate activism in a way many didn't think was possible.
We asked an author, a political commentator, a climate scientist, a political scholar and a conflict expert what message the Nobel Prize committee might have sent by Thunberg's selection and how they expected it to be received in the United States.
David Wallace-Wells: Author of The Uninhabitable Earth and deputy editor of New York Magazine
Thunberg winning the Nobel Peace Prize would be a part of larger climate story, according to Wallace-Wells. It started last year with a damning report on the impacts of global warming by the Intergovernmental Panel on Climate Change (IPCC), but Thunberg's launch of climate protest politics into the mainstream is nearly unprecedented, according to Wallace-Wells.
"Big picture I think she absolutely deserves this award," David Wallace-Wells told Newsweek in an interview. "She's done more over the last year to change the direction of global politics on the most urgent, existential challenge of our time—and probably all time—than anyone outside the theater of conventional politics has achieved in the past."
Besides, Thunberg's critics are fewer than you'd think by looking at their representation in the media and in politics, according to Wallace-Wells. Chatter from the likes of Trump serve as a marker of her growing stature, while her reception globally remains sympathetic. The real question is how Thunberg, who has publicly escouriated the world's most powerful people to their faces, reacts to the establishment's award.
"Going forward, I think her message and the message of all the other protesters is 'We don't need the acoolates or support or friendship form the world's powerful—we need them to be replaced,'" he said.
Steve Milloy: Fox News commentator and member of President Donald Trump's Environmental Protection Act transition team
Milloy seem to think the award wouldn't resonate much with U.S. conservatives.
"I speak for a lot of people when I say we don't think much of the Nobel Peace Prize. It used to be awarded to people who helped bring peace to conflict and spread humanitarian work, but recently it's just sort of become a political correctness award," Milloy said. "It'll be a big splash and you know the mainstream media is gonna have it all over the place. But in the end, who cares," he continued.
Thunberg has caught a lot of heat in conservative circles. Most notably, The Daily Wire podcaster Michael Knowles dismissed Thunberg on Fox News as a "mentally ill Swedish child," but other conservative voices like blogger Stephen Miller, Breitbart's John Ocasio-Nolte and author Dinesh D'Souza piled on, according to Media Matters For America. It bothered Milloy that Thunberg travels in a "yacht," takes cues from her parents and advances an agenda long adopted by liberal elites.
"She discredits herself and is used as a human shield to advance the many-headed climate alarmist monster," Miller said. "She's 16. She should be in school learning stuff, but of course she can't do that because she's got these stage mom parents behind her," he continued.
Jonathan Weiler: Global studies professor at the University of North Carolina at Chapel Hill and author of Prius or Pickup? How the Answers to Four Simple Questions Explain America's Great Divide
Weiler said the impact of Greta's selection in the U.S. will be a polarizing one.
"If the question is how will it play in the United States specifically, it's going to play the way every other issue plays. She's going to be viewed as a hero by the left side of the spectrum and as a demon by the right side of the spectrum. For the right, it will reinforce in their minds that all of these global institutions are just corrupt anti-American institutions. And her selection will just be folded into that larger narrative."
Thunberg's reception won't be unique, according to Weiler. Similar to impeachment proceedings, the right and left in the U.S. are spinning two different stories.
"Is it okay for the president to solicit a foreign government to dig up dirt on his political opponents in exchange for foreign policy favors? The fact that that is controversial is outstanding. In a similar vein, it is outstanding that we are having an argument over the seriousness of climate change."
James Hansen: Director of a climate science program at Columbia University
Hansen, a prolific scholar on climate change, said Thunberg's involvement has brought visibility to the climate movement, but along with visibility comes more "extremists" trying to get their way.
"The danger now is that extremists will use the climate problem as a basis for demanding their social policies," Hansen said in a statement.
At the same time, Thunberg hasn't come up with many policy proposals. Though experts say Thunberg's succinct message to elites—do your jobs and believe science, more or less—has been instrumental to her success, Hansen isn't a fan of the ambiguity.
"Greta says follow the science, but that is ambiguous," Hansen said.
Henrik Urdal: Director of the Peace Research Institute Oslo
Urdal said the committee could be addressing climate deniers all across the world with a Thunberg selection, even if her case for the coveted prize may not meet the group's criteria for peace-making.
"It would certainly be a message to all those who oppose the work to reduce the effect of climate change all over the world," he said. If she won, the committee would be underscoring the fact that climate change is happening, and it's a result of human action, he continued.
"When it comes to whether or not it's something the committee will consider, that poses a challenge to the committee in terms of how they're describing the connection on stopping climate change with stopping conflict," Urdal said.