On 5th Anniversary of Paris Climate Deal, Greta Thunberg Says She is 'Happy' U.S. Plans to Rejoin
Environmental activist Greta Thunberg is optimistic about the imminent re-entry of the U.S. into the landmark Paris Climate Agreement as world leaders mark its fifth anniversary.
A virtual gathering on Saturday will celebrate the accord whose goal is to curb greenhouse gas emissions that fuel global warming. It aims to keep the global temperature rise this century well below 2C (3.6F) above pre-industrial levels and to try to limit the temperature increase even further to 1.5C (2.6F).
President Donald Trump announced in June 2017 that the U.S. would withdraw from the agreement, but UN regulations meant that the decision only came into effect on November 4, the day after the U.S. election.
President-elect Joe Biden has said when he takes office on January 20, he would rejoin the deal as soon as possible.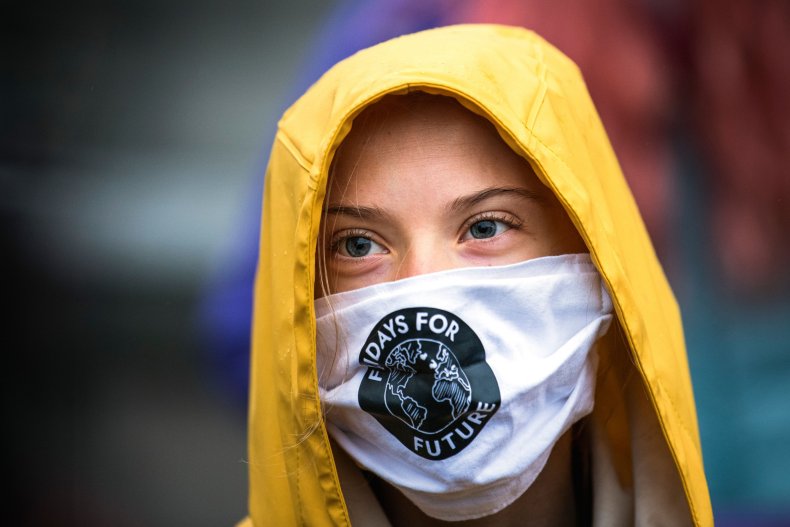 On Friday, Senate minority leader Chuck Schumer tweeted: "I'm proud the Biden-Harris administration will be rejoining the agreement on Day 1. We need bold climate action now. I will be fighting side-by-side with President-elect Biden and VP-elect Harris to #ActOnClimate."
Thunberg told CNN: "I am more than happy that the U.S. will rejoin the Paris agreement, that is absolutely crucial."
When asked what young people wanted their leaders to do about the environment, Thunberg said that there needed to be a shift in perception which included "treating the climate crisis like a crisis."
"As young people, we would really appreciate it if we stopped only talking about future, distant hypothetical goals and targets," she said, adding that it was important to "start focusing on what we need to do now."
"It is right now that the carbon budget is being used up," she said, believing that the more delays to concrete action "the more weight we put on the shoulders of future generations.
"We don't want to solve these problems for you, we want you to take care of it right now because you are destroying our futures right now," she told CNN.
The U.K., the UN and France are co-hosting Saturday's summit which British Prime Minister Boris Johnson will open. China's President Xi Jinping and France's Emmanuel Macron are among world leaders taking part, agencies reported.
Trump will be among some notable absentees. Australia, Brazil and South Africa will also not attend. There will be an American presence at the event however which will include U.S. governors and business leaders, such as Apple's chief executive Tim Cook.
The graphic below from Statista outlines the countries participating the Paris Agreement.