Huge Mural of Teen Climate Activist Greta Thunberg Painted in Central San Francisco: 'She Knows What She's Doing'
A large mural of the teenage activist Greta Thunberg is being painted in central San Francisco as a vivid statement about the climate change emergency.
The Swedish teenager has been giving speeches throughout the U.S. since her address at the United Nations Climate Action Summit in September where she demanded world leaders do more to combat global warming.
The brainchild of the climate change advocacy group One Atmosphere, the image in the central Union Square neighborhood in her honor, by Argentinian muralist Andrés Petreselli who goes by the name Cobre, is expected to be completed next week, according to SFGate.
Cobre said he is doing the mural for free, telling the publication: "Climate change is real. This girl Greta is awesome and she knows what she's doing. I hope with this mural people will realize we have to take care of the world."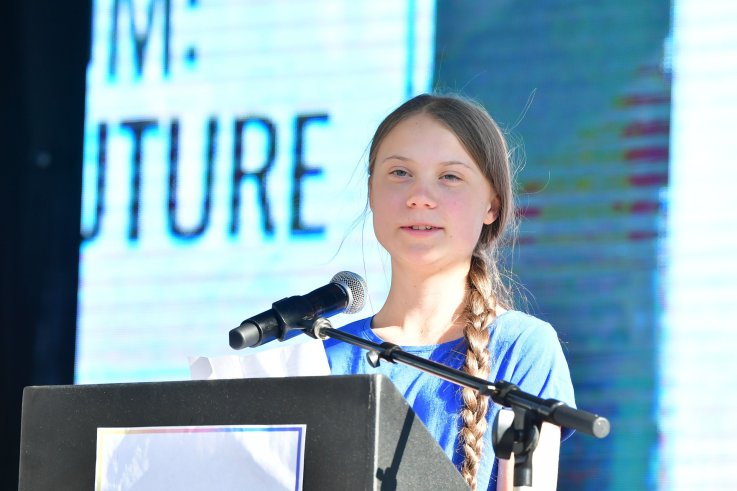 One Atmosphere's executive director, Paul Scott, said his group hopes it will be the first of a number of works honoring climate-change activists.
"If we can amplify her message and get more people involved and listening to what she's saying, then we're doing some good," he told CNN.
Thunberg's image already adorns walls in Bristol, England and Edmonton, Canada.
On Friday, she told a crowd in North Carolina that climate change needs to be tackled "right now," and urged the 1,200-strong crowd to "unite behind science" and demand action from their political leaders.
"It is we young people who are the future. There is not enough time to wait for us to grow up and become the ones in charge because we need to tackle the climate and ecological emergency right now," she said, according to AOL.
"If the adults and people in power are too immature to realise that, then we need to let them know," Thunberg added. "Change is coming whether you like it or not."
Last week, she said she would refuse to meet President Donald Trump, who mocked her in a tweet after her impassioned U.N. speech.
Trump had described her as a "very happy young girl" and an image of her giving the president a "death stare" at the U.N. building in New York went viral.
She told The Ellen DeGeneres Show about the prospect of a meeting, saying, "I don't understand why I would do that. I don't see what I could tell him that he hasn't already heard. And I just think it would be a waste of time, really."
Huge Mural of Teen Climate Activist Greta Thunberg Painted in Central San Francisco: 'She Knows What She's Doing' | U.S.