Greta Thunberg Supporters Reassure Activists After Nobel Peace Prize Announcement: 'Don't Be Disappointed That Greta Didn't Win'
Greta Thunberg activists have been told not to be disappointed after she was beaten to this year's Nobel Peace Prize by Ethiopian Prime Minister Abiy Ahmed Ali.
Social media fans of the 16-year-old climate activist did not appear to be phased by what some have termed a snub by the Norwegian Nobel Committee, which hands out the peace award.
The UK campaign of the Fridays for Future movement, which is spearheaded by Thunberg, has also told supporters not to be disappointed about her not winning the prestigious prize.
Thunberg was widely tipped as a potential winner of the coveted prize this year in the wake of her work raising awareness around the growing climate crisis and founding climate strikes that have taken a hold among young people worldwide.
She was nominated for the Nobel Peace Prize by Norwegian politicians in March this year, The Guardian reported.
But the Norwegian Nobel Committee awarded the prize to Ethiopian Prime Minister Abiy Ahmed Ali for "his decisive initiative to resolve the border conflict with Eritrea," the prize body said in a news release.
It added that the prize was also intended to recognise "all stakeholders working for peace and reconciliation" in the east and northeast African regions.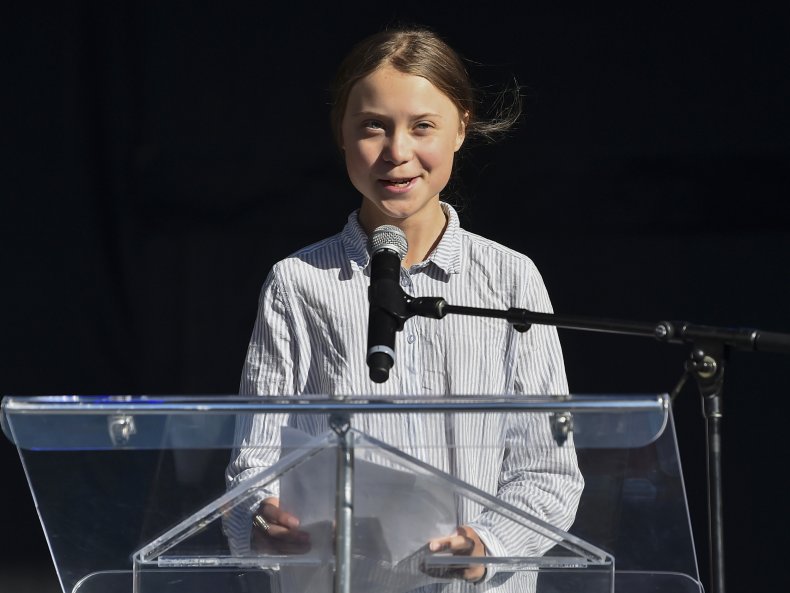 Speaking about a peace agreement reached between the Ethiopian prime minister and his Eritrean counterpart Isaias Afwerki last year, the committee said: "Peace does not arise from the actions of one party alone. When Prime Minister Abiy reached out his hand, President Afwerki grasped it, and helped to formalise the peace process between the two countries."
Abiy was also praised for his domestic work—including his decision to lift the Ethiopian state of emergency and provide amnesty for political prisoners.
A few fans of Thunberg commiserated the fact she didn't win, with entrepreneur Michael Skolnik tweeting: "Greta Thunberg deserved the Nobel Peace Prize this year."
But the UK branch of the Fridays for Future movement, which is spearheaded by Thunberg, told supporters of the activist not to be disappointed about her missing out on winning the prestigious prize.
Youth Strike 4 Climate tweeted: "Don't be disappointed that Greta didn't win the Nobel Peace Prize.
"This movement isn't about one person, it's about all of us standing together in our millions and fighting back. And together we will win."
The climate activist's critics predictably celebrated the Norwegian Nobel Committee's decision not to award its Peace Prize to Thunberg, but came in for some flak themselves.
"Ethiopian PM Abiy Ahmed will be the unexpected toast of angry middle aged men who couldn't find his country or neighbouring Eritrea on the map because winning the Nobel Peace Prize means Greta Thunberg didn't," British journalist Kevin Maguire noted.
Other commentators joked about how they expected President Trump to react to the Norwegian Nobel Committee's choice of winner.
Bobby Ghosh, a member of the Bloomberg Opinion editorial board, tweeted: "I feel confedent the Nobel committee was well aware of the outrage it would cause Trump that the leader of a "sh***ole" country got the peace prize."
"Everyone can rest easy. Greta Thunberg not being awarded the Nobel Peace Prize means we can all enjoy a less chaotic news cycle from the volatile toddler in the Oval Office," said Charlotte Clymer of the Human Rights Campaign.
Political science professor Robert E. Kelly added: "Right now Trump is talking about how unfair it is that the Nobel Peace Prize went to someone from a country he's never heard of."
Author Khaled Diab also tweeted: "Deepest condolences to Donald Trump. Another black man has received the Nobel peace prize. I'd like to be a fly on the wall at the White House today!"
The hashtag #NobelPeacePrize started trending after the Norwegian Nobel Committee revealed that Prime Minister Abiy had won, with many praising the Ethiopian's record since taking office.
Federica Mogherini, EU High Representative on Foreign Affairs and Security Policy, tweeted: "Congratulations to my dear friend
@AbiyAhmedAli on this #NobelPeacePrize!
Human Rights Watch's European Media Director Andrew Stoehlein also tweeted: "Good choice, both for peace efforts with Eritrea & important improvements in Ethiopia itself, where the government released thousands of political prisoners & committed to other reforms.
"A prize to courage and hope. A prize to a great man and to a great Continent. An example for all those that stubbornly build peace though dialogue and not arms."
The 2017 Nobel Peace Prize winner Beatrice Fihn also congratulated Abiy on his win.
"Winning the Nobel Peace Prize gives an incredible platform, and I am excited Prime Minister Abiy will be able to use this opportunity to further the incredible impact he is already having," she said in a statement.
Thunberg was one of several high-profile nominees for this year's Nobel Peace Prize, with New Zealand Prime Minister Jacinda Ardern also tipped to win the award before the announcement this morning.