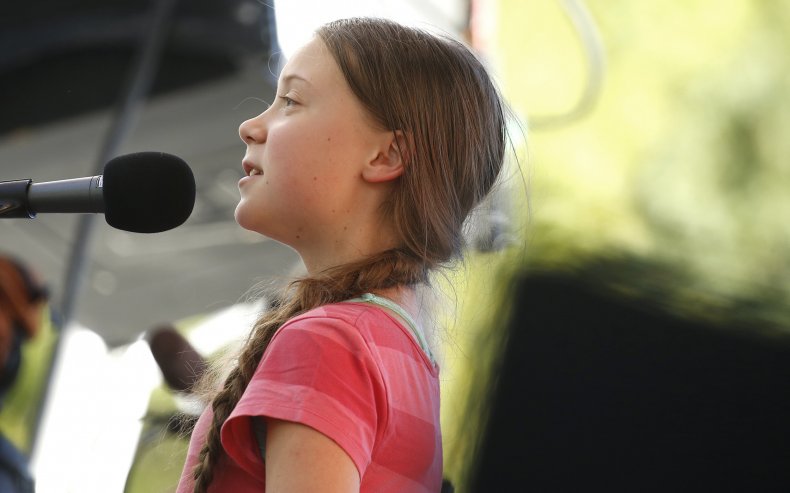 After President Donald Trump sarcastically commented on Greta Thunberg's emotional speech to the United Nations this week, Twitter users have started resurfacing an anti-bullying tweet written by the young climate activist in August.
"When haters go after your looks and differences, it means they have nowhere left to go," Thunberg wrote in the tweet from last month. "And then you know you're winning!"
"I have Aspergers and that means I'm sometimes a bit different from the norm. And— given the right circumstances — being different is a superpower," she wrote.
During a speech at the U.N. on Monday, Thunberg, 16, choked up as she scolded world leaders for having "stolen my dreams and my childhood" with their inaction on climate change. Afterwards, a video of Thunberg glaring at Trump as he entered the U.N. headquarters went viral on social media.
In response to her speech, Trump tweeted, "She seems like a very happy young girl looking forward to a bright and wonderful future. So nice to see!" alongside a clip of Thunberg speaking.
Thunberg, not to be patronized, responded in turn with a not-so-subtle update to her Twitter biography: "A very happy young girl looking forward to a bright and wonderful future."
The back and forth, in combination with a Fox News guest calling the 16-year-old a "mentally ill Swedish child," had Twitter users unearthing the August tweet, as some sent Thunberg messages of encouragement. Some called Thunberg the future leader of the U.N., an inspiration to "all sane people," and a "beautiful human being."
"You do indeed have a 'superpower,'" a Twitter user named Andrew Bradford wrote. "The world loves you for your courage and dedication to making the world a better place."
"Don't let mean, greedy defenders of the status quo give you one minute's pause," wrote a page titled "CJ Resists!"
"Ignore the liars and bullied," another person wrote. "Thank you for all you are doing!"
Yet another compared Trump to a dinosaur, and Greta to an asteroid. "Reading your tweets fills me with hope for the world," said a user named Julie Anderson.
Still, it wasn't all sunshine and rainbows — one person called Thunberg's crusade "counterproductive to the cause" and said her goal was to make everyone afraid, while others criticized her.
The young Swedish activist founded the school strike campaign to raise awareness about the climate emergency and the urgent need for governments to take comprehensive action quickly. She has since traveled the world to campaign on climate change and was recently nominated for a Nobel Peace Prize.
Thunberg plans to continue her sabbatical year from school visiting Canada, Mexico, and the annual UN climate conference in Chile, according to organizers of the global climate strike.