Greta Thunberg Vows to Continue Putting 'pressure on People in Power': 'We Won't Stop'
Greta Thunberg has arrived in Lisbon, as talks continue at the 2019 United Nations Framework Convention on Climate Change (COP25) in Madrid.
She told crowds who had gathered to meet her it felt "amazing" to be back in Europe after a 20-day trip across the Atlantic.
"We will not stop," she said, referring to herself and other climate activists who have been instrumental in organizing protests around the world to draw attention to the climate emergency.
"We will continue to do whatever we can, continue to travel around, and to put pressure on people in power and to make sure that they prioritize this the highest. And eventually we will be going to COP25 and we will continue the fight there to make sure that within those walls, the voices of the people are being heard."
As she makes her way to Madrid for the U.N conference on climate change, Thunberg used the opportunity in front of reporters and supporters to emphasize the importance of working together to tackle the climate change problem and ensure livable conditions for the future of humankind.
The 16-year-old climate activist has spent more than 2 weeks crossing the ocean on a catamaran from New York, confirming her commitment to a low-emission lifestyle.
Thunberg doesn't travel by plane because the high emissions associated with air travel. She previously made her way to the U.S. by yacht in September for the U.N Climate Summit earlier this year.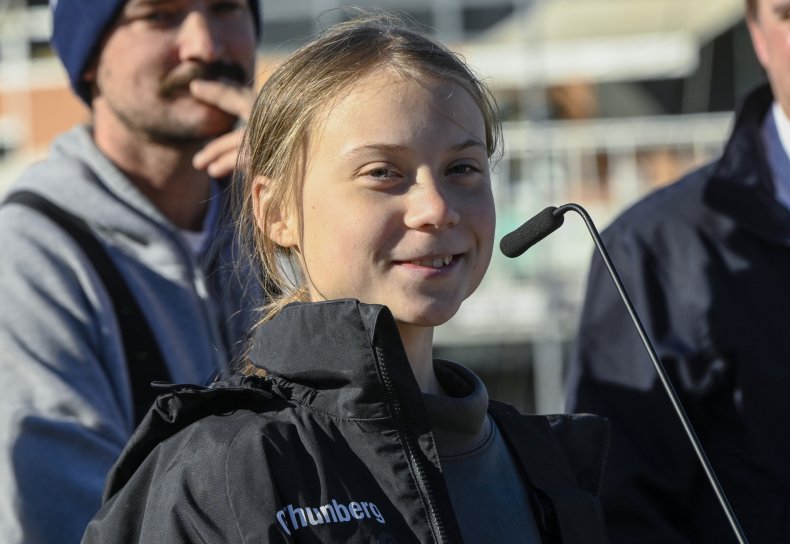 Thunberg has been one of the most high-profile climate activists since she skipped school to stand outside the Swedish Parliament to protest government inaction on environment issues in 2016. She has since been a leading figure in the student walkouts and referenced the role of youth in leading the recent protests today.
"People are underestimating the force of angry kids," Thunberg told the crowds. "They're angry and frustrated."
She is on her way to the U.N.'s COP 25, which is taking place in Madrid from 2 to 13 December 2019. Countries around the world are gathering in Europe to discuss the next steps in the fight against climate change.
"To address the climate emergency, we need a rapid & deep change in how we do business, how we generate power, how we build cities, how we move and how we feed the world," said António Guterres, Secretary-General of the UN.
"If we don't urgently change our way of life, we jeopardize life itself."