Gretchen Carlson Continues Feud with Miss America, Saying Bullying Allegations Cost Organization $75,000
Miss America Organization chairwoman Gretchen Carlson alleged on Sunday that reigning pageant champion Cara Mund had cost the organization $75,000 in scholarships. The chairwoman's claim came after the 2018 champion accused Carlson and CEO Regina Hopper last week of bullying.
Carlson, a former Fox News host, posted a statement on Twitter in response to Mund's allegations.
"Actions have consequences. Friday, as an organization, we learned that $75,000 in scholarships which would have been the first scholarship increase in years is no longer on the table as a direct result of the explosive allegations in your letter," Carlson's statement read. "The impact won't stop there -- We are already seeing a negative ripple effect across the entire organization, and I am so concerned that it will dilute the experience for the next woman selected to wear the crown."
The former Fox News host said she had attempted to reach Mund by phone, text, and email, but Mund only wanted to interact over email.
The Miss America chairwoman and 1989 competition winner did not indicate in her statement how the organization lost the money or how much funding was still available. The Miss America Organization told The Associated Press it offered about $500,000 in scholarships last year.
The public feud between 24-year-old Mund and the organization's leadership began last week, when the 2018 Miss America sent a letter to former Miss Americas saying that she had been silenced.
"Let me be blunt: I strongly believe that my voice is not heard nor wanted by our current leadership; nor do they have any interest in knowing who I am and how my experiences relate to positioning the organization for the future," the letter said. "Our chair and CEO have systematically silenced me, reduced me, marginalized me, and essentially erased me in my role as Miss America in subtle and not-so-subtle ways on a daily basis. After a while, the patterns have clearly emerged, and the sheer accumulation of the disrespect, passive-aggressive behavior, belittlement, and outright exclusion has taken a serious toll."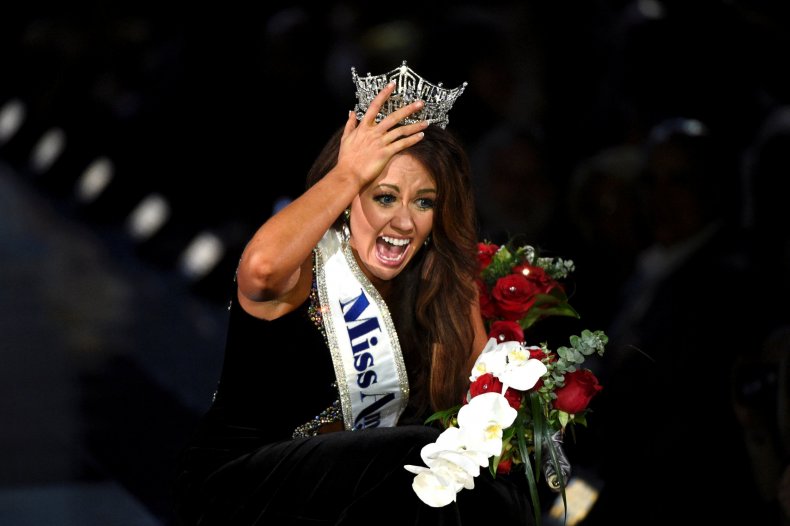 Both Carlson and Hopper have denied Mund's claims. In her post on Sunday, the Fox News host reiterated past statements saying she supported the 2018 pageant winner.
"Cara, let me be clear: We, as an organization, are very proud of you and all that you have accomplished. You are smart, caring and ambitious," the letter said. "You embody the mission of Miss America."
The reigning Miss America said that she had been provided talking points for interviews, the organization's leadership sought to control her freedom of action and that the organization's public messaging differed from actual conduct.
"The rhetoric about empowering women, and openness and transparency, is great; however, the reality is quite different. I am living that difference," she wrote in her letter, which was more than 3,000 words.
The current public quarrel, which comes just weeks before the next Miss America will be chosen in Atlantic City, follows months of turmoil within the organization since Carlson took over as chairwoman at the beginning of this year. The former leadership resigned after HuffPost published emails showing senior members making derisive and misogynistic comments about former winners.
The June decision to eliminate the pageant's swimsuit competition has fueled fierce debate about the organization's leadership. The directors of 22 state and local contests have signaled they want Carlson and Hopper to resign, and four board members have recently departed.