Gretchen Whitmer Faces Fierce Backlash After Traveling Out of Michigan 3 Times in Past 6 Months
Michigan Governor Gretchen Whitmer is facing a fierce backlash after traveling out of Michigan three times in the past six months.
A particular trip that has sparked criticism from Michigan Republicans was the one she took last month to Florida to visit her elderly father, who suffers from a chronic illness—a trip first reported Monday by the Michigan Research & Information Service.
Critics are calling that visit a spring break trip and accusing the Democrat of not following her own coronavirus precautions. But Whitmer's office has defended the visit, saying that it was not a spring break trip and that the she hasn't left the state in over a month.
A spokesperson for the governor's office confirmed that Whitmer has traveled out of Michigan three times in the past six months—once for President Joe Biden's inauguration, once for the Florida trip and once to Washington to visit the state's National Guard troops.
"All trips were very brief, two full days or less, closely followed public health guidelines, and were made when Michigan's daily positivity rate was in the low single digits," Tiffany Brown, the governor's communications director, said in a Monday statement.
Brown also noted that Whitmer's father is fully vaccinated and that the trip to Florida was not paid for by taxpayer dollars.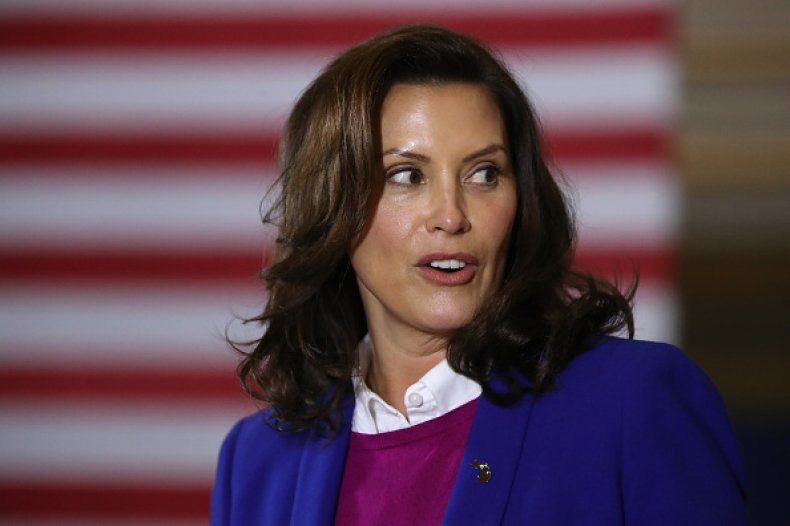 Whitmer has continued to urge Michiganders to follow coronavirus safety guidelines closely, including avoidance of travel, as the state experiences its worst surge in cases.
Although the statewide travel ban issued at the beginning of the pandemic has been lifted, the governor has called on residents to voluntarily forgo traveling during the pandemic, including over the holidays.
"I understand the desire to visit an ill relative, and I hope for good health for the governor's family, but I have heard countless stories of heartbroken Michiganders who wanted to visit sick family members during this pandemic and haven't been able to do so," Michigan House Appropriations Committee Chair Thomas Albert said.
"I don't understand how the governor thinks it's OK for her and members of her administration to travel out of state while issuing recommendations to the rest of us that we stay home. How can anyone be expected to follow such guidance when the governor and her staff doesn't follow it themselves?" Albert asked.
Ted Goodman, communications director of the Michigan Republican Party, called Whitmer's travel a "blatant display of hypocrisy," saying her decision to leave the state was insulting to residents who are affected by her lockdown orders.
Over the past year, Whitmer has faced severe criticism for imposing strict measures in Michigan during the pandemic. Armed protesters rallying against the governor's restrictions entered the Capitol last spring. Later, Whitmer was identified by the FBI as the target of a foiled kidnapping plot.
While the governor has stopped short of issuing a new lockdown order amid the recent surge of virus cases, federal health officials have suggested that Michigan's hospitalizations would benefit from tighter restrictions.
Last week, the U.S. Centers for Disease Control and Prevention (CDC) advised the state to enter another lockdown as the state suffers the worst outbreak in the country.
"So when you have an acute situation, extraordinary number of cases like we have in Michigan, the answer is not necessarily to give vaccines," CDC Director Rochelle Walensky said April 12. "The answer to that is to really close things down, to go back to our basics, to go back to where we were last spring, last summer and to shut things down, to flatten the curve."
But Whitmer has continued to blame the rise in cases on new virus variants and a lack of compliance, rather than her policies. In recent weeks, the governor has pushed the federal government for more vaccines as a solution to the state's increase in cases.
Newsweek reached out to Whitmer's office for comment but did not hear back before publication.