Gretchen Whitmer Was to Be Tied Up, Made to Pose for Photos in Kidnap Plot
A man involved in the alleged plan to kidnap Michigan Governor Gretchen Whitmer said they wanted to tie her up and pose with her for a photo, according to a tape played in court on Thursday.
Adam Fox, one of the four men on trial for allegedly plotting to kidnap Michigan's governor, told an undercover FBI agent who was wearing a listening device that they would be happy after tying Whitmer up and taking a photograph with her.
"We want her flex-cuffed on a table while we all pose and get our pictures taken like we just made the biggest drug bust in...history," Fox said in the recording "You give us that, we'll be happy."
Fox, Brandon Caserta, Barry Croft and Daniel Harris were charged with conspiracy in 2020. The trial resumed in federal court Thursday for their alleged planning to break into Whitmer's vacation home and kidnap her at gunpoint because they were angry in the COVID-19 restrictions she implemented during the beginning of the pandemic.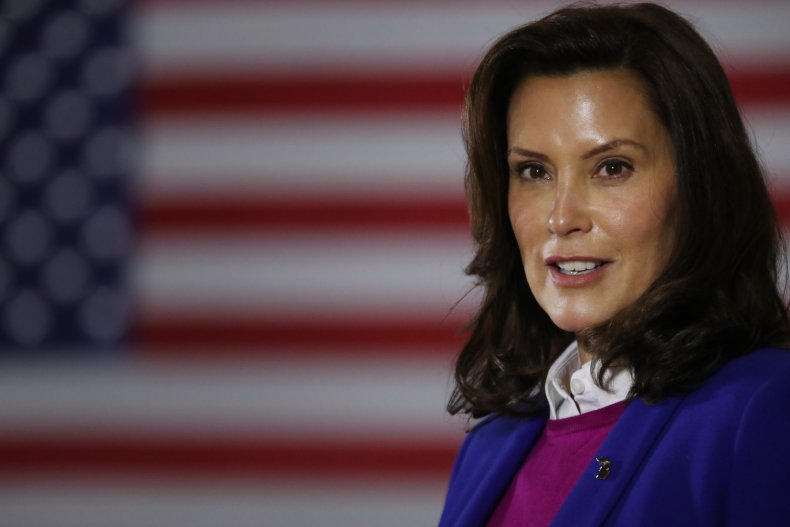 An undercover FBI agent, Mark Schweers, testified in court that he was wearing a listening device when met Fox in the basement of a vacuum shop hidden by a trap door. Fox proceeded to tell him about an alleged attack on the Michigan Capitol with a militia group called the Wolverine Watchmen, along with the alleged kidnapping plot, the Associated Press reported.
Defense lawyers claim the undercover agents had entrapped the men and played a prominent role in planning the alleged kidnapping plot. However, the FBI denies the allegations and maintains the men were anti-government extremists who were going to kidnap and assassinate Whitmer, Newsweek previously reported.
Six men were initially charged in federal court for the plot to kidnap the Democratic governor, including Fox, Caserta, Croft, and Harris, who are on trial. Ty Garbin and Kaleb Franks pleaded guilty to their role in federal court.
In January, Garbin reached a deal with the prosecution's office and is now serving a six-year sentence in federal prison. Assistant U.S. Attorney Nils Kessler said Garbin confirmed the plot was real, and not just talk as suggested by the other defendants.
"He filled in gaps in the government's knowledge by recounting conversations and actions that did not include any government informant or ability to record," Kessler said.
Franks pleaded guilty in February to the foiled plot and stated that federal investigators and agents did not entrap them. He reached a plea deal with the prosecutor's office and is set to be sentenced on June 8.
"The defendant also knows Fox, Croft, Harris and Caserta were not entrapped, based on personal observation and discussions," the plea deal stated.
If the four men are found guilty they face up to life in prison.
Update 03/17/22, 4:15 p.m. ET: This article was updated with additional information and background.
Update 03/17/22, 3:47 p.m. ET: This article was updated with additional information.