Michigan Governor Whitmer, Under Fire Over Lockdown, Now Hopes to Relax Coronavirus Restrictions in Line with Trump's Plan
Some Michigan residents are fed up with Governor Gretchen Whitmer's stay-at-home order. While that's criticism she's willing to take, the governor is also hoping to loosen up restrictions on May 1.
Speaking to ABC's Good Morning America on Friday, Whitmer said she "hoped" to be able to start relaxing some mitigation measures at the start of the next month. However, with information, data and testing abilities changing "so rapidly," she added it's difficult to predict what the situation will be a week from now, let alone two.
Whitmer's under pressure to reopen the state. On Wednesday, protesters led by the Michigan Conservative Coalition demanded an end to the stay-at-home order that's among the strictest in the nation. Attendees of the demonstration at the Michigan capitol building claimed the restrictions infringed on their freedom and called for Whitmer to be booted from office.
The state with the third-highest death rate, Michigan has had 29,263 confirmed cases of a new coronavirus and 2,093 deaths, according to the state's health department. Whitmer told Good Morning America officials had to be "really aggressive" in dealing with the "unique crisis."
On April 9, Whitmer extended Michigan's stay-at-home order through the end of the month. It prohibited people from traveling from one of their homes to another, including vacation rentals, after April 10, and instructed businesses to stop advertising goods that aren't groceries, medical supplies or necessary items for a home's basic operations.
In line with other stay-at-home orders, Whitmer closed nonessential businesses. But the state took restrictions a step further by requiring those businesses that could stay open to close areas of the store that were dedicated to carpet or flooring, furniture, garden centers and plant nurseries and paint.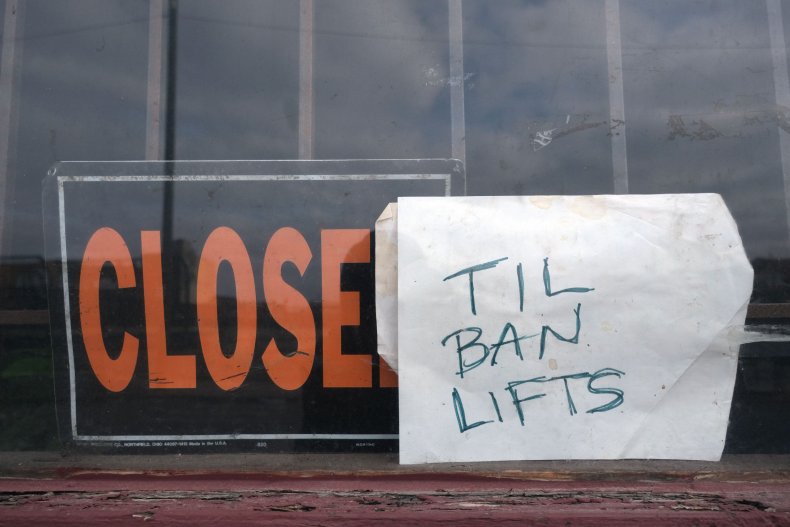 Four sheriffs--Mike Borkovich of Leelanau County; Ted Schendel of Benzie County; Ken Falk of Manistee County; and Kim Cole of Mason County--refused to strictly enforce the governor's order. They claimed in a joint statement that Whitmer overstepped her executive authority and created a "framework of emergency laws that only confuse Michigan citizens."
They encouraged people to follow guidelines issued by the Centers for Disease Control and Prevention (CDC), such as hand washing, wearing masks and social distancing. But in regards to violations of Whitmer's order, they would handle those on a case-by-case basis and "apply common sense."
Whitmer told Good Morning America that four out of 83 sheriffs in her state "making a point" was something she could handle, but asked people not to get "overly political."
She added that the measures in her executive order "weigh heavily" on her, because she knows closing bars will result in layoffs and pulling kids out of school impacts their education. However, she added, "it's better to be six feet apart right now than six feet under," and the restrictions are intended to save lives.
The goal of every governor, however, is to get people back to work, and Whitmer, a Democrat, said President Donald Trump's guidelines are "commensurate with what we are all thinking."
On Thursday, Trump released a plan for governors to follow to reopen their states, but each governor would be empowered to make their own decisions. His plan included a phased approach that requires states to pass gating criteria before taking additional steps.
One "shortcoming," of the plan, according to Whitmer, is that the criteria focuses only on testing for at-risk health care workers. She called for more robust testing that would ideally allow the state to administer tests to everyone with symptoms and those who are around those with symptoms.
"And in the best-case scenario, just doing it broadly so that we really get a handle on where COVID-19 is and where the threat is," Whitmer said.
Each decision her administration makes will be guided by science, facts and with the best interest of the people she represents. "That's ultimately what matters to our ability to ramp up our economy again and avoid a second wave that would be devastating," Whitmer said.